Costco Shoppers Are Freaking Out Over This Huge Vanity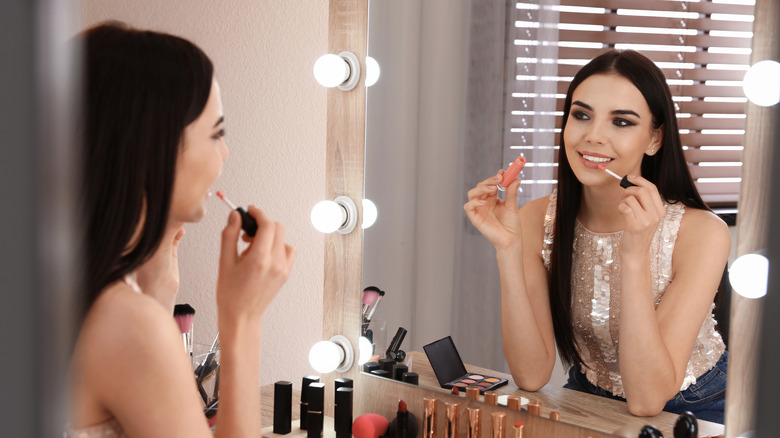 New Africa/Shutterstock
If you need to grab some new furniture, you can't go wrong shopping at Costco. While this big box warehouse has a ton of items to choose from, knowing exactly which pieces of furniture to take home is crucial. 
According to Domino, the Thane Coffee Table, Edinburg Curio Cabinet, or Trinity Stainless Steel Prep Tables all rank as superior choices when you need to update your home. One new home goods find from Costco now has the potential to unseat these other options, and just might rank as one of the best vanities you can get at the store.
Instagrammer @costcohotfinds found their ideal white vanity during a shopping trip at the store and felt the need to document their find. They posted a video of the vanity alongside a caption reading, "I love it and boy could I use that extra storage to organize my makeup, moisturizers and basically all of my bathroom stuff." Followers concurred and couldn't wait to share their thoughts on the piece of furniture.
A vanity that has Instagram talking
The Instagram post has attracted a ton of attention, and fans immediately jumped in with their takes on the vanity. 
Replies like, "we need this vanity!" and "Dreams! In my next house," poured in. Other shoppers noted, "I can't find it in Canada," and "Omg but only in the states. might have to recreate with ikea." Others started fantasizing about owning the vanity, saying, "I love this! Wish I had the space for it," and "Man, I wish it was in my area." Based off of the comments, it appears that this item hasn't found its way to every Costco, so if you want to pick it up for yourself, you either have to get lucky and find a nearby Costco that carries it or plan to go on a small road trip.
The features can easily win over anyone needing a new vanity. The all-white piece of furniture comes with a mirror surrounded by LED lights, as well as drawers that come preloaded with storage spaces. The Instagrammer found this particular model going for $499 at their local Costco, but your own area might vary. Either way, keep this piece of furniture on your radar if you have been searching high and low for a new vanity.