Hardee's New $5 Menu Includes Entree And Drink Combos
Sometimes, Hardee's cuts customers a break and offers some sweet deals in order to get diners through the door. Back in 2019, the fast food chain offered a two for $5 mix and match deal, and some even noticed that their local Hardee's had the same promotion for $4, per Reddit. Now, a Facebook post reveals the chain has brought back this fan-favorite deal. Hardee's announced that they now plan to offer either a Hot Ham N Cheese Sandwich, 3-piece hand-breaded chicken tenders, or Big Cheeseburger with a side of fries and a drink for $5.
Chew Boom clarifies that each side of fries and drinks only come in small sizes and the deal also applies to the chain's chili dog. The burger comes with a beef patty, melted American cheese, dill pickles, onions, mustard, and ketchup, while the Ham N Cheese Sandwich features sliced ham and melted Swiss cheese on a bun. Meanwhile, the chicken tenders consist of white meat buttermilk-dipped fried chicken tenders served with your choice of sauce and the chili dog comes topped with spicy beef chili, mustard, and chopped onions.
The continuation of Hardee's mix n match menu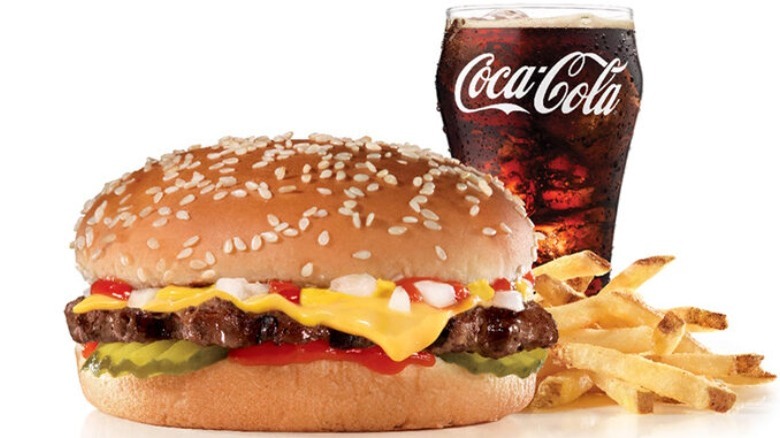 Hardee's
This is far from the first time Hardee's has offered customers the chance to save some money. According to Chew Boom, the chain had a similar promotion in 2019. The deal back then didn't include fries or a drink — instead, diners could pick two of the promoted items (the Roast Beef Sandwich, Double Cheeseburger, Hot Ham 'N' Cheese, or Bacon Cheddar Double Cheeseburger) and pay a mere $5. Another Chew Boom post points out that the chain featured a similar promotion aimed at their breakfast menu around the same time. That promotion allowed diners to pay $4 for their choice of two breakfast items, including the Loaded Omelet Biscuit, the Bacon, Egg & Cheese Biscuit, the Sausage & Egg Biscuit, and the Frisco Breakfast Sandwich.
Only time will tell if the recent Hardee's promotion can compare to these past efforts, but you can take heart knowing that the chain plans to dish out full meals instead of letting diners choose two a la carte sandwiches. The current incarnation of the $5 menu should only stick around for a limited time and not every location plans to participate, so if this offer sounds tempting, make sure to take advantage of this deal while you can (via Chew Boom).