Aldi Shoppers Are Freaking Out Over These Seasonal 3-Wick Candles
You might never guess, but Aldi actually sells a variety of candles that can bring some peace to your home. The grocery chain has been known to sell Peony Blush candles, Vanilla Frosting Jar Candles, and even a Lime, Basil & Mandarin Glass Candle that can freshen up any space, per Closer.
Aldi now has a new candle collection with some irresistible scents and Instagram can't hold back its excitement. Instagrammer @aldifavoritefinds spotted White Cactus and Sage, Tobacco Petals, Citron and Cilantro, and Mountain Air scented candles during one of their latest grocery runs and had to post the find. The user additionally captioned the image with, "New Huntington Home Seasonal 3-wick candles should be rolling into an ALDI cleaning aisle near you soon. Notice the price has gone up 30 cents (second photo)." Fans couldn't wait to jump in and share their favorite scents, showing their enthusiasm for the new candles.
Candles that have Instagram talking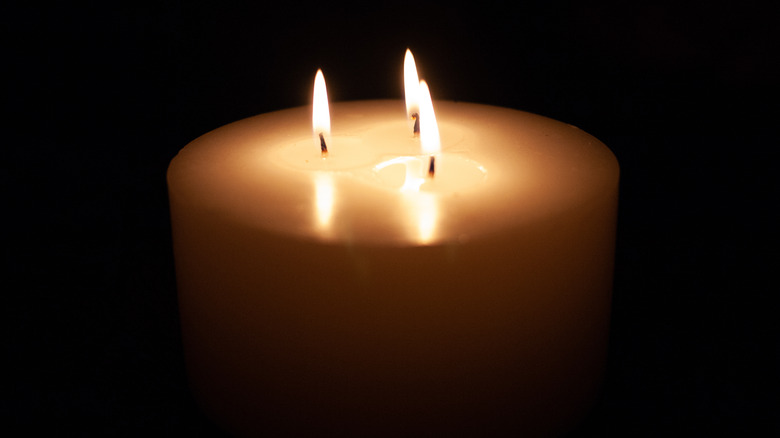 Darcy Perkins/Shutterstock
Followers couldn't wait to reply to the post. Replies ranged from, "I bought 12 of the Tobacco Petals. It reminds me of the young flowering tobacco plants growing in the fields in my home town. The fields no longer grow tobacco but this candle brings back memories," all the way to, "The Citron Cilantro smells exactly like Citrus Herb from a few years back. I don't have a sophisticated nose but I couldn't smell the difference. One of my all time favorites!" Many of the users loved the tobacco scent and commented with impressions like, "They are all nice but I loved the tobacco flower so it came home with me," and "They all smell great but I bought the Tobacco Petals."
If you need to replenish your own supply of scented candles or just want to scoop up a hot deal, keep an eye out for these home goods in your area next time you go on an Aldi run. With any luck, you might just find your new favorite scent in one of these crowd-pleasing candles.