Spaghetti And Meatballs Pizza Recipe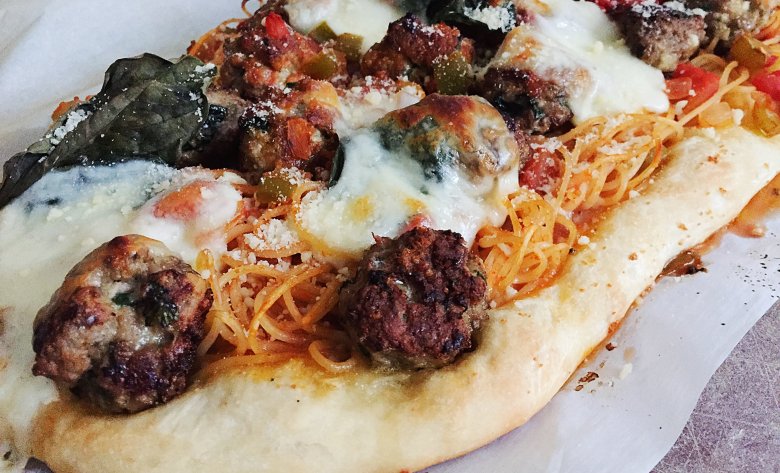 What's better than a carby, delicious bowl of homemade spaghetti and meatballs? Homemade spaghetti pizza, that's what. It may seem a little out there, but putting your spaghetti and meatballs on top of your homemade pizza is actually pretty delicious. This is no quick and easy 30-minute meal. Between making the meatballs and sauce, cooking the pasta, assembling the pizza, and baking it all, you're looking at a more labor-intensive homemade pizza than you're probably used to. Of course, there are places you can take shortcuts, and I'll point those out along the way. That being said, if there's nothing you love more than a bowl of pasta or slice of pizza, this just might be your ideal, over-the-top, Instagram-worthy dinner.
Assemble your ingredients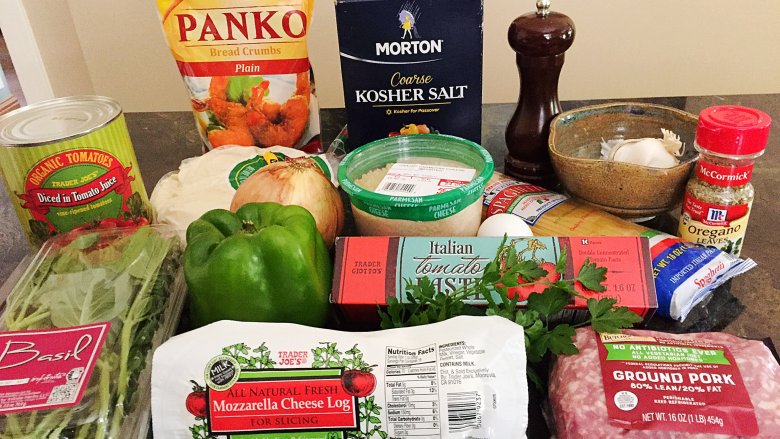 First things first, you need to pull together all of the ingredients necessary to make your over-the-top meal. The meatballs combine pork with spices, panko bread crumbs, herbs, salt and pepper, cheese, and an egg to hold it all together. The sauce is more pasta sauce than pizza sauce, to go with the spaghetti and meatballs theme. Dried, store-bought pasta is best in this dish, as homemade noodles are too labor-intensive and too fresh to stand up well to the finished dish. Store-bought pizza dough is just fine (I like the refrigerated one that's sold at Trader Joe's), but you can also use your favorite pizza dough recipe. You'll find my full list of ingredients and step-by-step instructions a the end of this article. 
Of course, if you want to go the really easy route, you can use frozen meatballs and a jarred sauce — but this almost from-scratch method is worth the work, I promise. 
Gather everything in one place so that you can work through each step of the recipe without having to stop and go searching for things. The French call this mise en place, which means "everything in its place."
Mix the meatballs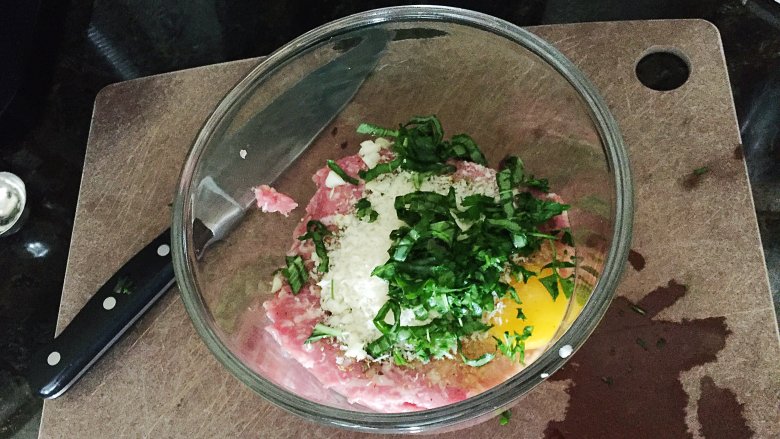 Time to mix up the meatballs, because they'll have to take a little sit in the fridge before they're ready to be shaped and cooked. Add pork, egg, cheese, salt and pepper, parsley and basil, garlic, fennel and oregano, and panko bread crumbs to a medium-sized bowl. Mix it all together until the flavors are evenly dispersed. Put that in the fridge and get to work on your sauce.
Make the sauce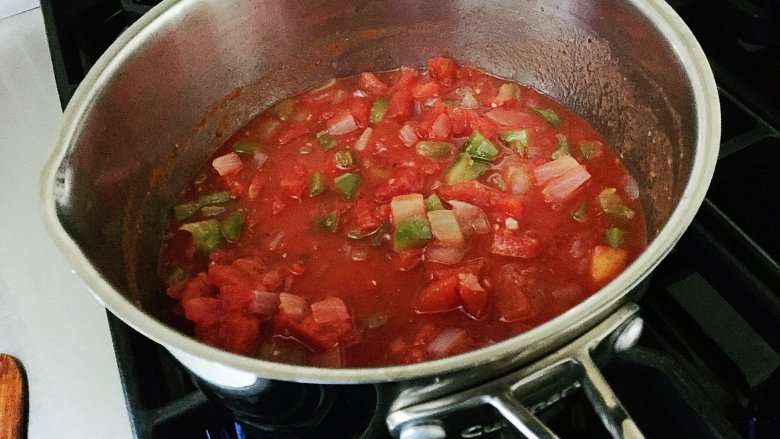 Dice the onion and green pepper and mince the garlic. Put all of that in a medium pot with a bit of olive oil and let them sweat. Add the tomatoes and all the rest of the ingredients. Bring them to a boil then reduce it all down to a simmer and let it hang out for awhile so the flavors can develop and meld together.
Form the meatballs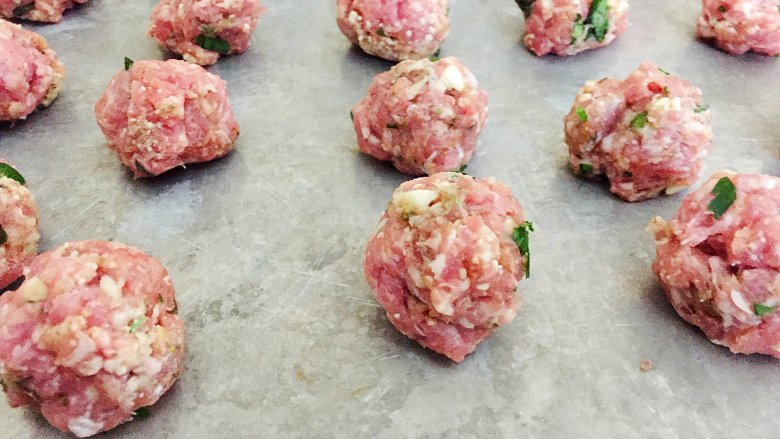 One the meat mixture is nice and chilled, it's time to form the meatballs. Using a tablespoon, or tablespoon-sized cookie scoop, form the mixture into meatballs and set on a sheet tray until they're ready to be cooked.
Cook the meatballs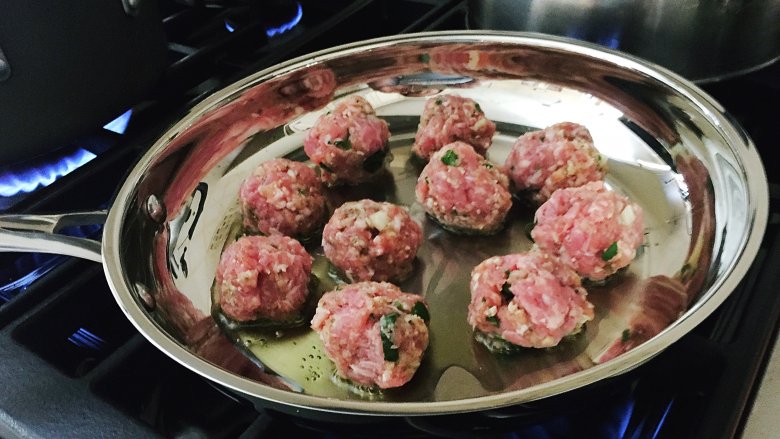 Heat a bit of olive oil in a frying pan. You can use a large one and maybe cook them all at once, or a smaller one and cook them in batches — just don't let them get too crowded or they'll steam. Make sure they get nice and browned on each side, but don't worry about them being 100 percent cooked when you take them out of the pan. They'll cook a bit more when they're on the pizza baking in the oven.
Cook the spaghetti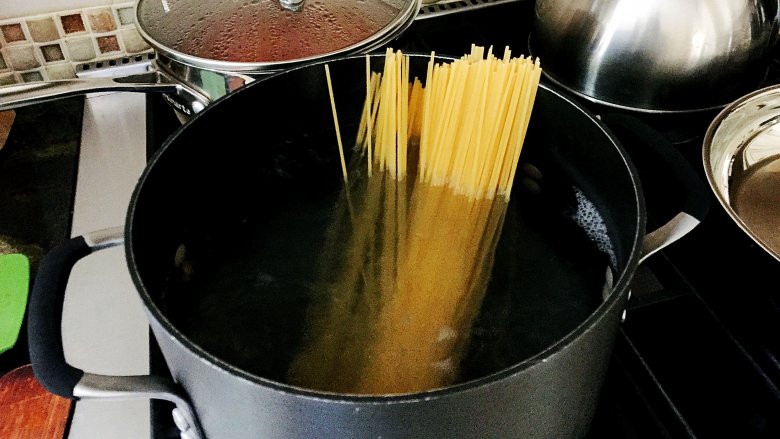 Boil plenty of water and then salt it really well once it's already boiling. If you salt it before it boils, you risk some of the water evaporating and the water (and resulting pasta) being too salty. Don't be afraid to salt well, though, unless of course you have a medical condition that prohibits you from being able to do so (but then again, if you have to limit your sodium, this is probably not the right recipe for you). Cook the pasta according to the package, then drain it well and toss it in with the sauce.
Shape the pizza dough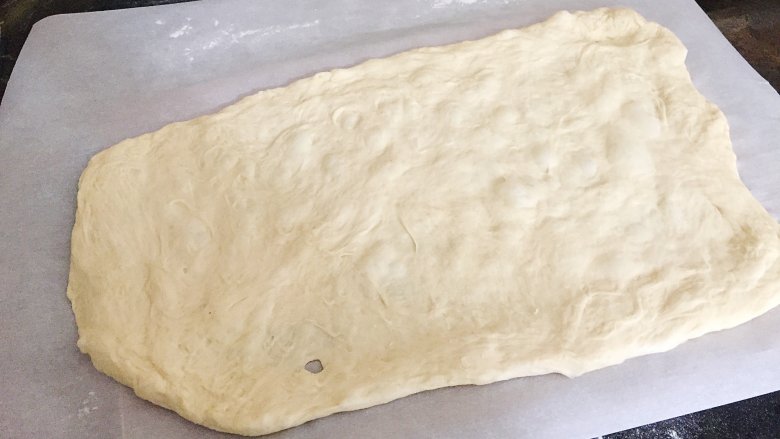 Make sure your dough is basically room temperature when you start working with it. If it isn't, it may not hold its shape. Sprinkle a little bit of flour onto a piece of parchment paper that's been set on top of a sturdy cutting board — coat your hands with flour, as well. Using your hands, gently shape the dough to the desired size. When I work with fresh dough, I often go with a rectangular shape instead of a circle, but you can make yours any shape you'd like.
Make it garlic bread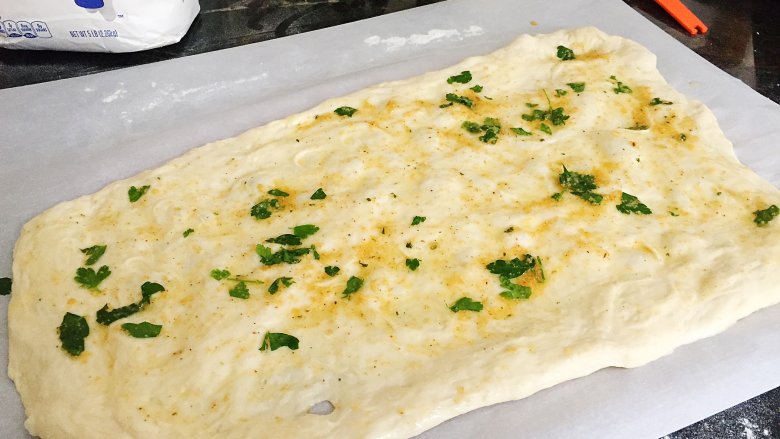 Melt some butter and stir in roughly chopped parsley and garlic powder. Brush that tasty mixture all over your prepared crust using a pastry brush. 
Assemble the pizza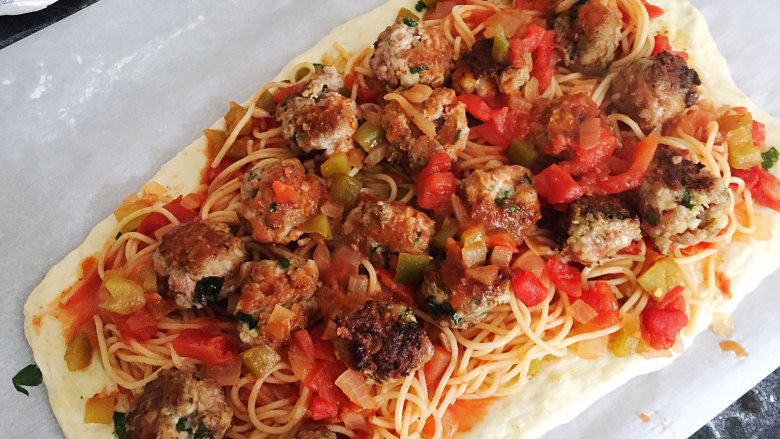 On top of your garlic bread pizza crust, put the spaghetti mixed with some sauce. Then, add your cooked meatballs, arranging them however you'd like. Top it off with a few basil leaves and some slices of mozzarella cheese (feel free to use shredded, if that's your thing) and it's ready to go into the oven.
Bake the pizza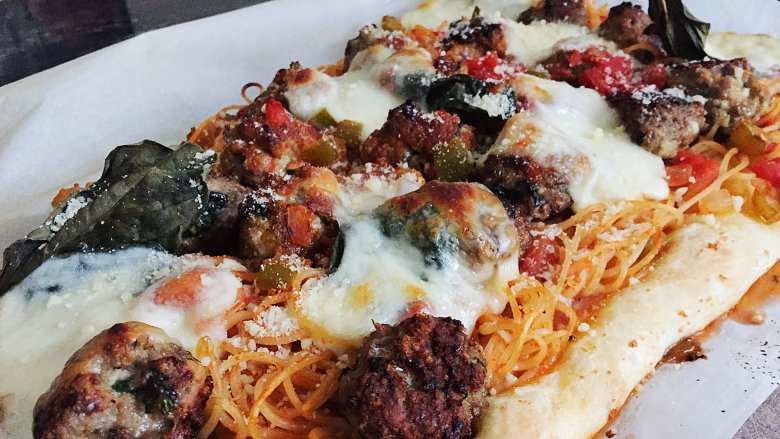 Make sure the pizza stone or pan on which you're going to bake your pizza has been in the oven, preheating as the oven preheats. When you're ready to bake, carefully pick up the entire pile, including the sturdy cutting board. Walk it over to the oven, slide the oven rack containing the pizza stone out, and carefully slide the parchment paper off of the cutting board and onto the pizza stone. It's a little bit tricky, so take your time, there's no need to rush. Once you've successfully done that, close up the oven and cook your pizza until the crust is puffed, golden, and cooked through, and the cheese is melted, browned, and bubbly.
Spaghetti And Meatballs Pizza Recipe
What's better than a carby, delicious bowl of homemade spaghetti and meatballs? Homemade spaghetti and meatball pizza, that's what.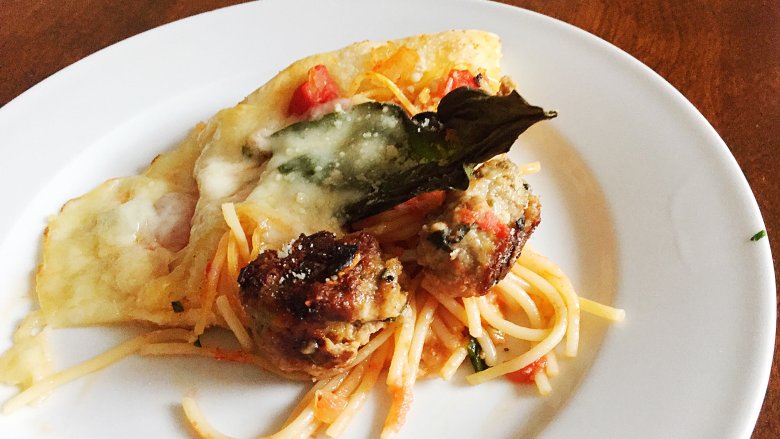 Ingredients
1 pound ground pork
1 large egg
½ teaspoon ground fennel seed
1 ½ teaspoon dried oregano
1 tablespoon minced fresh parsley
1 teaspoon roughly chopped fresh parsley
3 large basil leaves cut in ribbons
3 large clove of garlic, minced
3 tablespoons panko bread crumbs
2 tablespoons finely grated Parmesan cheese
1 green bell pepper, diced
1 yellow onion, diced
1 28-oz can of diced or crushed tomatoes (crushed makes a thicker sauce)
2 teaspoons tomato paste
Pinch of red pepper flakes
1 bay leaf
Salt and pepper to taste
4 to 6 oz of dried spaghetti
16 ounces of pizza dough
2 tablespoons butter
1 teaspoon garlic powder
1 teaspoon roughly chopped fresh parsley
Fresh basil leaves
Mozzarella cheese
Directions
Preheat the oven (and pizza stone) to 400 degrees Fahrenheit.
Combine the ground pork, egg, fennel seed, 1 teaspoon of dried oregano, 1 tablespoon fresh parsley, 3 large basil leaves, 1 clove of garlic, bread crumbs, and Parmesan cheese into a medium-sized bowl and mix. Cover and refrigerate while you make the sauce.
Add about 1 tablespoon of olive oil to a medium pot. Add the 2 cloves of garlic, onion, and green bell pepper and cook, about 5-7 minutes.
Add the tomatoes to the onion and peppers. Use a little bit of water to rinse out the tomato can and add that to the pot as well. Add ½ a teaspoon of dried oregano, 2 teaspoons of tomato paste, red pepper flakes, a bay leaf and salt and pepper to taste. Bring to a boil, then reduce the heat to a simmer. Simmer the sauce while cooking the meatballs and pasta.
Fill a large pot with water and bring it to a boil. Add salt, and cook the pasta according to package instructions. Drain the pasta well and mix it in with your sauce.
Take the meat mixture out of the fridge and form into tablespoon-sized meatballs.
Cook the meatballs in a frying pan with a bit of olive oil for about 2-3 minutes on each side. Remove the meatballs from the pan and set them aside until you're ready to put together your pizza.
Sprinkle flour on a piece of parchment paper that's been set atop a sturdy cutting board. Using your hands, flatten and form the dough into whatever shape your little heart desires.
Melt the butter and stir in the garlic powder and 1 teaspoon of roughly chopped parsley. Brush that mixture all over the pizza dough using a pastry brush.
Put the pasta and sauce on top of the garlic mixture. Add the meatballs. Top with fresh basil leaves and sliced fresh mozzarella (go ahead and add as much cheese as you'd like — we won't tell).
Transfer the pizza to the pizza stone very carefully.
Cook the pizza about 18-20 minutes, or until the pizza is golden brown, the crust is puffed and cooked through, and the cheese bubbles.
Carefully take it out of the oven and let it cool several minutes before cutting into it.
Cut into slices, Instagram, and serve alongside, I don't know, maybe a salad? Gotta find a way to balance out those carbs somehow.
Nutrition
| | |
| --- | --- |
| Calories per Serving | 933 |
| Total Fat | 37.6 g |
| Saturated Fat | 14.9 g |
| Trans Fat | 0.2 g |
| Cholesterol | 146.6 mg |
| | |
| --- | --- |
| Total Carbohydrates | 108.1 g |
| Dietary Fiber | 10.1 g |
| Total Sugars | 13.3 g |
| Sodium | 1,302.1 mg |
| Protein | 42.0 g |