Pillsbury Fans Need To Know About This Funfetti Donut Mix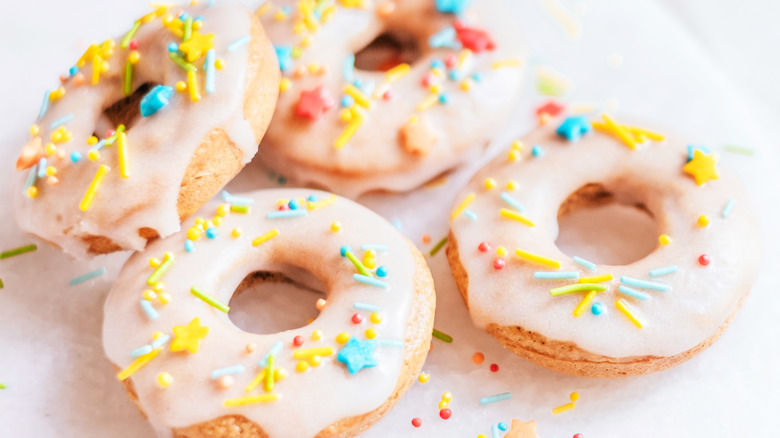 Christina Vartanova/Shutterstock
The winter months are perfect for baking treats while cozying up at home and massively successful companies, like Pillsbury, know this well. Really, what's better on a frigid, snowy evening than enjoying a warm, freshly made dessert? 
Pillsbury has released a new mix for us to try — and it might just take the cake. Capitalizing on its insanely popular Funfetti line, Pillsbury has dropped a Funfetti Cake Donut Mix that's available in three flavors: Funfetti Cake, Funfetti Chocolate Cake, and Funfetti Unicorn, which is a pink vanilla cake (Via BRAND Eating). The donuts expand on the company's already successful line that includes brownies, icing, cookies, cakes, pancakes, and a variety of seasonal products. 
If you're a donut lover, and your mouth is watering in anticipation of baking (and eating) these colorful donuts, read on for all the details on the product, including how much it costs, where you can buy it, and the variety of ways it can be prepared.
There are a few ways to make these donuts
Like other Funfetti products, the main attraction of the new donut product is the colorful candy pieces that come in the mix. Each of the three donut flavors is packed with this fan-favorite feature. The popular Instagram account, junkfoodmom, posted about the new donuts, stating "Re-invent cake mix and I will buy it," and over 4,000 followers agreed, double-tapping the famous Insta heart. One user shared, "Tried the vanilla it's bomb, can't wait to find the chocolate!" 
According to BRAND eating, the mix can be used to make 12 donuts or 36 donut holes, and the box boasts that they can be made three ways; baked, air fried, or pan-fried. Like other Pillsbury products, the baking directions can be found right on the package, and similar to other Funfetti products you'll need water, milk, and eggs to make these donuts.
For about $2.28 per box, you can buy the Pillsbury Funfetti Cake Donut Mix at Walmart. It's currently unknown whether or not this Funfetti product is available at other retailers.