Gordon Ramsay Is Already The First Meme Of 2022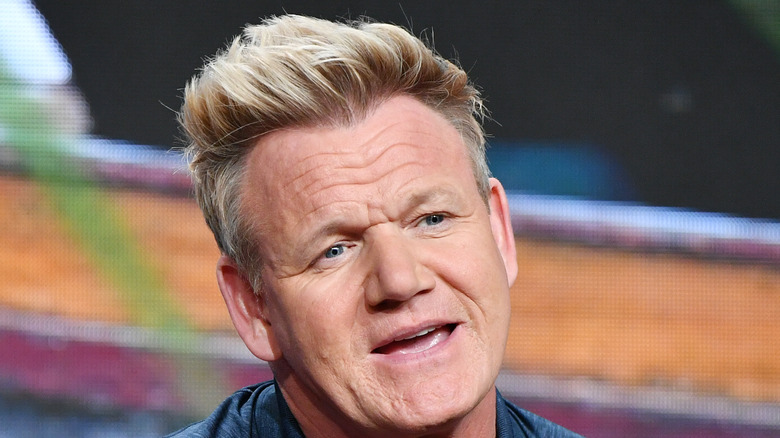 Amy Sussman/Getty Images
The year has begun with the premiere of "Next Level Chef," yet another Gordon Ramsay cooking contest. For many, however, the opening was defined by one interaction. In a clip shared on Twitter by "Next Level Chef" contestant Tricia "Triciaisabirdy" Wang (@triciaisabirdy), Gordon Ramsay and Wang are having the usual introductory conversation where the show establishes her character. He asks her what she does and she explains that she streams cooking videos on Twitch.
To this, Ramsay asks out "What the [concubitus] is Twitch?" It's worth noting that despite the language, the tone was more curious than aggressive. 
Some were confused how Gordon Ramsay can use TikTok so dexterously and yet be utterly ignorant of Twitch: "gordon knowing what tiktok is but not twitch has me crying." However, the social media team of Twitch, which is a streaming platform, found the exchange most amusing. "LUL," they commented. Moreover, as @Ruby_True noted later, Twitch changed their bio to read "@GordonRamsay scrambled egg recipe stan account" and Ramsay updated his to read "Always near food... doesn't know what Twitch is." With such a beginning, one can only wonder what the year will bring.
Who is Tricia Wang?
Tricia Wang is one of the contestants engaging in Gordon Ramsay's new program. Decider explains the gimmick that sets this show apart from Master Chef and Hell's Kitchen is that there are three teams of five cooks, each of which works in a kitchen on a separate storey.
Before Wang's social media career and her later integration into a vertically set cooking competition, she worked as an investment manager at Morgan Stanley. Obviously, she no longer does that. "I truly believe that if we're working 70 percent of our lives you should be doing something you truly are passionate about," she told the Pasadena Star News.
She began cooking at restaurants, but like everyone else, COVID-19 upended everything. This led her to take her work to Twitch. A fanbase developed around her streams. Eventually, one of her followers passed along information that Gordon Ramsay was looking for contestants in his new show. So she auditioned, made it, and learned that Ramsay has no [concubens] idea what the basis of her income was.