Cat Cora's Homemade Facial Mask Is Getting Rave Reviews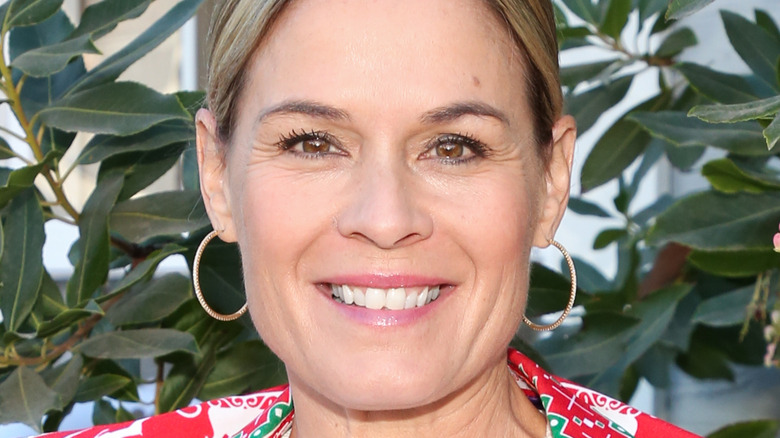 Paul Archuleta/Getty Images
You may know Cat Cora as the first female Iron Chef, but this culinary personality also has some serious prowess when it comes to lifestyle tips and wellness advice, per her website. Cora recently used this expertise to create a facial mask that has social media talking.
Cora posted a picture of her applying a homemade skin-pampering mask on Instagram with a caption reading, "You made it through the holiday weekend! Now it's time to treat yourself to a DIY face mask made with items in your kitchen.⁠ If you don't have any avocados, you can replace it with a mashed banana, a juiced lemon or plain greek yogurt. These will all leave your skin glowing!⁠" She shared the 100% edible ingredients of the mask, which include cold-pressed extra-virgin olive oil, avocado, cocoa, and honey, as well as how to make it. Based on their comments, her followers are loving the skincare tip.
Cora's DIY face mask is easy and all natural
Followers loved Cora's Instagram post, leaving replies ranging from, "Your skin always looks so amazing...I will absolutely try this!" all the way to, "Nice! I love this Cat. Hope you your wife and boys had an amazing Christmas. love you so much my favorite chef in the world." Others noticed how good the ingredients looked and commented with gems like, "That would be great with pita chips," and "It looks like you have brown sugar in a prep bowl. Is that in the recipe as well?"
Cora shared the full recipe for anyone looking to make her signature face mask. After assembling your ingredients, mix one quarter to one half of an avocado with 1 tablespoon each of olive oil, cocoa powder, and honey until the mixture is creamy. From there, apply it to your clean face, let it sit for 10 minutes, and then wash it off with warm water. The word's still out on how well this plant-based mask works, but with any luck, you may have just found your new favorite skincare item thanks to Iron Chef Cat Cora.