Cold Stone Creamery Has Good News For Plant-Based Fans
Cold Stone Creamery may be known for their rich premium ice cream, but they now have great news for people who avoid dairy in their diet, but still have a sweet tooth. Now, even those who are vegan or dairy-free can still enjoy the sweet, creamy taste of a Cold Stone treat thanks to the brand's newest flavor: Silk Chocolate Almondmilk Frozen Dessert. While the chain has previously offered sorbets as a vegan option, this brand new release, which is made from a non-dairy Silk almond milk base, is the first vegan ice cream offering in the chain's history. This new Silk Chocolate Almondmilk Frozen Dessert release is now available at 930 Cold Stone Creamery locations nationwide, according to Veg News.
"Cold Stone's creativity and leadership in frozen desserts paired with our expertise in plant-based dairy alternatives and strong track record of delivering great taste and texture, is a powerful combination for bringing a delicious, plant-based dessert collaboration to frozen treat lovers across the country," Derek Neeley, vice president of marketing for Silk, Danone North America, said in a press release (via PR Newswire).
Cold Stone will also be adding a vegan creation to their menu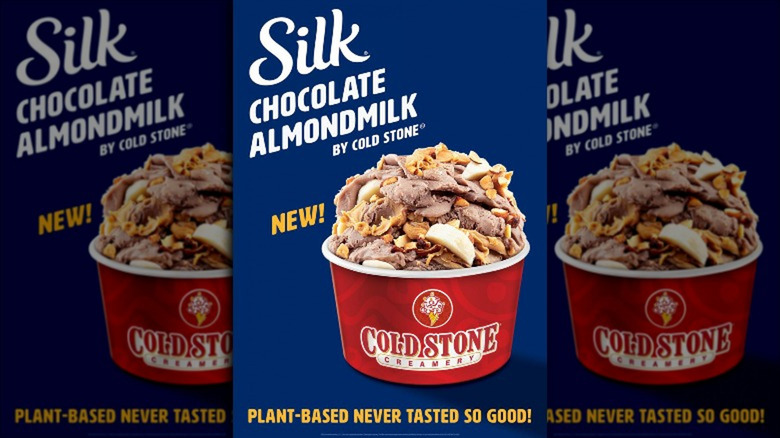 Cold Stone Creamery
This new vegan ice cream flavor is not the only thing Cold Stone Creamery is offering its plant-based customers. The chain is also adding a new promotional item, the Don't Cry Over Spilled Silk Creation, to its menu. This sweet new frozen dessert features a rich base of Silk Chocolate Almondmilk Frozen Dessert combined with sliced bananas, peanut butter, and a sprinkle of toasted almonds for an extra-decadent vegan treat (via Veg News).
"Cold Stone is delighted to share our very first plant-based flavor. We pride ourselves on our high flavor standards. It was important for us to innovate with an equally high quality and well-respected brand like Danone and their Silk Almondmilk product," Sara Schmillen, the vice president of marketing for Cold Stone's parent company, explained in a PR Newswire press release announcing the new flavor, adding that it "delivers on a true ice cream experience – but not made with any dairy product. Plant-based has never tasted so good."