Wienerschnitzel Just Hopped On The Plant-Based Trend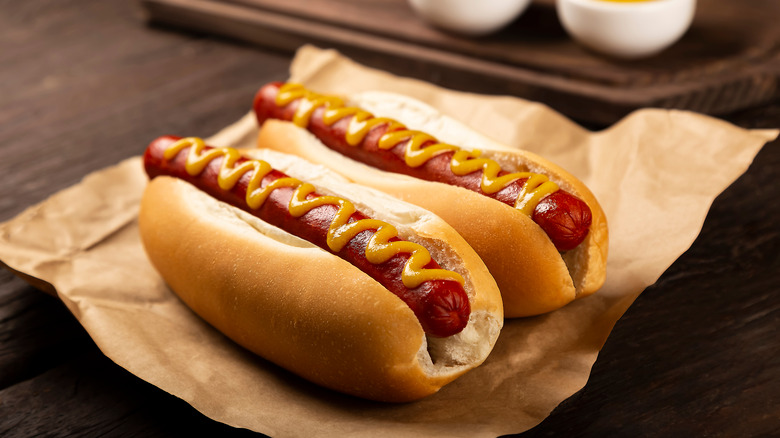 WS-Studio/Shutterstock
When you visit a Wienerschnitzel, you have a ton of choices to make. Fans of the chain love the brand's chili cheese hot dog, chili cheese fries, and corn dogs, per Ranker. Others opt for the mustard dog or chili cheeseburger (via Eat This, Not That!). Wienerschnitzel's website lists a ton of protein-packed burgers, hot dogs, and sandwiches, and it may seem like this fast food chain has something to curb any craving. However, some may have noticed that it lacks substantial plant-based options.
All that has now changed. According to a press release sent to Mashed, Wienerschnitzel has now added a signature veggie dog to their official menu. The chain plans to serve up the item a few ways. Customers can grab a Backyard Veggie Dog that comes with ketchup, mustard, tomato, American cheese, and a pickle spear. Diners can also order the Chicago Veggie Dog, featuring mustard, pickle spear, tomato, onion, relish, sport peppers, and celery salt; or the Barbeque Veggie Dog, which has a pickle spear, chopped onions, and of course, BBQ sauce. The hot dogs themselves are made of pea protein and get hardwood smoked with the same spices used on the brand's beef hot dogs. While these options sound mouthwatering, they come with one big catch.
Get the veggie dogs while you can
If these veggie dog selections sound mouthwatering, make sure to pick one up sooner rather than later. According to the press release, Wienerschnitzel only plans to keep the new veggie dogs on menu for a limited time and not every location plans to stock them. If you're a vegan or vegetarian concerned with cross-contamination, it's also important to know that these items may have come in contact with meat, wheat, milk, eggs, soy, fish, shellfish, tree nuts, or peanuts. Nevertheless, Wienerschnitzel wants you to visit and even has a dollar-off coupon available for anyone who wants to try the new veggie dogs.
According to VegNews, these plant-based hot dogs have taken about a year to reach the national market. Back in 2021, only 19 Wienerschnitzel locations tested the hot dogs and luckily, they proved popular enough to move to the official menu. With enough support from diners, the chain might even consider adding the items to the permanent menu. In the meantime, make sure to get your hands on these hot dogs while you can and see how they compare to the traditional beef variety.