Pina Colada Mixes, Ranked Worst To Best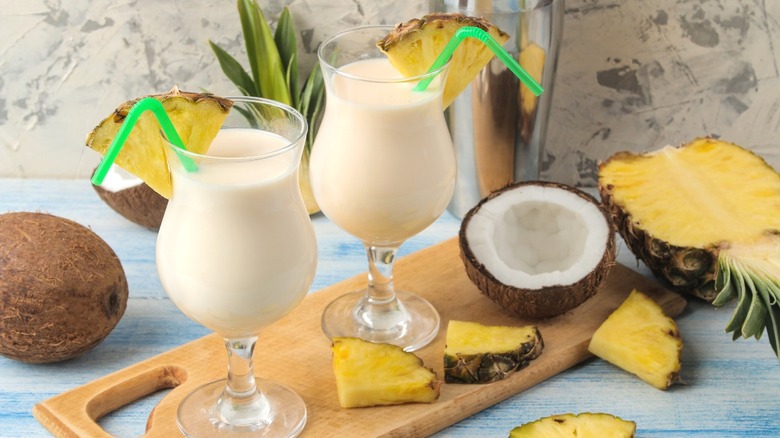 MK Studio/Shutterstock
If you've ever taken a sip of a sweet, creamy piña colada, you know just how satisfying of a drink it can be. While it's not exactly the healthiest option when it comes to alcoholic beverages, there is something unmatched about the combination of coconut, pineapple, rum, and ice all blended into a luscious smoothie. 
Throwing together a piña colada from scratch may not be the ideal way to spend an evening, so if you're craving a piña colada after a long work week, you'll be glad to know that there are tons of brands that take care of the heavy lifting for you. You can thank an innovative bartender named Ramón "Monchito" Marrero for creating the piña colada in Puerto Rico many years ago, according to Forbes. But you can thank these brands for putting together an array of different mixes so you can always pay homage to the original without a lot of fuss. Grab a straw and read on to see our picks of piña colada mixes ranked from worst to best.
Jordan's Skinny Mixes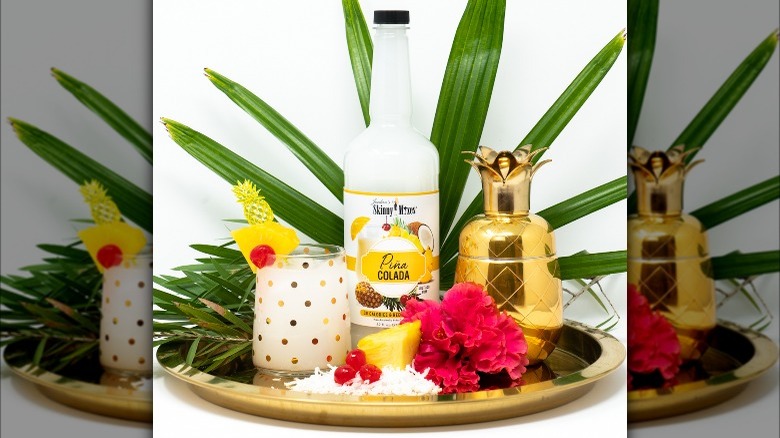 Jordan's Skinny Mixes
Those looking for a healthy alternative to traditional piña colada mixes may think they've hit the jackpot with Jordan's Skinny Piña Colada mix. After all, it's an exciting prospect to dive into a rich, creamy drink that is actually a healthier version of a beloved favorite.
Unfortunately, you may be shocked to find out that this mix, which brands itself as both "skinny" and "reduced sugar," isn't as dieter-friendly as it seems. Yes, it is only 30 calories per four-ounce serving. But the five grams of sugar in each serving come from the addition of high fructose corn syrup, which is the second ingredient in this mix. One Amazon reviewer noted that this is an ingredient consumers on the keto diet seek to avoid. However, the mix is described as "keto friendly" on the Jordan's Skinny Mixes website. "Pretty much ANY item that has high fructose corn syrup shouldn't be allowed to advertise itself as diet ANYTHING," the dissatisfied customer wrote.
So while this may be a mega-popular cocktail mix that doesn't taste horrible, it's coming in at the bottom of the list because of its claims to be something it's not. 
Bacardi Mixers
As 2020's second best-selling brand of rum in the United States, Bacardi is surely onto something good. In addition to its extensive line of rums, the brand has produced a series of mixers that pair fantastically well with its liquors.
Bacardi Piña Colada mixer is a frozen, concentrated mix. By blending the concentrate, rum, and some ice cubes, amateur mixologists can easily create their own tropical cocktail. It's a fan favorite, with 4.5 stars out of 795 ratings on Influenster. As purveyors of its own rum, Bacardi likely had no issues tweaking its mix until it was the perfect accompaniment. While it has good flavor, it could amp up the tartness a bit. It's definitely tasty, but it's lacking any real fruit or coconut notes.  
But the flavor it does have carries this mix far and means it doesn't need to rely on alcohol to be delicious. One Influenster reviewer said, "I actually don't drink alcohol, but I love making virgin drinks with these mixers! They're great for a party or a cookout, whether you add alcohol or not."
Master of Mixes Piña Colada Cocktail Mixer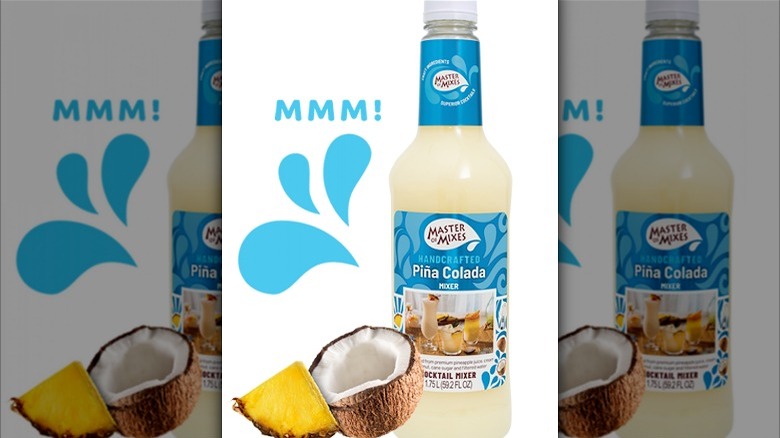 Master of Mixes
Master of Mixes has a whole range of alcohol-ready cocktail mixes. It's one of the bigger names in prepared mixes, so one might assume that its products are all top-notch. That assumption, however, would be wrong. This is an especially tough category — rich, creamy piña coladas can deliver on flavor, or they can fall flat with just one component out of balance. And this Master of Mixes Piña Colada Cocktail Mixer is just a little too artificial to be enjoyable. 
With high fructose corn syrup as the number one ingredient, this mixer doesn't even attempt to be good for you. This faux pas would be very easy to overlook if not for the fact that there is only 31% coconut and pineapple juice in this mix. So what exactly is the other 69%? Well, there's no need to read the label unless you want to be disappointed. There are plenty of other piña colada mixes out there, so this one can easily be skipped over. 
Daily's Piña Colada Mix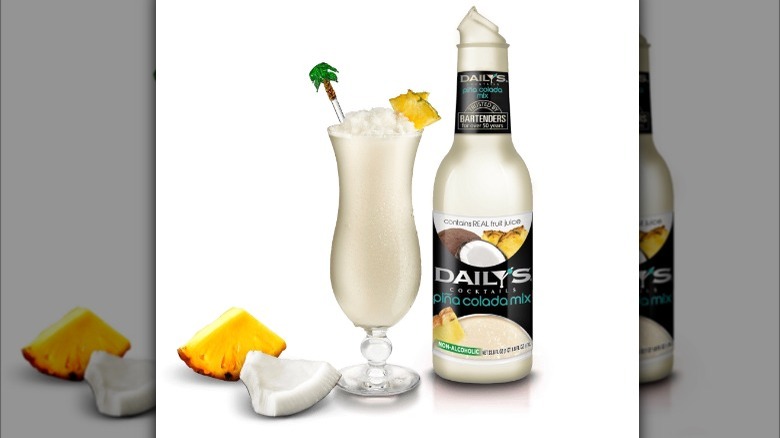 Daily's
Daily's is another big name on the cocktail mix scene, and it's done a mediocre job with this piña colada mix. A good piña colada should be a healthy balance of both coconut and pineapple, so that's what you expect when you crack open a bottle of mix. And Daily's just doesn't deliver. In fact, it under-delivers, and that sweet, fruity, refreshing flavor that you expect to taste on your first sip is nowhere to be found. 
Daily's Piña Colada Mix is just plain bland. One Amazon reviewer said, "After trying to drink this several times, we threw 75% of it away. It's too thick without specialty ice and too bland."  This would be a perfect buy if you're someone who likes to do a little tweaking. So add your own canned coconut and some pineapple juice to doctor this up ... But by that point, you'd be better off just making your own piña colada from scratch.
One redeeming quality of this mix is that it isn't overly sweet like some other mixes. So if you're watching your sugar intake or just don't have the taste buds for it, this may be the mix for you.
Torani Piña Colada Real Fruit Smoothie Mix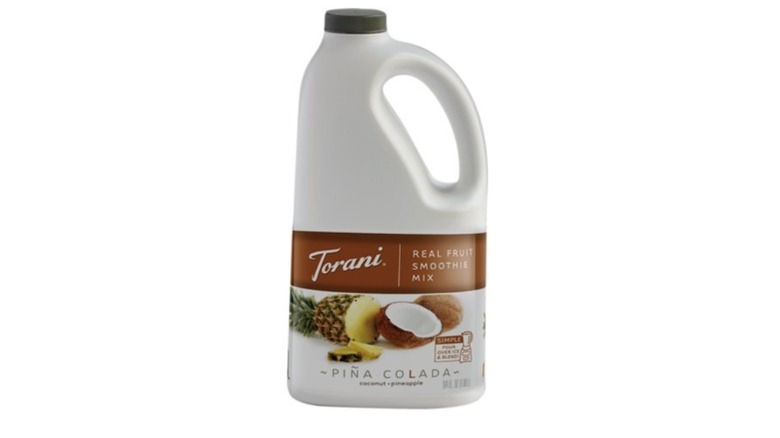 Torani
This Torani Piña Colada real fruit smoothie mix has a lot going for it. As a certified B Corporation business, Torani has made a public commitment to stand up for social and environmental issues. So, naturally, it's the type of business that almost anyone would be eager to support. 
The great news is that Torani knows a thing or two about mixes and syrups, with CNN reporting that its products have become so popular that its sales actually increased during the pandemic. Flavorings are the brand's strong suit, and its piña colada mix is as good as one might expect. There are two downsides, though, and while they're not total dealbreakers, they're enough to land this mix smack in the middle of the list. 
The first minor issue is that the instructions aren't the best. One WebstaurantStore reviewer said, "The directions are very vague. ... While individual preferences vary, it is always useful to have the manufacturer's suggested ratios to use as a base line, and this mix lacks any real guidance on the package." While this isn't the worst thing in the world, when you want to get the party started, the last thing you want to do is fumble around with a drink that should be uncomplicated. 
It's also one of the more subtle mixes in the lineup. Tasty? Yes. Straightforward and powerful? No.
Baja Bob's Piña Colada Mix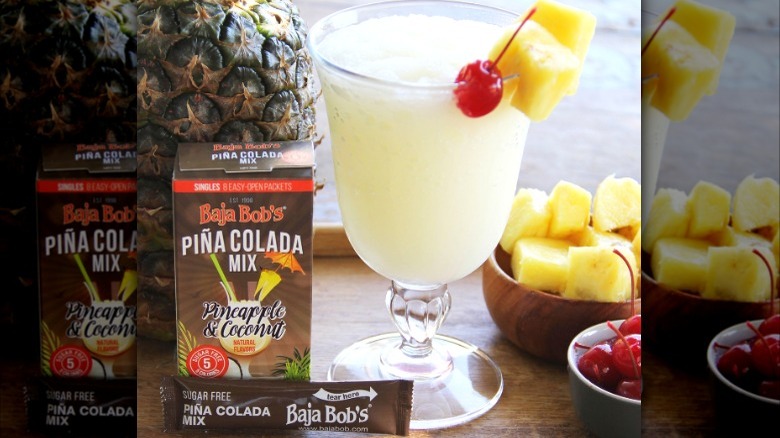 Baja Bob
Baja Bob was a guy who enjoyed margaritas while on fishing trips with his buddies. During one such trip, however, Bob and all his friends revealed they were trying out low-carb diets. What did this mean for their beloved margaritas? If only there was a low-carb, low-sugar way to enjoy a margarita ... So Baja Bob got to work, and his line of cocktail mixes was born. 
A low-sugar piña colada mix might sound like an oxymoron, but Baja Bob found the magic mix of ingredients. This isn't your traditional, coconut cream-laden piña colada. But because it's sold as individual packets, it's easy to throw together a lighter version of a piña colada. One Netrition reviewer said, "Great flavor! Easy to mix individual packets! Regular piña coladas are soo calorie laden, but now I can indulge virtually calorie free- except for the alcohol that is." The ingredient list reads a bit like items in a chemical lab, but if low-carb or sugar-free is your highest priority when choosing a piña colada mix, this is a great option!
Monin Piña Colada Smoothie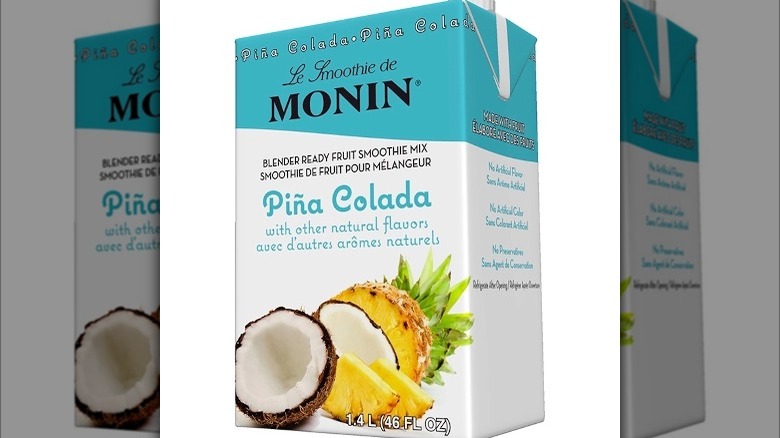 Monin
Monin has been serving up syrups and drink mixers since its inception in 1912 in France. And it seems the brand has a good grasp on what is required to make a great piña colada. This smoothie is unlike any of the other products on the list because it's liquid and chunky and ready to go. Just toss it in the blender with ice and rum, and you're good to go.
Although it's still a prepared mix, something about it feels fresh and vibrant compared to just plain syrups. one WebstaurantStore reviewer said, "The Monin piña colada fruit smoothie mix will have your taste buds in love. A great blend of coconut and pineapple that makes delicious frozen drinks in seconds." 
So while it's not possible to have a premade piña colada mix check every single box (freshness, balanced, delicious), Monin shows it's possible to come pretty darn close.
Margaritaville Singles to Go Piña Colada Drink Mix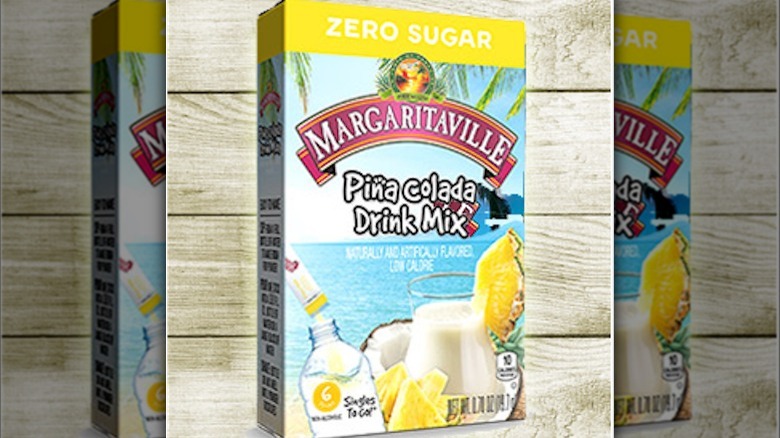 Margaritaville
Margaritaville is more well known for its, well ... margaritas. From three small restaurants, Margaritaville has evolved into a chain of locations throughout the country, as well as a line of liquors. As a brand that has exemplified the laid-back, vacation-inspired lifestyle, it was only natural for Margaritaville to also release a line of drink mixes for customers to have their vacation when and where they want it. 
One box of Margaritaville Piña Colada Mix comes with six single-serving packets of powder that are perfectly proportioned for one bottle of water, or, of course, a small bottle of rum. It is a pretty brilliant idea for vacations. One Amazon reviewer used this outside of vacations and said, "These are great. Every time I drink one of these, I feel like I am in that Corona commercial... you know the one on the remote beach on a beautiful sunny day."
Goya Piña Colada Mix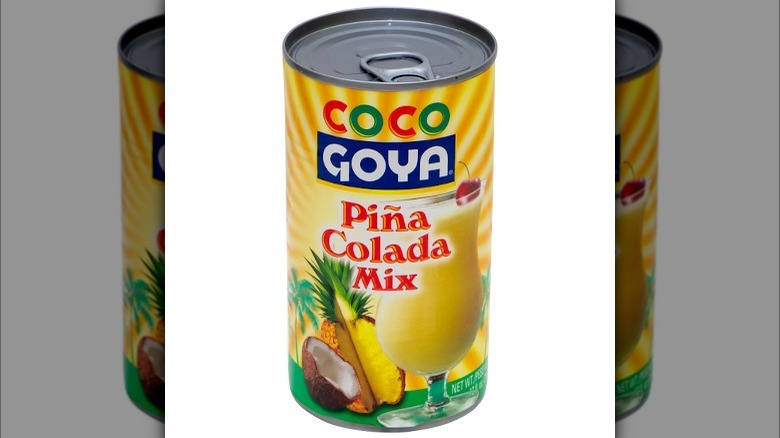 Goya
Goya Foods was caught in the middle of a political firestorm in 2020 thanks to CEO Robert Unanue's praise of former President Donald Trump, but the brand has roots dating back to 1936 when it was founded by Don Prudencio and Carolina Unanue in New York. The brand is known for its beans and spice mixes, but its canned piña colada mix is an exciting option in a sea of piña colada powders. 
Goya describes its piña colada mix as "a sweet taste of pineapple blended with velvety coconut cream." It's ideal for those who prefer more pineapple flavor, as the fruit is first on the list of ingredients (but no worries, coconut fans — this equally crucial ingredient appears third behind water). Goya includes a recipe "for the best piña colada" on the can, and one Saboriza.com reviewer was a fan of just how easy is it to whip up one of the refreshing tropical drinks using the mix. They said, "Very simple to make delicious Piña Coladas with this product! "
This tastes like the real thing and is just plain delicious.
Zing Zang All Natural Piña Colada Mix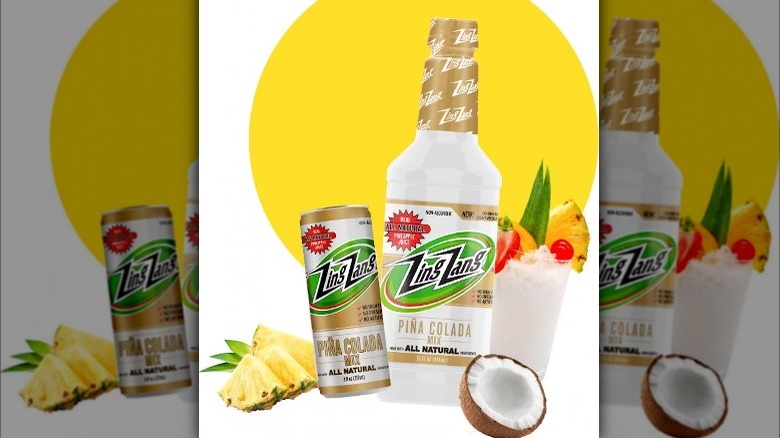 Zing Zang
A tricky thing happens when you attempt to blend a piña colada. In the hopes of keeping the balance between fruit and cream, the pineapple is often over overloaded, drowning out the rich flavor of coconut. Good news — that's NOT what is happening here! Zing Zang Piña Colada Mix maintains a lovely balance of everything you want: creamy, tart, etc. 
We'll deduct a few proverbial points because this mix does have a little too much sweetness, according to one Total Wine reviewer who left a very blunt review of two words: "Too sweet." But it's not the worst thing that could happen to a piña colada mix because you can always add extra ice and rum to temper the sugar. And we love Zing Zang's cocktail mix because it also comes in a can, making it yet another super convenient option to get the party started.
Lt. Blender's Piña Colada in a Bag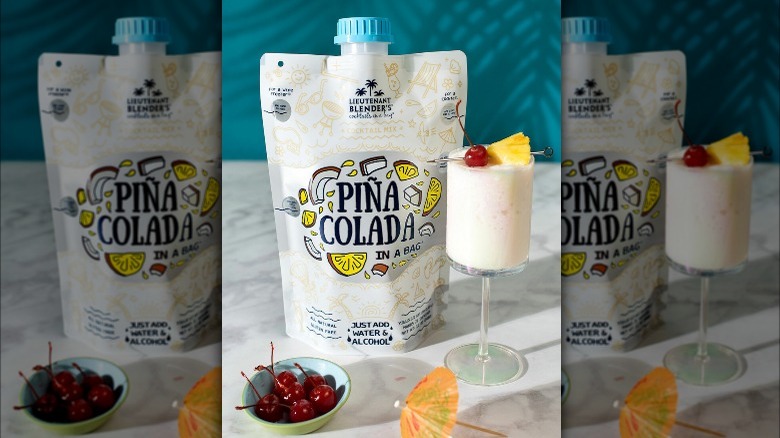 Lt. Blender
Once upon a time, a lieutenant made cocktails for his troops. Equipped with only a blender, he whipped up fabulous drinks and became known as Lieutenant Blender. From then on, he was invited to every party, and when he started bagging his creations, he knew he was on to something.
Lieutenant Blender's in-bag cocktails were born out of necessity, but they live on with the same function as they had back then — to bring joy and convenience to everyone who uses them. Indeed, Lieutenant Blender's backstory is a charming one, but the taste is just as inspiring: Rich coconut and juicy pineapple, all in a little bag that just requires you to add rum and water and give it a little shake before you freeze it.
And if you're feeling really creative, you can use this as a coconut cooking mix like one Amazon reviewer who said, "Just a few pinches to taste on coconut rice. Amazing. Try making your own copycat recipe for coconut shrimp like red Lobster has. I got this on a whim for these purposes. I'm going to mix some in to my next cheesecake. Just a bit and maybe serve with some pineapple. Trust me."
Island Oasis Piña Colada Mix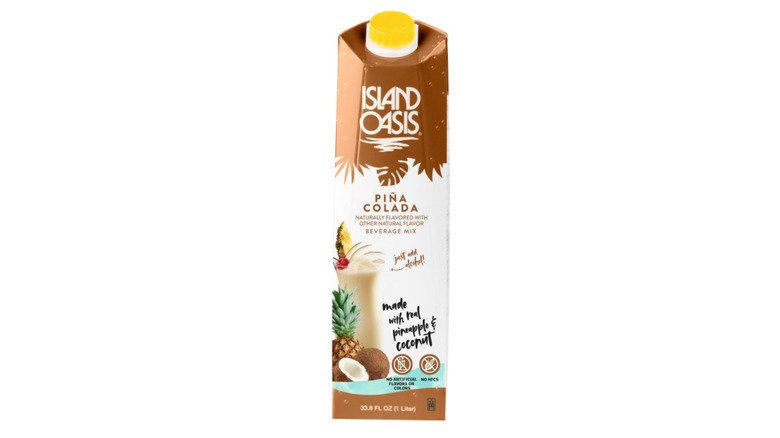 Island Oasis
If you want to indulge in Puerto Rico's national drink at home without sacrificing the luscious flavor you expect, you can stop your search now. May we present Island Oasis Piña Colada mix! 
Here's why it ranked so high on our list. A lot of companies throw around the terms "natural." And Island Oasis also uses the term, describing its products as "refreshing natural mixes for endless beverages." A quick glance at the ingredient list shows there are only eight easy-to-comprehend ingredients, with the first four being water, sugar, coconut milk, and pineapple juice concentrate.
Ingredients aside, this mix is a perfect blend of pure coconut and pineapple tastes that don't compete against one another. It's balanced and sweet and a downright delicious mix. This product comes in a box, which is great if you're cutting back on your usage of plastic, but take heed, as some Amazon reviewers have dealt with spillage and punctured boxes. 
Mr & Mrs T Piña Colada Mix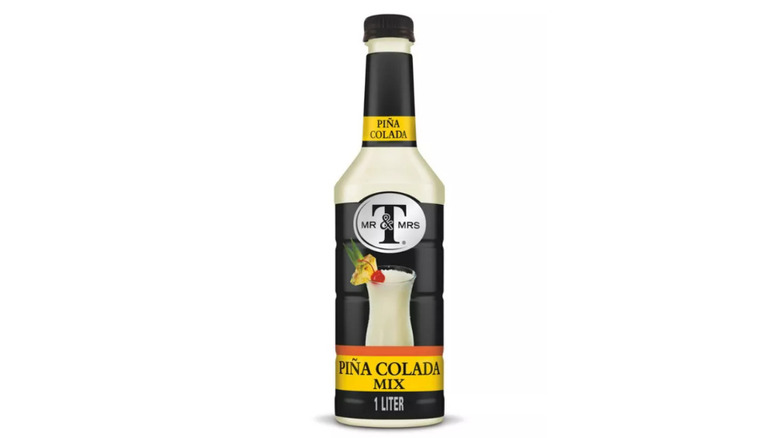 Mr. & Mrs. T
We fully understand that a pre-packaged cocktail mix is not necessarily the right product with which to be picky in regards to ingredients. But the fact that Mr & Mrs T's Piña Colada mix is made with cane sugar just piques our interest. The cream and juice make piña coladas so irresistible, and the usage of real sugar takes the deliciousness up a notch. 
If you have a sweet tooth, try one Target reviewer's suggestion: "We made it just as the recipe on the back of the bottle calls for with: ice, vanilla ice cream, and pineapple chunks. Then we dipped the rip of our glasses in lime juice and sugar in the raw. Absolutely delicious."
With an average rating of 4.5 out of 5 stars on Target's website, piña colada lovers seem to be in agreement. And at around $3.50 for one liter of mix at the time of this writing, Mr & Mrs T's is bringing both value and flavor.