Trader Joe's Fans Are Divided Over Its Organic Vodka Sauce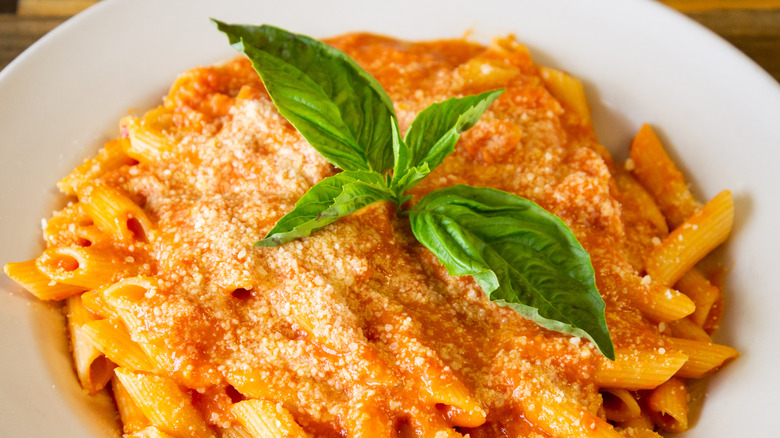 By Bokey/Shutterstock
We may receive a commission on purchases made from links.
Pasta, pasta, pasta. Who doesn't love this versatile dish? Not only is it fairly easy to make, but it's also relatively affordable, as a box of dried goods will only set you back a little over a dollar (via Statista).
While there's so much to love about this one-pot supper, the best part about pasta is the endless list of sauces that pair with it. Whether you want to tuck into a bowl of Mac n' Cheese, savor a portion of lasagna, or snack on a plate of pasta salad, there's something for everyone and every occasion in the pasta-verse. But when you are feeling fancy, you can't go wrong with a gourmet vodka sauce. There are numerous ways to customize this special sauce, but the three central ingredients are tomatoes, heavy cream, and of course, vodka (via All Recipes). Creamy, rich, and smooth, penne alla vodka is the perfect meal to whip up for a special occasion.
On lazy Sundays, it can be fun to labor over an aromatic homemade sauce for hours on end. But all too often, we are in a rush to get dinner on the table. If you are looking for a delicious jarred sauce for a busy weeknight, you can always count on Trader Joe's to help you out. Unsurprisingly, this beloved grocery store chain also has a vodka sauce in its repertoire. But you might want to listen to some previous buyer reviews before jumping the gun on this purchase.
Many TJ fans are less than impressed with its organic vodka sauce
If you've been on the hunt for a pre-prepared organic vodka sauce, TJ's certainly has one available. This sauce in a jar includes a mix of tomatoes, olive oil, cheeses, and herbs, with a dash of vodka to finish it off (via Amazon). Sound delicious to you? Well, some buyers certainly didn't think so.
A Trader Joe's fan account took to Instagram to share their excitement over this product. "I've seen this pasta sauce for years but have always opted for the arrabbia sauce or the new-ish vegan bolognese," @traderjoeslist shared in a post. "My sister told me this is her favorite and she was having trouble finding it so when I saw it a #traderjoes yesterday I naturally had to pick it up and make it for dinner! It was absolutely delish and full of flavor." Some users had similarly glowing reviews about the sauce. "This is my fav! So yummy," one user wrote, while another user shared, "Best bottled vodka sauce I've tried!!"
Unfortunately, many other buyers were less than impressed. "I did not have a good experience with this one," @traderjoesdarling wrote. "It was really acidic and didn't resemble vodka sauce I've gotten out at restaurants or pizza places. Or any of the homemade recipes online." Many other users felt similarly disappointed, particularly when it came to the "sour" taste of the sauce. "It's barely vodka sauce, total pass for me," @richied456 wrote.