Your Mardi Gras King Cakes Should Be Safe From Food Shortages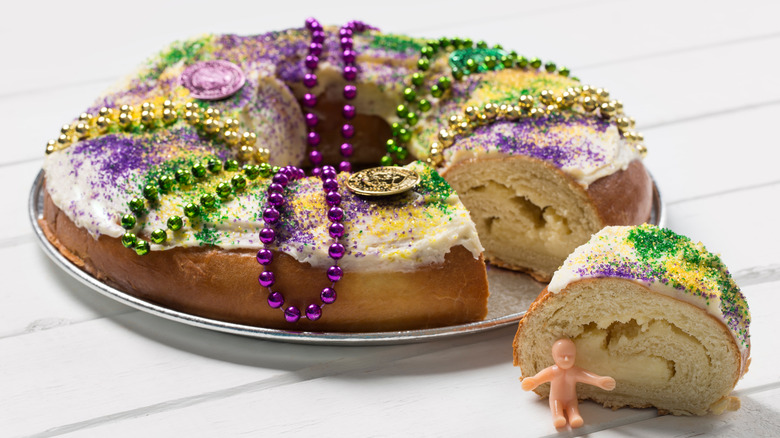 Jennifer White Maxwell/Shutterstock
King cake is a vibrant Mardi Gras tradition that Louisiana bakery Caluda's King Cake describes as a marriage between French pastry and coffee cake. While this delicious treat can be enjoyed year-round, the Mardi Gras-specific version typically features gold, purple, and green sprinkles, as those colors together are said to represent the unification of power, faith, and justice.
Per Country Living, king cakes can vary in ingredients, but they generally start with a brioche cinnamon dough and sometimes have decadent fillings, like cream cheese. Trademarks of most king cakes include frosting, vibrant decorations, and a wreath shape. Another signature is the presence of a tiny baby figurine placed inside the dough, which is meant to represent Jesus on the Catholic Epiphany. Clearly, king cakes will be on this year's Mardi Gras menu, but some enthusiasts are worried: With all the supply chain and shipping disruptions going on, could king cakes follow the path of cream cheese and be part of food shortage disastrous for sugar lovers everywhere?
You should be able to find a king cake this year, but you might have to pay more for it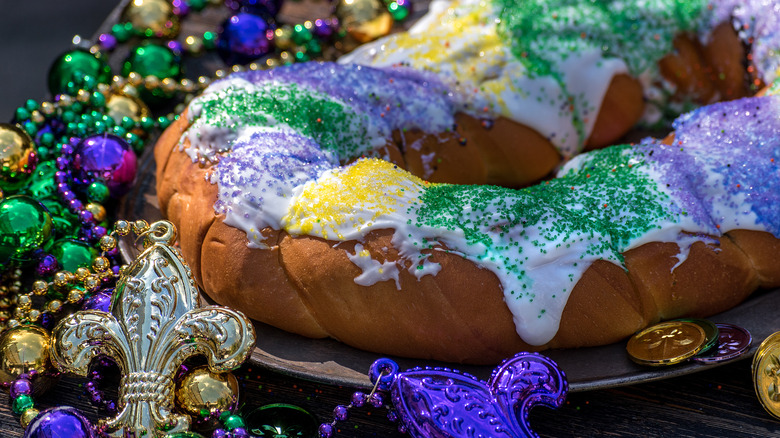 Lynne Ann Mitchell/Shutterstock
Nola.com surveyed New Orleans bakeries and found that this year's production of king cakes is largely on schedule, reports Southern Living. That's not without difficulty: Many bakery employees are putting in extra hours to make up for short staffing amid positive COVID-19 cases. These workers lose more production time when a staff member gets sick and the team has to leave work to get tested.
You're likely to find your king cake this year, but be prepared to potentially pay more than usual due to food shortages and rising ingredient costs. One baker told Nola.com that vendors have been limiting the quantity of ingredients available for sale, and everything from flour to yeast has gotten more expensive. KingCake.com recommends ordering your king cake days before you need it, presumably because bakeries cannot control shipping delays, weather-related or otherwise, after sending your item.