Fresca Is Getting A Makeover And It Packs A Punch
The Coca-Cola Company recently announced that Fresca, one of its historic brands, will be getting a makeover. According to a press release, the soft drink will be "mixing things up in 2022." Fresca first hit the market in 1964 as part of a test run (via The Coca-Cola Company). Customers quickly loved the zero-calorie, grapefruit-flavored soft drink, which was marketed as an alternative option for water or seltzer drinkers and a mixer for alcoholic beverages. Now, the drink is getting a new upgrade as the brand partners with another company, Constellation Brands, to release a new line of beverages called Fresca Mixed.
Per the press release, Dan White, chief of New Revenue Streams of Coca-Cola North America Operating Unit, said that Coke and Constellation brands share "a passion for building some of the world's most loved brands and for building best-in-class beverage experiences." The new line won't need to be mixed with anything, as it already packs its own punch.
Fresca Mixed is a line of ready-to-drink cocktails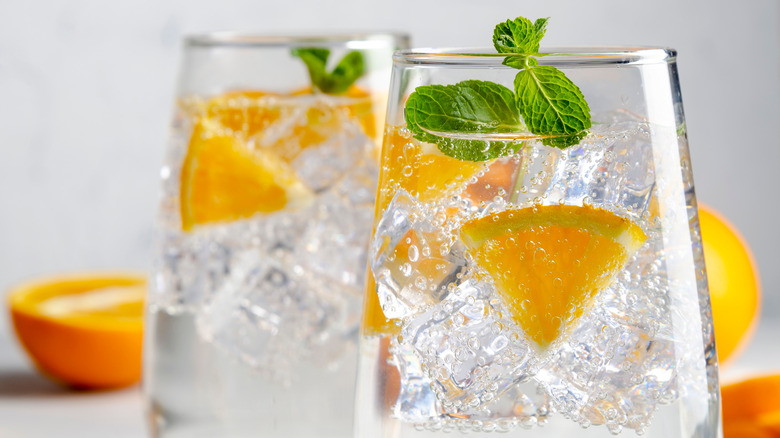 Tenzen/Shutterstock
You won't have to combine Fresca Mixed with alcohol once it becomes available: All of the heavy lifting and measuring will already be done when the ready-to-drink (RTD) cocktails hit the shelves. Constellation Brands, a beer, wine, and spirit company responsible for other brands like Corona and Svedka Vodka, will produce, market, and distribute the beverage line (via Constellation Brands). The press release notes the company's wide range of experience in distilling, operations, and distribution that make it the perfect partner for this new venture.
Fresca is the fastest-growing soft drink brand in the Coca-Cola portfolio (via Food and Wine), so it's not surprising the company would want to jump on the opportunity to expand. The new drink is ideal for customers who crave "fuller-flavored experiences and higher-quality RTD cocktails to bridge between refreshing hard seltzers and full-flavored bar cocktails," the press release noted. If you're excited about a new canned cocktail option, you won't have to wait too long — Fresca Mixed is slated to launch later this year.