Whataburger Has Good News For Fans Of Its Dr Pepper Shake
Fans love a ton of items at Whataburger. According to Thrillist, the chain's biscuits and gravy, french fries, taquitos with cheese, and iconic burger all rank as some of the all-time favorite staples at the restaurant. Their shakes have also made an impact and their seasonal Dr Pepper shake has always found its mark with customers. Chew Boom reports that the shake first hit stores back in 2019 and consisted of ice cream blended with Dr Pepper syrup. The burger chain has been bringing this seasonal item back from time to time since it launched, and the time has finally arrived to enjoy it once again.
According to Whataburger, fans can now find the signature shake at select locations. The drink consists of the same blend of ice cream and syrup as years past, and the fast food restaurant plans to keep it on menus for a limited time. The brand hasn't announced how long they intend to keep the item on the menu for, so anyone who wants to try it needs to move fast.
The return of a fan favorite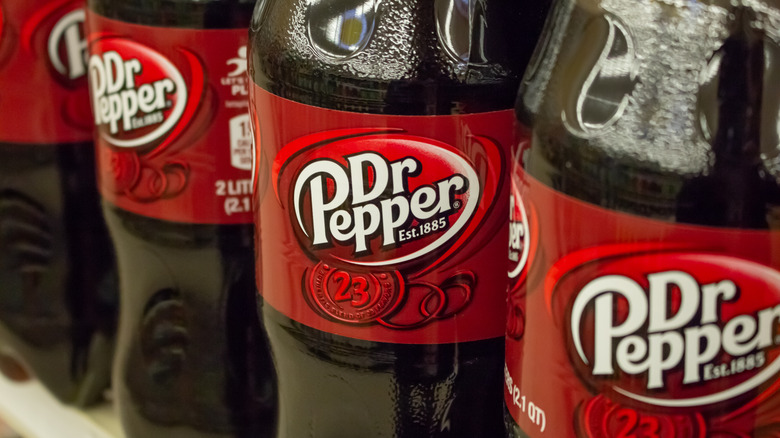 TonelsonProductions/Shutterstock
Fans have generally found something to love in this shake. Houstonia loved the drink when it launched, and found that the treat perfectly balanced soda and vanilla flavors. They also applauded the bright flavors and hoped it would remain a permanent menu item. Reddit initially thought the Dr Pepper shake was a scam. Some likened the taste to a chocolate shake or a cherry shake, and comments included, "It tastes like a straight up cherry shake to me. Although I know cherry is a component of Dr. Pepper, so what do I know," and, "I tried one the other day, and I'm right there with you. Tasted like a vanilla shake with a very slight hint of chocolate. I didn't get any Dr Pepper vibe from it at all."
Austin360 noted that the item looked like a chocolate shake, but tasted and smelled distinctly of soda. While one reviewer with the magazine didn't care for the shake, the rest of the staff loved the item and also couldn't wait to try it again. This shake has easily found its way into the hearts of fans, and if you haven't tried it yet, make sure to grab it soon and see if it lives up to expectations. Otherwise, prepare to potentially wait another year until you can get your hands on this returning Whataburger fan favorite.