This Is What Makes Publix's Italian Sub So Delicious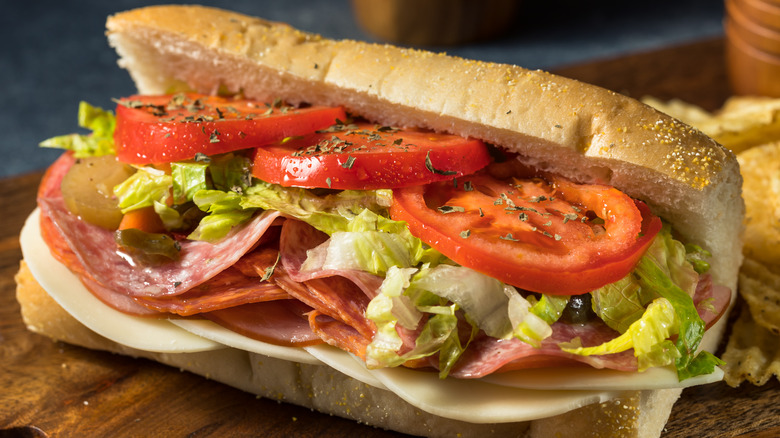 Brent Hofacker/Shutterstock
If you grew up in Florida or the neighboring southern states, or have ever visited this region, you're probably familiar with the grocery store chain Publix. Although the chain began in Florida and has grown to have approximately 850 supermarkets in this state alone, you'll now find another 350 grocery stores throughout Alabama, North Carolina, South Carolina, Tennessee, and Virginia (per Publix). Publix is popular for its products, focus on quality, and its own name brand items with decent prices. But, there is something else that makes this grocery store chain a big hit — the deli.
Publix offers up a sweet sub sandwich menu and also gives you the option to invent your own. Some sub offerings, per the Publix website, include Chicken Cordon Bleu, Ultimate Sub, Turkey Ruben, and Havana Bold, all of which are offered with Publix brand or Boar's Head deli meats.
Publix is at the top of the list as far as Italian Subs go, coming in at number two, but for the best overall sub sandwich, Thrillest puts it at number one — and for good reason. 
These sandwiches are fresh and delicious
What makes Publix sub sandwiches so different from other deli counters or sandwich shops? According to Southern Living, customers say the sandwiches are always fresh, made to order, and are customizable so you can choose the exact toppings you desire and substitute different meats and cheeses. 
In an interview with Southern Kitchen, one fan shares that "The beauty of the Pub Sub is in all of the toppings and the copious amounts of mayonnaise, and you don't want all of those salty meats interfering with the banana peppers, black olives, lettuce, tomato, oil and vinegar, and oregano."
The customers interviewed agree that the Italian Sub is a favorite. Per the Publix website, the Italian Sub is loaded with genoa salami, tavern ham, hot cappy ham, and your choice of cheese along with any toppings you might fancy. 
If your mouth is watering and you're ready to head to the nearest Publix, keep in mind one "pro-tip" offered by a seasoned customer in Southern Kitchen: Avoid going to the deli counter at lunchtime.