Anthony Bourdain Called This Kitchen Tool The Backbone Of Pretentious Food Presentation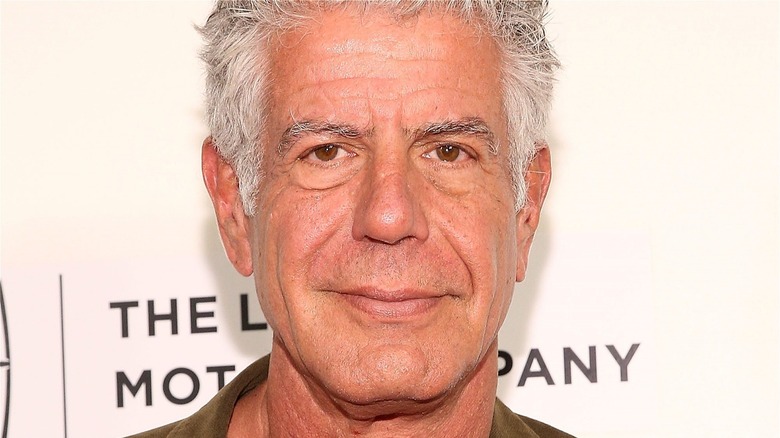 Robin Marchant/Getty
It goes without saying that best-selling author, television host, and celebrity chef Anthony Bourdain holds a special place in the hearts, minds, and imaginations of the American public. Gone too soon, yet never forgotten, his wisdom and unique perspective forever altered how the world eats, thinks, and approaches food. His globetrotting pursuit and exploration of world cuisines, along with the places and people behind the plate, inspired and reminded us of the way that food unites and binds us.
A reluctant celebrity with an often sardonic yet poignantly honest opinion, Bourdain's likes, dislikes, and recommendations are still viewed by many as gospel. Getting insight into some of his favorite kitchen secrets is highly coveted. In an article with Jaquo, Bourdain shared his five essential kitchen tools. Gadgets on the list include a decent chef knife and an offset serrated knife, plastic squeeze bottles, metal cooking rings, and a heavyweight pan. Any guesses on which one he proclaimed as "the backbone of pretentious food presentation?" It was none other than the humble metal cooking ring.
The power of metal cooking rings in the kitchen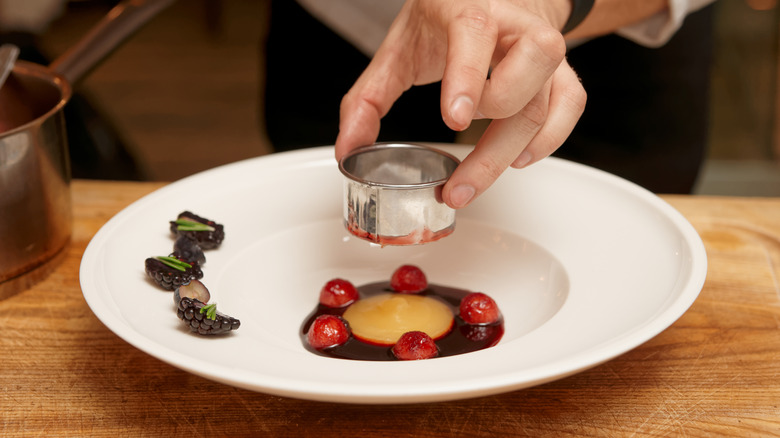 Kondor83/Shutterstock
The metal cooking ring, a classic tool used in many kitchens, is simple in design and flawless in function. The cooking rings, which are also known as plating rings, forming rings, prep rings, food styling forms, and food presentation rings, are mostly used by professional chefs for a variety of food presentations (via Amazing Food Made Easy). According to the Milwaukee Journal Sentinel, the tool was first used in France in the 1800s and referred to as the "Savarin mould" in honor of Jean Anthelme Brillat-Savarin, who famously penned "Physiology of Taste, or Meditations on Transcendental Gastronomy" in 1825.
Cooking rings are molds that are essential for stacking and shaping food on a plate. Traditionally, the molds are used to set main courses — like meat and fish — on potatoes or rice. Additionally, they can be used to mold salads, eggs, tartars, pancakes, appetizers, and desserts. Whether you are a home cook or professional chef, the molds can make any food you are plating look polished and structured. Although reasonably priced, Anthony Bourdain shared an inexpensive hack for those unable to buy fancy kitchen equipment. Home chefs can cut a PVC pipe about two inches high to imitate the gadget (via Jaquo). Bourdain deserves a shout-out for — once again — thinking outside the box to demystify this pretentious kitchen tool and making it accessible to everyone.