Aldi Fans Are Drooling Over This Marbled Beef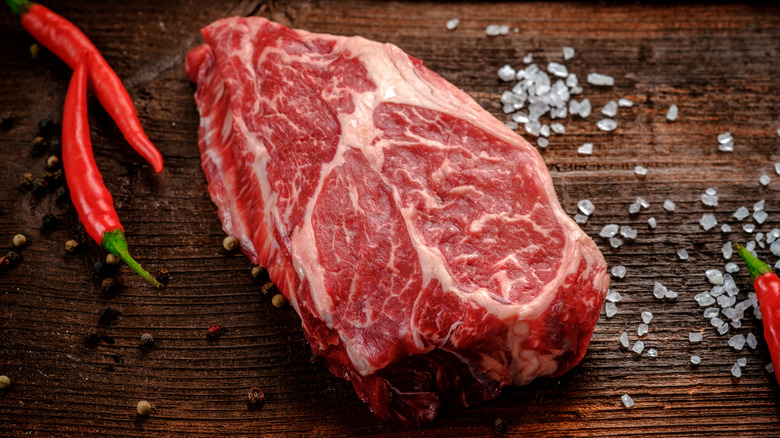 Andrei Iakhniuk/Shutterstock
Aldi is known for its great deals, but low prices alone aren't enough to keep customers coming back time and time again. It's the combination of high-quality products and very affordable prices that has helped make the grocery chain so successful. In fact, Aldi has become so popular that there is even a subreddit dedicated to the chain, where workers and shoppers alike congregate online to discuss anything and everything related to Aldi.
Some fans use the subreddit to share exceptionally well-reviewed products or great deals that they have come across on their shopping trips. Recently, one satisfied Aldi customer took to Reddit to post a rave review of one of their most recent purchases. "Did I just hit the meat jackpot? Chuck roast from Aldi's has amazing marbling," u/and_the_giant_peach posted alongside a photo of a neat slice of tender Aldi's Chuck roast. Many of their fellow Aldi fans were quick to agree that the perfectly marbled piece of meat was definitely drool-worthy.
Some people felt it was comparable to pricier cuts of meat
The photo looked so appetizing that some people in the comments couldn't help but compare the Chuck roast to a much more expensive cut of meat. "When did Aldi start selling Wagyu," replied one Reddit user. Pricey Wagyu beef can sell for up to $200 per pound, with the cost of a Wagyu calf going for about 40 times as much as standard U.S. cattle, according to Business Insider. While it might not be quite as fancy as Wagyu, Aldi's Beef Chuck Roast still delivers high quality and is certainly the more affordable option — My Wholesale Life notes it's just around $4.29 per pound.
Other shoppers on Reddit also chimed in about the impressive Aldi product. "That A5 marbling... someone accidentally packaged the wrong meat in the wrong package loll," joked another user. "DAMN! I would have set that piece aside and given it a beautiful sear on all sides in a skillet then hit it with some flakey salt," u/Detronyx suggested. So, based on these social media responses, while Aldi may have low prices, they can still certainly deliver exceptional quality without breaking the budget.