Bakery-Style Chocolate Chip Cookie Recipe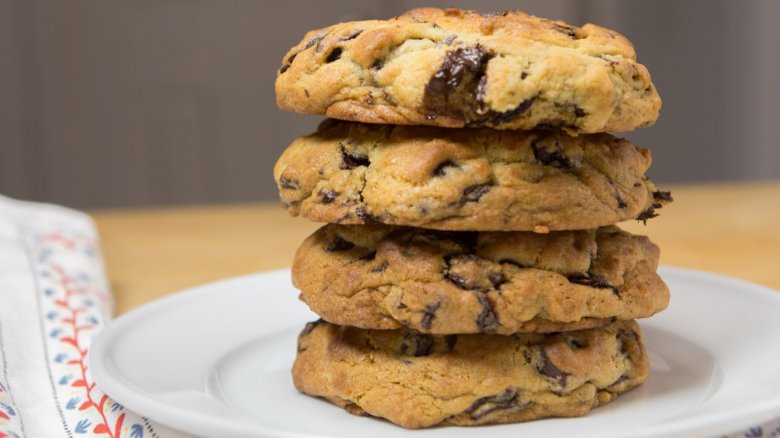 I spent my late 20s as a pastry chef and baker in New York City where I learned how to do everything from tempering butter and concocting the smoothest meringue buttercream to making pies and baking giant cookies. Let's talk more about that last thing! Bakery cookies in a food-obsessed city like New York are expensive, costing upwards of $6 each. You're probably wondering how the shops justify these insane cookie prices. I feel you. To start with, the cookies are big. Owners know customers don't want to shell out several dollars for a Nestle Tollhouse-sized cookie. Oh no. Moreover, the cookies at swoon-worthy establishments are made with high-quality butter, flour, sugars, and chocolate. Trust me. Nice ingredients make all the difference when it comes to taste.
Here, I share with you a version of a cookie I used to bake on the daily at a Brooklyn bakery. It's big, bulky, and chock-full of dark chocolate. It's tender and slightly gooey on the inside. This enormous cookie is what you want in the afternoon with a cup of coffee, at midnight with a glass of milk, and maybe again at 7 a.m. as breakfast on the go. While dangerous to have such incredible chocolate chip cookies at your fingertips, the knowledge is also unbelievably empowering. Go on.
Gather your ingredients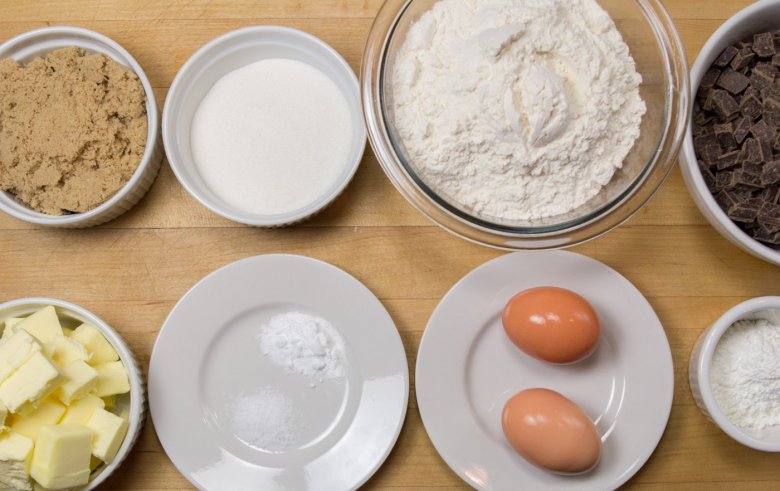 Like most chocolate chip cookies, these are made divine using the most basic pantry ingredients, which contributes to their comforting homespun taste. Butter, flour, cornstarch, sugar, egg, baking soda, kosher salt and dark chocolate chunks are all it takes to yield the kind of cookies you'd likely find at fine bakeries. I like to use dark chocolate for deeper flavor, and chunks to yield big melty pots of chocolate throughout the cookies. Chocolate disks work well, too.
Cream the butter and sugars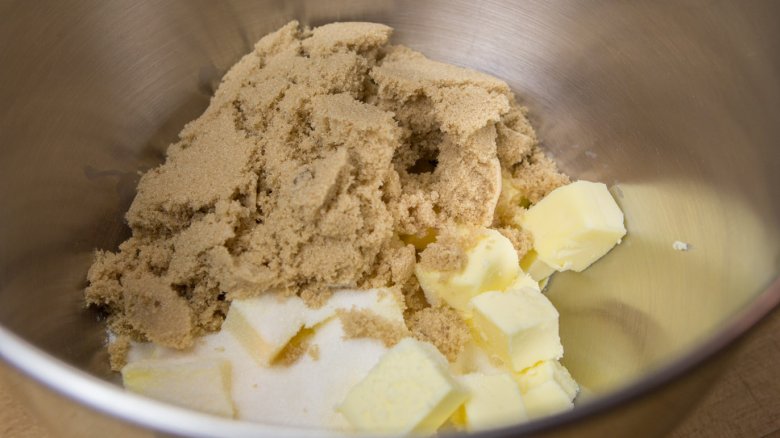 When you cream the butter and sugars together, be sure to start off at a low speed, as you're working with cold butter. At a higher speed, the hard cubes of butter may go flying out of the mixing bowl! As the ingredients come together, you can gradually increase the speed and beat until everything is light and fluffy.
Add the eggs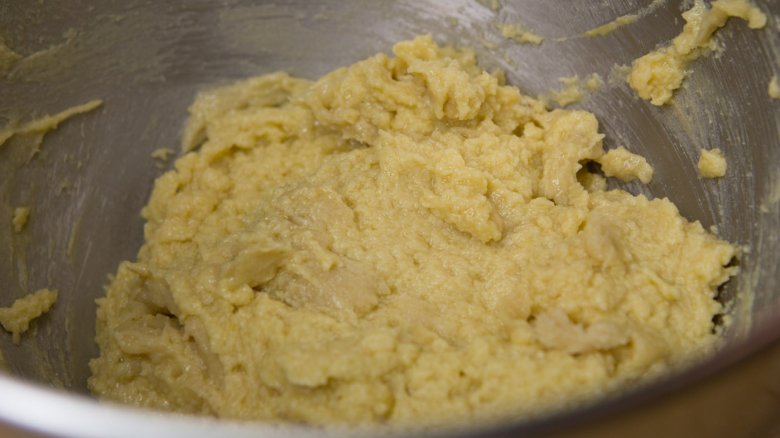 Add the eggs one at a time to the bowl and beat until they are fully combined. Be sure to scrape the bowl so all the ingredients are combined evenly.
Incorporate the dry ingredients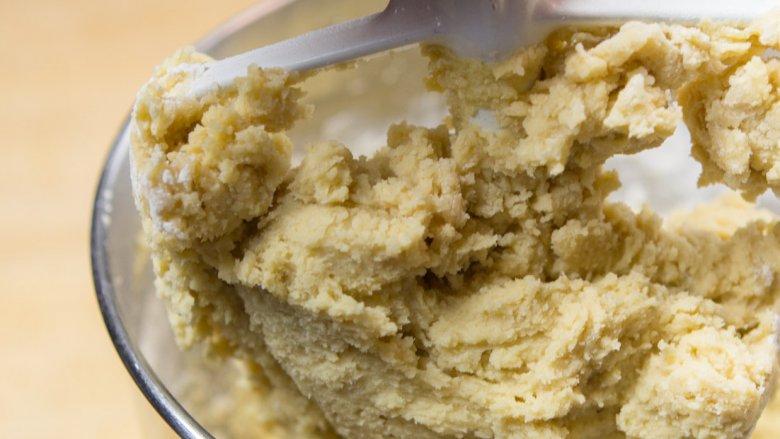 You can dump all the dry ingredients into the bowl with the butter mixture without whisking them together first. One bowl saved—yay! The dough will appear thick and somewhat sticky. Don't worry. It will bake up beautifully.
Stir in the chocolate chunks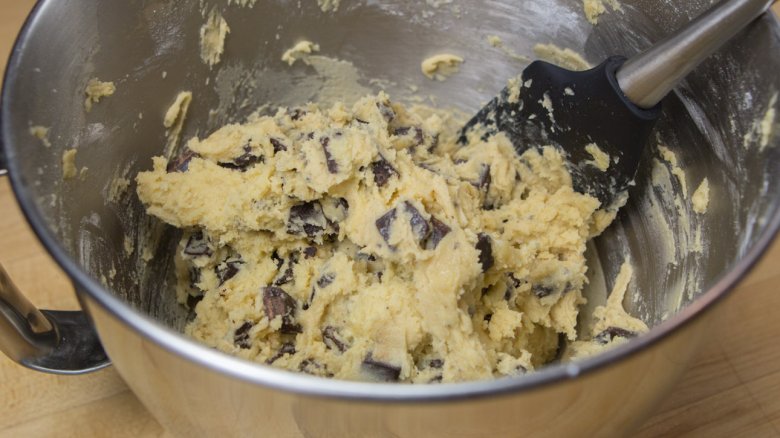 Add the chocolate, but stir for only 5 seconds to avoid over mixing. Finish stirring with a spatula to make sure all the bits are incorporated gently.
Portion the cookie dough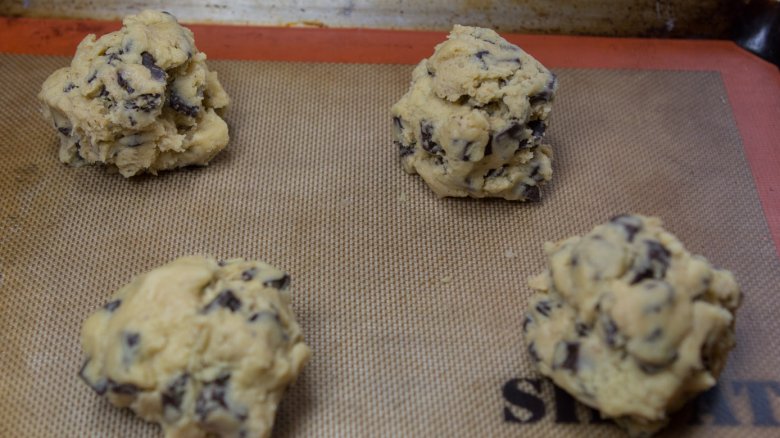 These cookies are enormous. While you don't have to weigh them, I like for mine to all be the same size: 6 whopping ounces. This whole recipe makes eight giant cookies. Do not be alarmed by their size. Just go with it. When you're forming the balls of dough, do so loosely, as you want airy cookies not super dense ones.
Bake the cookies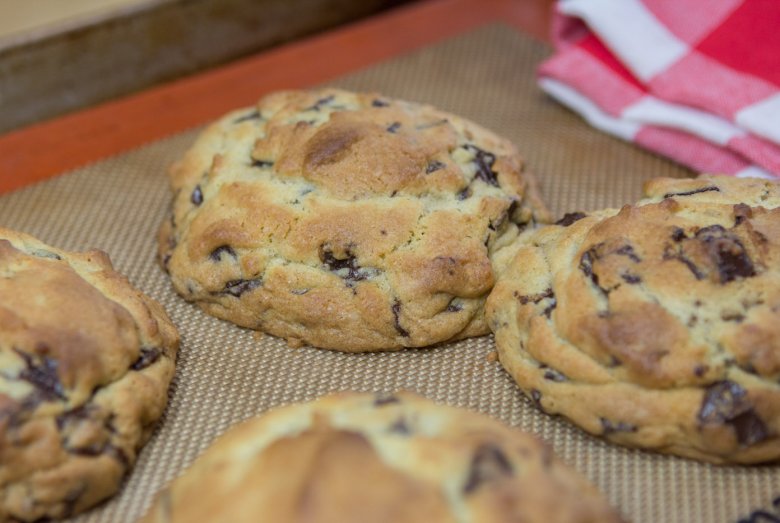 Bake them until they're golden brown but not completely set, as they'll continue to cook on the baking sheet. Leave them there for at least 15 minutes to avoid broken cookies and tears. Just kidding. They'll still taste great broken. Enjoy with a glass of milk if that's your kind of thing.
Directions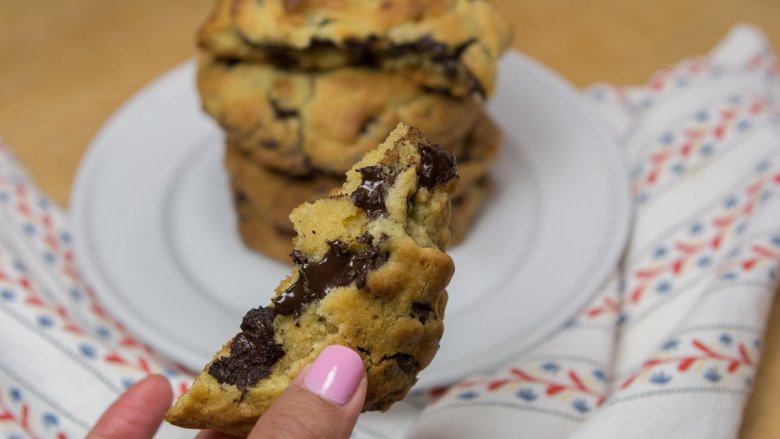 Prep time: 10 minutes
Cook time: 13 minutes
Servings: 8 large cookies
Ingredients:
2 sticks cold unsalted butter, cubed
¾ cup light brown sugar, packed
½ cup granulated sugar
2 large eggs
2 ½ cups plus 2 tablespoons all-purpose flour
2 tablespoons plus 1 teaspoon cornstarch
1 teaspoon baking soda
½ teaspoon kosher salt
2 cups dark chocolate chunks
The process:
Preheat the oven to 400 degrees Fahrenheit. In a large bowl fitted to a stand mixer, using the paddle attachment and on low speed, beat the butter, brown sugar, and granulated sugar for about 30 seconds. Increase the speed to medium and continue to beat for about 30 seconds more. Increase the speed to high and finish beating, scraping the bottom of the bowl as needed, until the mixture is light and fluffy, about 1 minute.
Add the eggs one at a time to the butter mixture on medium speed, beat until fully combined.
Add the flour, cornstarch, baking soda, and salt to the bowl with the butter and egg mixture and on the lowest speed, beat until the dry ingredients are just incorporated.
Add the chocolate chunks to the bowl with the cookie dough and on the lowest speed, beat for about 5 seconds.
Using a spatula, stir the cookie dough until everything is combined, being careful not to over-mix.
Divide the cookie dough into eight equal-sized balls, loosely packed. Alternatively, use a kitchen scale to portion out 6-ounce balls. Space the balls 2 inches apart on a Silpat or parchment-lined baking sheet.
Transfer the cookies to the middle rack of the oven and bake until golden brown and just set, 12 to 13 minutes. 
Remove the cookies from the oven and allow to sit on the baking sheet for at least 15 minutes before transferring to a wire rack to finish cooling. Enjoy!