KFC Vs. Popeyes: Which Is Better?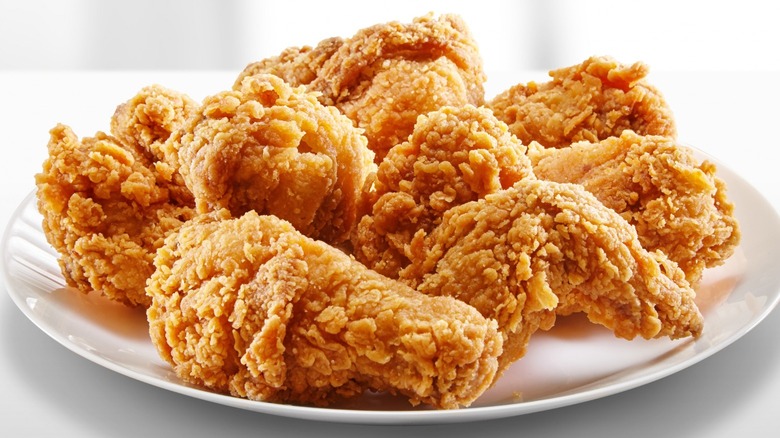 Fierman Much/Shutterstock
Is there such a thing as bad fried chicken? Not if you're relying on Kentucky Fried Chicken (KFC) and Popeyes, which were respectively America's second and third favorite fried chicken fast food restaurants in 2019, according to QSR. When the trio of flavors — salty, crunchy, and juicy — hits your taste buds, there's no turning back. And when perfectly cooked fried chicken is accompanied by memorable sides, it makes for an even more spectacular meal. 
There are plenty of similarities across the two fried chicken fast food chains, but also just enough exciting differences that set them apart, making for an interesting head to head battle. How does the fried chicken compare? And what about the side dish options? We wanted to find out which ranked higher — the Louisiana-influenced flair of Popeyes or the Americana-drenched cuisine of Kentucky Fried Chicken? Let's take a closer look at some of the key factors to help us decide.
The Chicken
PotaeRin/Shutterstock
Good fried chicken should be a beautiful interplay of salty and crunchy. Breading that falls off the chicken is an absolute fried chicken cardinal sin, so there should certainly be none of that. You use your hands, you expect to get a little messy, but when it's good fried chicken, nothing else matters. 
The main event at both KFC and Popeyes is, of course, the fried chicken. And from each chain, you can expect a good crunch, as well as juicy chicken. Popeyes stands out here, though, because they have somehow perfected the art of mass-produced fried chicken. Every single time, you will get chicken that is head-scratchingly delicious, perfectly cooked and covered in a mouth-watering batter. According to Vice, part of the Popeyes magic lies in its seasonings, as well as their deep fryers. The machines somehow manage to maintain the ideal temperature to ensure the chicken is perfectly cooked on the outside and inside each time.
KFC is certainly good. But when it comes to the chicken, there's no comparison. Popeyes wins.
The Tenders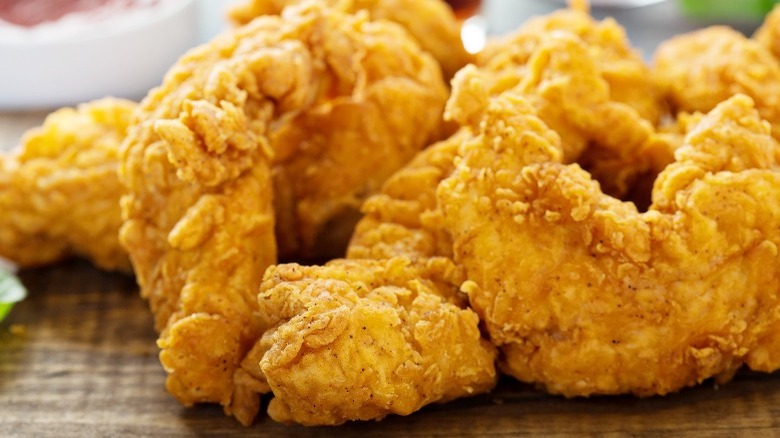 Elena Veselova/Shutterstock
Tenders often take a back seat to bone-in fried chicken at places like KFC and Popeyes. But if you're someone who opts for no bones, you're in good hands at both places. Popeyes tenders are moist and flavorful, leveraging that custom blend of Cajun spices. Popeyes also marinates their chicken tenders, which imparts even more spice into the chicken. There is only one kind of tender at Popeyes.
KFC has their traditional tenders, which, according to one Twitter user, are a must try. They said, "KFC chicken tenders are absolutely amazing. Today choose joy and go get some."
But if you want a little more spice in your life, why not opt for KFC's Nashville Hot Tenders instead? The tenders have been so popular, that even McDonald's is getting in on the spicy chicken craze, according to The Street. The sheer variety of tenders, as well as how delicious they are, put KFC in the top spot for the tenders category.
The Chicken Sandwiches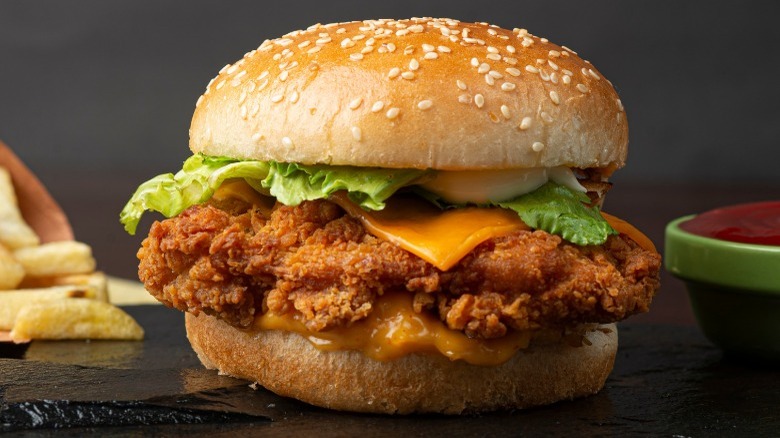 RSH_GRAPHICS/Shutterstock
If you had access to the internet, it was hard to miss the ruckus the Popeyes spicy chicken sandwich caused in early 2019. The sandwich's popularity even led to a 20% increase in sales for the chicken chain (via Restaurant Business). The sandwich was nearly impossible to get, selling out everywhere. It was the talk of the town ... or at least, it was the talk of social media. 
This sandwich wasn't at all overhyped. It deserved every ounce of praise it got. The chicken portion was massive, there was just the right amount of spicy mayonnaise, and the taste was a Cajun lover's dream come true. Equally important, the brioche bun held up. According to Fast Food Geek, "The bun was large and pillowy, yet sturdy enough to handle the large breast of chicken and super schmear of mayo without any noticeable sog." 
KFC's spicy chicken sandwich is a really close competitor. It also has a tasty brioche bun, pickles and spicy sauce or mayo. But it just doesn't have the same significant crunch or powerful flavor as Popeyes', and therefore comes in second place this round.
The Chicken Nuggets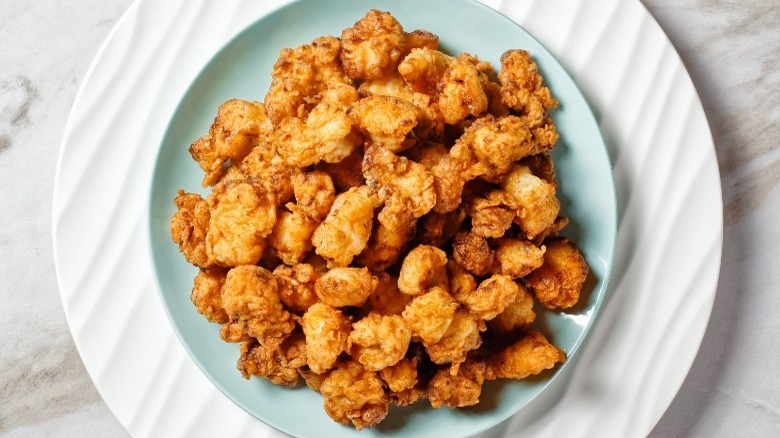 from my point of view/Shutterstock
Chicken nuggets are the perfect sharing food. And when they're juicy and tender, they make an even better snack. Take KFC's popcorn nuggets, for instance. They are crunchy and the perfect size to pop in your mouth. They're pure white meat and use KFC's famous blend of 11 different herbs and spices. Paired with one of their dipping sauces, they're just heavenly, crunchy, juicy goodness, in the perfect vehicle.
Popeyes' nuggets, on the other hand, are a little disappointing. They have crunch and even some juiciness, but as far as flavor goes, they fall completely flat. They're certainly not bad, because it's hard to make bad fried chicken, but they're just not that exciting. They don't seem to be well-seasoned as KFC's, and as The Takeout put it, they don't "change the game." And compared to the rest of their chicken offerings, it's a surprising letdown. KFC takes the Chicken Nuggets round, fair and square.
The Vegetarian Options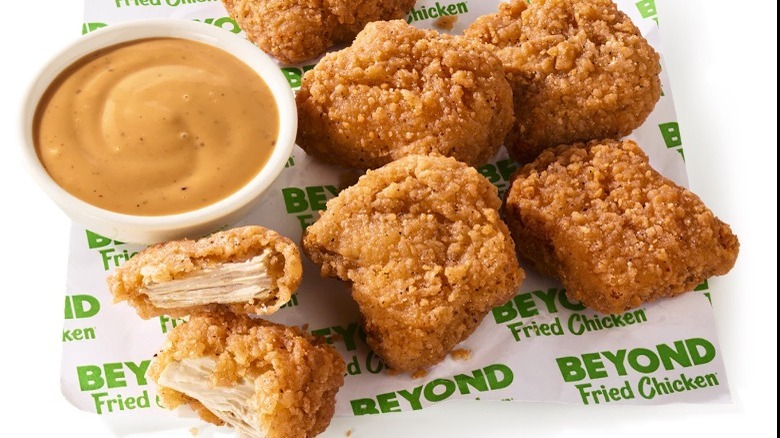 KFC
There are more than 16,000,000 vegetarians living in the United States, according to a 2018 Gallup poll. And with "meatless Mondays" gaining traction and vegetarianism continuing to be a talking point, fast food restaurants have realized they need vegetarian options. KFC answered that call by releasing their Beyond Fried Chicken, made with Beyond Meat. The results are ... interesting. An Eater review describes them as having a rubbery texture. If you can get past the texture, though, the flavor isn't all that bad. 
Popeyes, on the other hand, has no vegetarian options on the menu, at least not at their United States locations. If you want to stop by a Popeyes chain expecting a non-meat bite, you're left with sides or a bun with fixins, but no protein. 
Both Popeyes and KFC have left diners with less than stellar options, but at least KFC has something on offer. They at least have a starting point that they may be able to tweak over time. Popeyes however, is alienating a large section of the population. KFC takes this one ... but not by much. 
The Other Main Options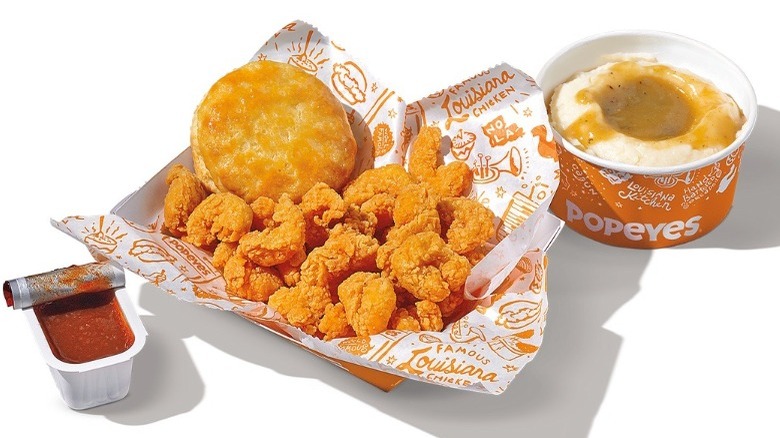 Popeyes
KFC's non-chicken piece mains are a bowl or a pot pie. The bowl consists of mashed potatoes topped with corn, crispy chicken bites, and cheese. To make it even more decadent, the bowl is drizzled with KFC's homestyle gravy. It comes in spicy or regular. The WVSR suggests they jazz up the appearance a bit more to make the bowl more appealing to the public, which wouldn't be a bad idea.
There's also a pretty straightforward pot pie, with chicken, peas, carrots, potatoes swimming in sauce and topped with a crust.
For Popeyes' non-chicken piece mains, you can choose between a flounder sandwich or popcorn shrimp. The flounder is served on a brioche bun with pickles and tartar sauce and the shrimp option is a quarter pound of battered popcorn shrimp. There's no clear winner here, but there is a simpler choice of the two options. While both options are rich, at least the Popeyes options offer non-chicken lovers a slight departure from Popeyes' main menu.
The Biscuits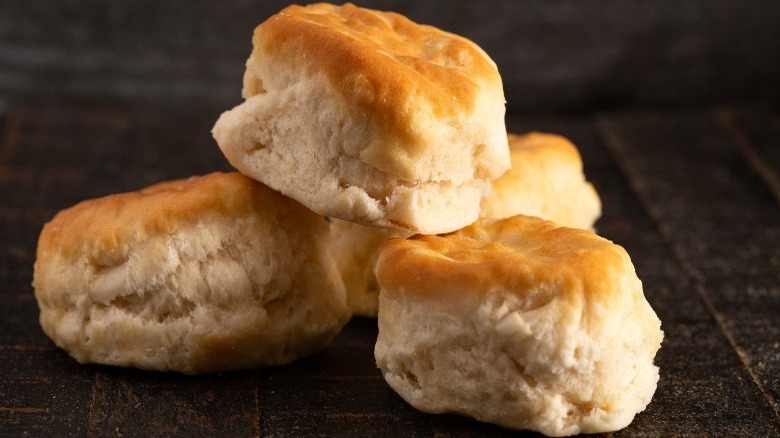 P Maxwell Photography/Shutterstock
There's nothing like fried chicken with a biscuit on the side. The soft, warm, hopefully flaky is the perfect accompaniment to greasy fried chicken. And it's also a great palate cleanser before moving onto other sides! KFC and Popeyes both bring two pretty good biscuits to the table. Popeyes calls their biscuits "hearty and flaky", while KFC describes their biscuits as "warm, flaky, southern-style." These biscuits seem to divide crowds. When asked for the best way to reheat a KFC biscuit, one Redditor replied, "Throw away the KFC biscuit, drive to Popeyes and order biscuits. You're welcome".
They're both delicious, but KFC's biscuits leave a minor trail of disappointment because they're not quite as moist as you may expect. They also don't have the flake and the buttery notes that most people crave in biscuits. Popeyes was closer to being a butter bomb. They're also flaky, and retain just the right amount of moistness, so they're not drying in the mouth, like KFC's. 
Popeyes edges KFC out this time, but you can't go wrong with either option.
The Mashed Potatoes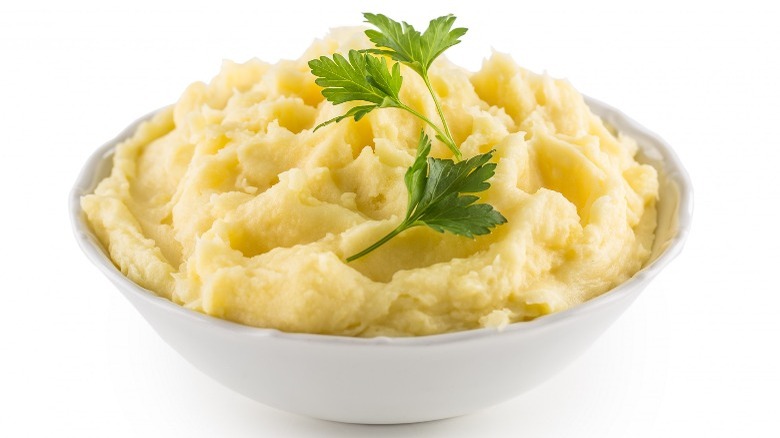 Marian Weyo/Shutterstock
If you've never dunked your chicken or biscuit through a bowl of mashed potatoes, you've never come close to heaven. It is one of life's indulgent pleasures, reminiscent of holiday dinners. If we're being honest, both KFC and Popeyes make great potatoes. The mashed potato tiebreaker comes down to the gravy.
Whereas KFC uses a straightforward, homestyle type of gravy, Popeyes relies on their Cajun roots and tops their mashed potatoes in a perfectly spiced gravy. If you're not into spiced food (not exactly spicy, but just loaded with various spices), then maybe Popeyes won't get your vote. KFC may remind you more of the mashed potatoes you make for yourself at home. They're more traditional, and although they lack any lumps that you expect from homemade mashed potatoes, they're still tasty.
While this could technically end up in a tie, Popeyes edges out KFC for their more interesting gravy.
The Fries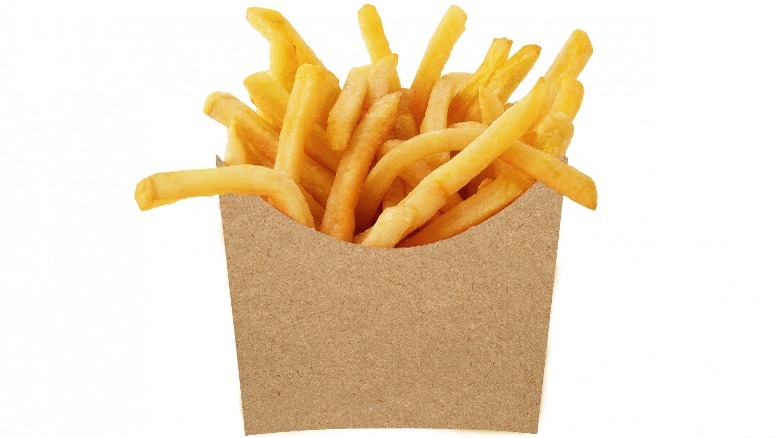 Waeel quttene/Shutterstock
KFC relied on potato wedges for many years, but in 2020, they released their Secret Recipe fries, vying for a chance to win over fry lovers' hearts. 
French fries are another one of those items that's hard to completely mess up. Fried potatoes with salt and ketchup makes for a tasty snack any day. KFC's Secret Recipe fries have a nice spice blend on them, but the fries need some salt, desperately. They're also not terribly crispy, which is a very important component of fries. Thrillist reports that the fries were about as thick as a pinky, which is pretty thick for French fry. 
We do love Popeyes' Cajun seasoning on their fries, but if we have one drawback, it's that the serving size is a little small. These fries need to hold up to the fried chicken so as not to be overpowered, and Popeyes' bring some much needed texture and crunch, making them the clear winner here.
The Coleslaw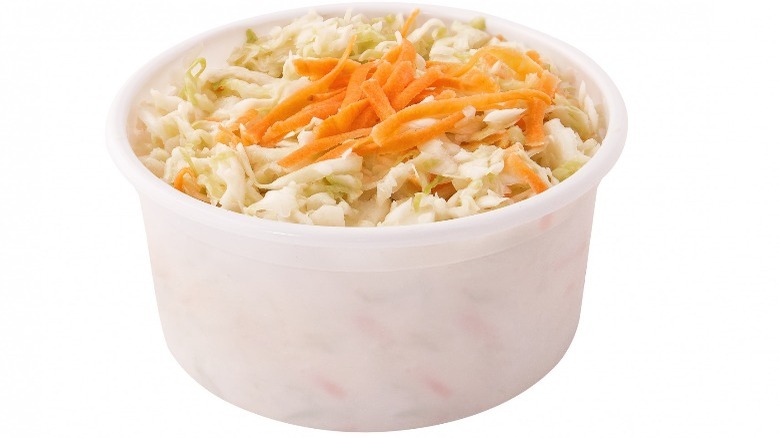 Waeel quttene/Shutterstock
There comes a time during every fried chicken meal when your palate calls out for something tangy, sweet and cold to help break up the grease and weight of fried chicken and biscuits. That's where coleslaw comes in. This is a much misunderstood and underrated component of fast food fried chicken, but would be sorely missed if it disappeared from menus tomorrow. 
Both KFC and Popeyes have very good coleslaw offerings. But KFC takes this win because the components of their coleslaw are chopped to the right size, and the mayonnaise and vinegar ratios give just the right amount of tangy creaminess. It's a great bite and it really helps the meal to flow and get your palate ready for that next bite of chicken. As The Takeout puts it, KFC coleslaw is simple and to the point, which makes it even more delicious.
The Macaroni & Cheese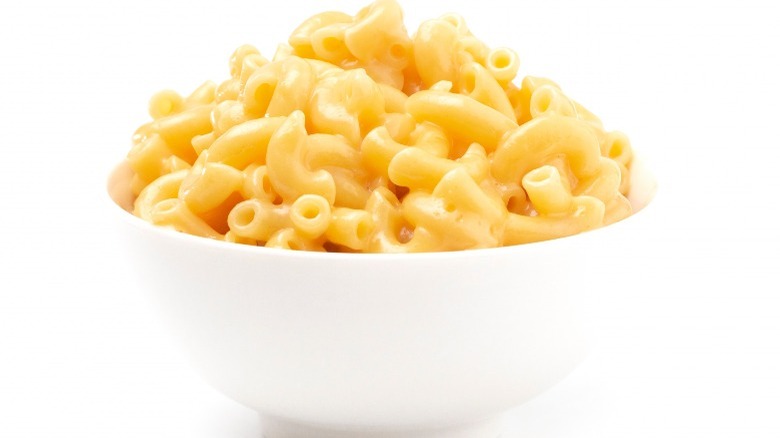 P Maxwell Photography/Shutterstock
This may be the toughest category yet, because macaroni and cheese is just really difficult to pull off in a fast food setting. There's guaranteed to be mushy noodles, textural issues and artificial-tasting cheese sauces. And if those were our only expectations. we'd have come out pleased. But we had high hopes for the  macaroni and cheese offerings at KFC and Popeyes, and both leave the consumer longing for a lot more.
Both mac and cheeses are good — in a fast food, kinda bland, sorta tasty kind of way. KFC's mac and cheese is thinner and more saucy, like the childhood stovetop favorite, while Popeyes was clearly going for a more solid, baked style of mac and cheese. Even though the late Anthony Bourdain was a Popeyes Mac and Cheese fan, neither will blow you away, but also neither will make you turn your head away in disgust. But if we're going off of texture and consistency, Popeyes takes this. Add a little bit of your own seasoning if you want to make it a little less bland.
The Price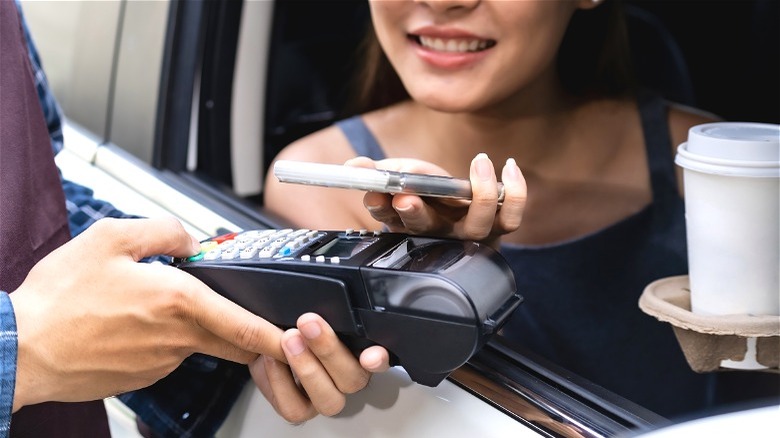 vichie81/Shutterstock
A KFC chicken sandwich is about $4.99, while its spicy equivalent at Popeyes is $3.99. At KFC, a 3-piece meal with 1 side, 1 biscuit and 1 drink is $8.99, while the same meal at Popeyes is $9.89. 
At KFC, a 12-piece tenders meal, with 3 large sides, 6 sauces and 6 biscuits is $34.99, while the equivalent at Popeyes — 12 tenders with 2 large sides and 6 biscuits — will cost you $32.99. So if you consider that for an extra $2, you can get an additional side, the tender meal at KFC and Popeyes is around the same price.
A side of mac and cheese at KFC is $1.99, while at Popeyes, it's significantly more, at $3.19. While Popeyes does consistently delivery stronger flavors, if you prefer the simpler flavors of KFC, there isn't too much difference in price. Overall, two restaurants are similarly priced and you can expect the same value from both, so we're calling this one a tie. 
Restaurant Access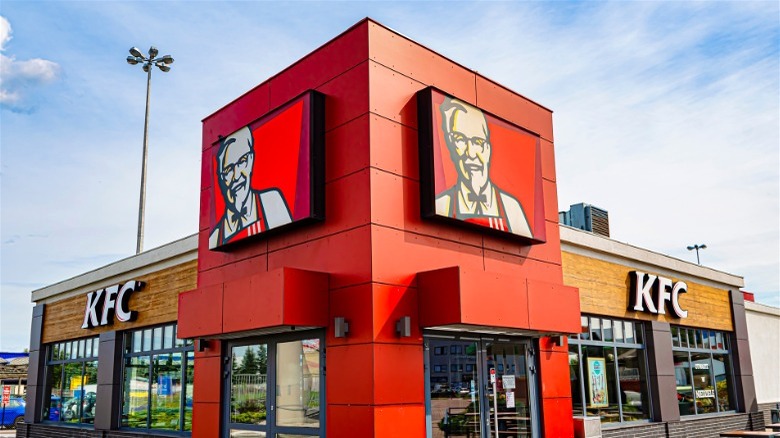 Damian Lugowski/Shutterstock
There are approximately 3,984 KFC restaurants in the United States, according to Leads Deposit, while there are only 2,755 Popeyes restaurants in the United States (via Scrape Hero). If you live in Vermont, Wyoming or Puerto Rico, you'll have trouble finding a Popeyes, because there are none in those three locations. 
Popeyes does offer delivery through their app or website, making it convenient for everyone to get their hands on that spicy chicken sandwich. KFC also has a quick pick up option or a delivery option on their website, so you can swing by on your way after work and grab some grub for your family.
If you're traveling internationally, KFC is in more than 145 countries, with varying menus. Popeyes doesn't have quite as far of a reach and is in only 30 countries worldwide. But for accessing the restaurant around the country and the world, as well as offering the flexibility of pick up or delivery, KFC takes it.
The Number of Menu Options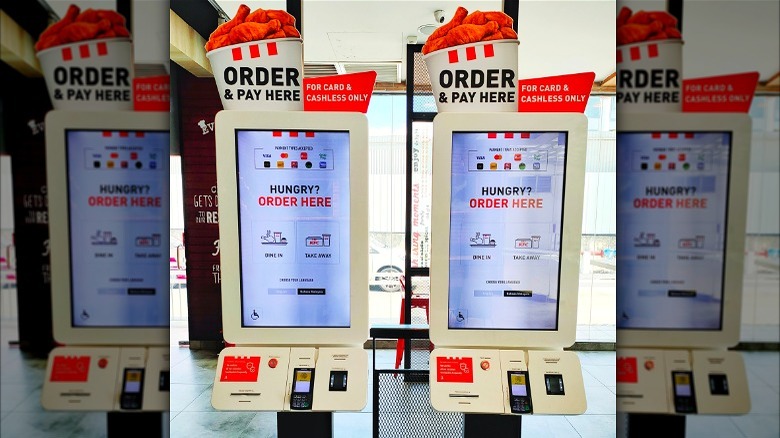 NizamRahman83/Shutterstock
Popeyes has plenty on its menu, offers nuggets, tender, fried chicken, fries, mashed potatoes, coleslaw, biscuits, red beans and rice and mac and cheese, along with three different types of desserts — blackberry cheesecake fried pie, cinnamon apple pie and a chocolate chip cookie.
KFC, on the other hand, has the fried chicken, Beyond chicken, tenders (regular and spicy), pot pie, and the Famous Bowl. There's also three different chicken sandwiches, nuggets, biscuits, mac and cheese, coleslaw and corn. KFC edges out Popeyes by offering a few more options in almost every category, which is perfect for those who need to feed a bunch of people with varying tastes. It's also perfect for those who just want a little variety. And although it's not a category, with its corn and vegetarian options, KFC also takes the cake for having the slightest healthy edge over Popeyes.
Final verdict
There were two formidable competitors in the race to see which chain was the overall better option — KFC or Popeyes. KFC was victorious in the tenders, nuggets, vegetarian options, coleslaw and locations categories. But Popeyes took more overall categories, coming out on top in the chicken, sandwich, other mains, biscuits, fries, mashed potatoes, and mac and cheese categories. It was a close race, with Popeyes narrowly taking the lead by one. And there was one category in which the two restaurants tied — price.
It's clear both restaurants bring plenty of flavor to the table, along with remarkable sides. But if faced with the decision of which fast food fried chicken chain to choose, you really won't go wrong with either one. If you can't choose between Popeyes or Kentucky Fried Chicken, here's an idea: Piece together a DIY meal with the best components from each chain!