Starbucks Wants To Send You 'Good Vibes' With New Text Message Promo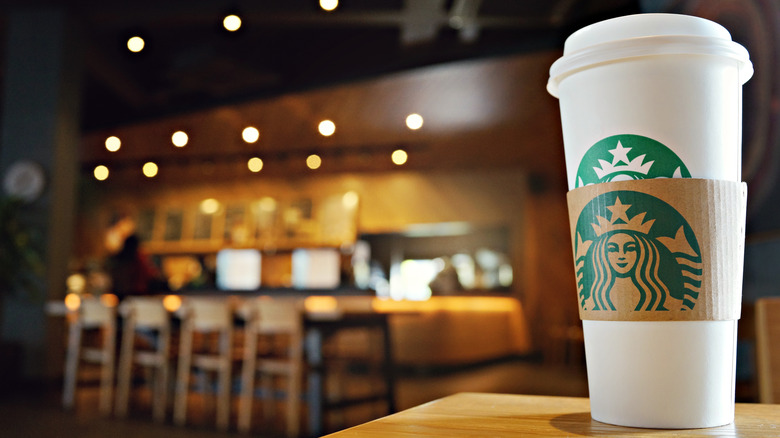 AngieYeoh/Shutterstock
We're only a few weeks into 2022, which means it's still the start of a new year. For many people, that means making resolutions, committing to healthier habits, and trying to make positive changes in the upcoming 12 months. And this year, Starbucks wants to help customers start things off with extra good vibes through the launch of their newest promo: the "Good Vibe Messenger." The popular coffee chain recently announced the uplifting mobile messaging plan, in which Starbucks fans can subscribe to receive motivating messages straight to their phones every day.
Subscribers can choose from four categories: peace, growth, relationships, and gratitude, receiving a little extra encouragement in any of these areas — which is done through positive messages, images, and gifs. Some messages include "surround yourself with those who fill your cup" and "take things day by day." However, that's not all subscribers can expect from the new messenger program. While uplifting messages are great, there's also the occasional promo and coupon code for discounts on Starbucks drinks and other menu items, according to PopSugar.
Simply text "hi" to 78887 to sign up
Starbucks fans interested in bringing more positivity into their lives can sign up for the company's Good Vibe Messenger right from their mobile device. "To start 2022 off right, Starbucks is sending you good vibes. Literally. Text 'hi' to 78887 to sign up, and you might just get a couple surprises along the way ..." the chain Tweeted on January 10, adding "We're happy to start the year with positivity!" It seems many fans of the coffeehouse chain felt the same way. "This is awesome! Thank you!" one follower replied, while another posted, "This was right on time." Another follower added, "I did and I got the cutest morning message. Looking forward to these!"
So if you're looking for a little extra boost of positivity on your mobile devices this year — and maybe even some sweet deals on your favorite Starbucks beverages and snacks — this new text message promo deal may be just the thing to add to your routine. And if you want to unsubscribe, you simply have to text "STOP" to 78887 to halt receiving messages from the Good Vibe Messenger. Standard messaging and data rates apply.