Aldi Fans Are So Excited To Try These Chocolate-Strawberry Cheerios
When you want to try some new Cheerios, you have your work cut out for you. According to The Daily Meal, buyers can select from a wide variety of flavors, like Dulce de Leche, Honey Nut Medley Crunch, Cinnamon Burst, and many more. While some of these items have truly left their mark on breakfast fans, Cheerios still has a long way to go before they exhaust all of their flavor options. The cereal brand's latest take just so happens to push their classic flavor in a whole new direction and Aldi shoppers couldn't feel more excited.
Instagrammer @adventuresinaldi discovered limited-edition Chocolate Strawberry Cheerios at Aldi during one of their latest shopping trips and couldn't resist posting the find to social media. They captioned the cereal with text reading, "These chocolate strawberry Cheerios are the perfect snack or breakfast! I love anything chocolate + strawberry so who wouldn't want these?! Add a little almond milk ... chefs kiss! Are you in on that flavor or nahhh?!" and fans couldn't hold back their reactions. The post has since received a ton of love from followers ready to share their takes on the cereal discovery.
Aldi shoppers love the cereal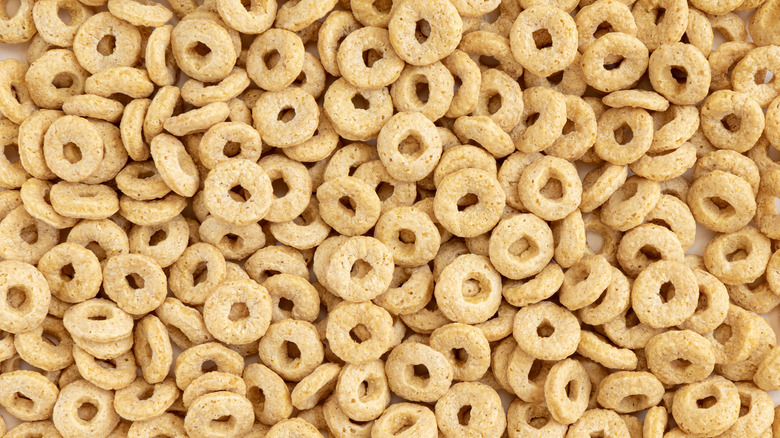 PhotoPaper/Shutterstock
Excited replies inundated the post. Instagram followers chimed in with comments that ranged from, "Randomly saw these yesterday when I was grabbing milk anyway ... SO GOOD!!!!!!!!!! the milk at the end is like [strawberry] milk," all the way to, "I have been looking for these for a year! A YEAR!! never seen in a regular supermarket. Of course Aldi has them!!!" One user felt regret, saying, "Darn, passed them up yesterday," while another noted, "if you can't find them at your Aldi, I found them at Kroger too." Other excited takes included, "Yesss. These are so good. Getting another box if I can find them," and "they are so delicious."
If you need to spice up your morning routine with a new cereal, you may want to keep an eye out for this morning staple next time you hit up an Aldi. While the item has won over social media, not everyone has fallen for these Cheerios. Junk Banter also reviewed the cereal and found that the chocolate and strawberry flavors didn't quite live up to the hype. If you manage to get your hands on a box of these limited edition Cheerios, see which side of the debate you fall on. With a bit of luck, you might just find a new breakfast favorite.