Salted Dark Chocolate Granola Bar Recipe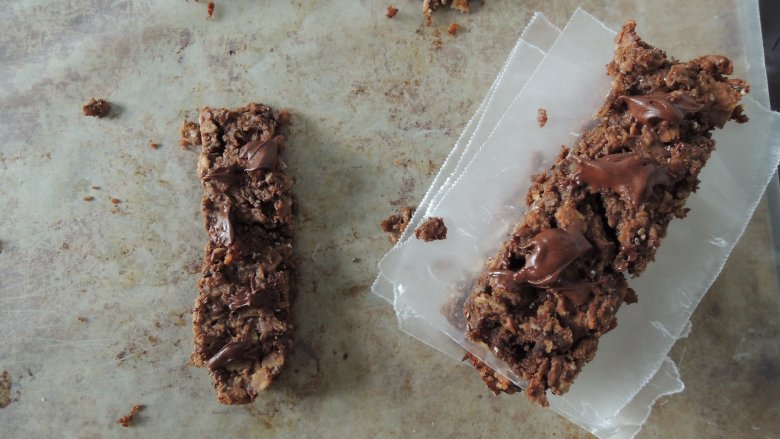 I generally suffer from a constant state of "hangry." Hunger pangs can strike at any moment, and I'll admit that I don't always handle them well. To keep both my blood sugar and mood stable and happy, I keep a granola bar with me wherever I go. The only problem with this strategy is that it can get a little pricey. Quality granola bars can cost $2 or more per bar, and when your granola bar obsession is at an all-time high, you need to get creative. Enter salted dark chocolate granola bars. They're quick, easy, and budget-friendly. They're also delicious!
Any time a dessert is "salted," you have my attention. That savory punch to our favorite sweet dishes is just what our taste buds need to wake up and take notice. These salted dark chocolate granola bars provide all the chewy richness of a salted brownie, without all the butter and sugar weighing you down. These will keep you full and happy all afternoon long.
Gather your ingredients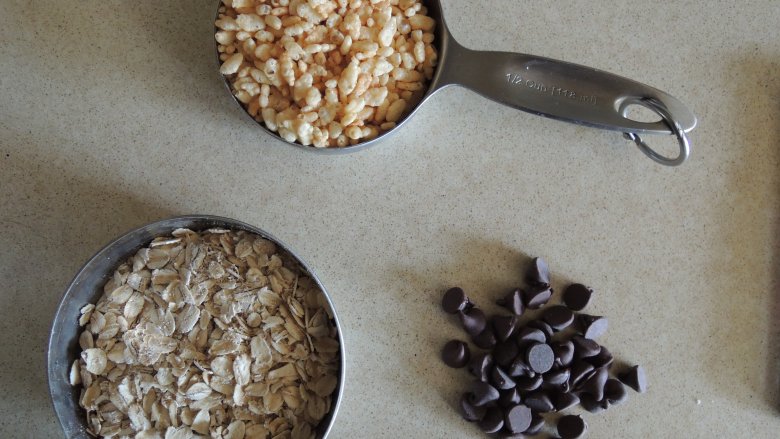 Start by gathering your ingredients. Luckily you won't need too many and probably own most of them already. These granola bars are simple, so you won't need to worry about long ingredient lists like the store-bought ones. No chemicals or preservatives needed.
Start by measuring out your old-fashioned oats, crisped rice cereal, and chia seeds. If you don't have chia seeds on hand, you can leave them out. However, chia seeds are tasteless and add a nice texture. They also help keep you full, so you can avoid yelling at your loved ones when hunger starts to creep up. Grab both a large and small bowl. You'll place the dry ingredients in the large bowl and the wet ones in the small bowl. 
A full list of ingredients and step-by-step instructions can be found at the end of this article. 
Combine the dry ingredients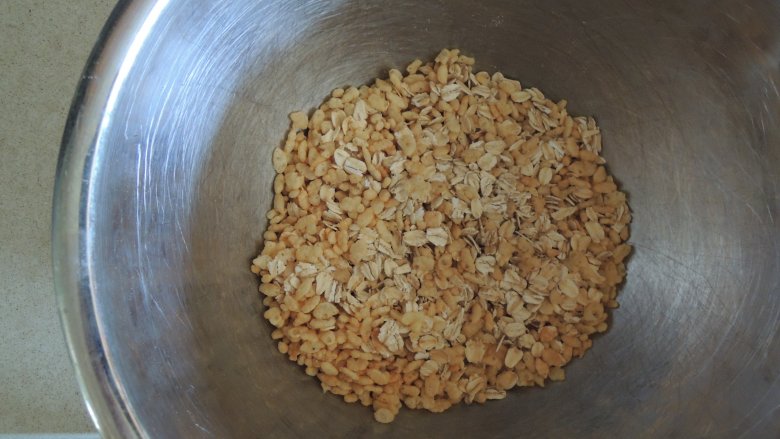 Preheat your oven to 350 degrees Fahrenheit and then gather your dry ingredients. In your large mixing bowl, pour in the old-fashioned oats and crisped rice cereal. I used whole wheat rice cereal for added fiber, but use what you have. If you're out of cereal, feel free to replace that cup with another cup of oats. Keep it simple.
Mix in the protein powder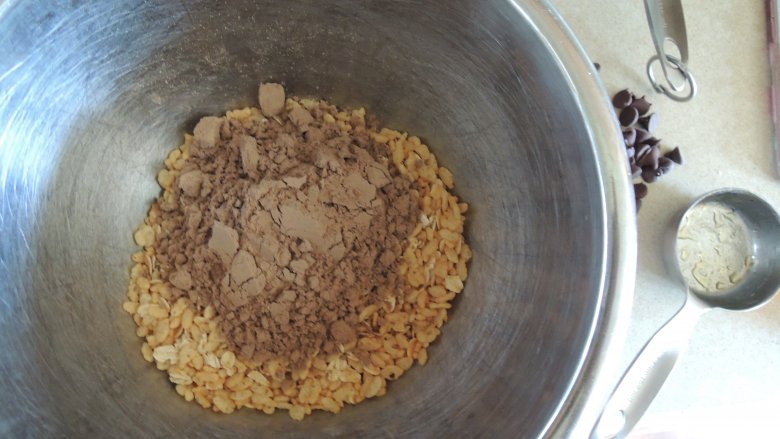 One ingredient you should not try to do without is the chocolate protein powder. Mixing in the protein powder will give your bars that chewy texture and add tons of chocolate flavor. 
When it comes to protein powders, it's important to read the labels. I opt for vegan, plant-based protein powder, because I want to know exactly what I'm putting into my recipes. The protein powder I used is derived from peas, cranberries, and brown rice. If you already have a favorite protein powder, stick with it. If not, do your research and find one you feel great about. 
If you'd like to turn down the chocolate flavor a bit, you can substitute vanilla protein powder instead of chocolate. The chocolate powder gives these granola bars a brownie taste. 
Add the honey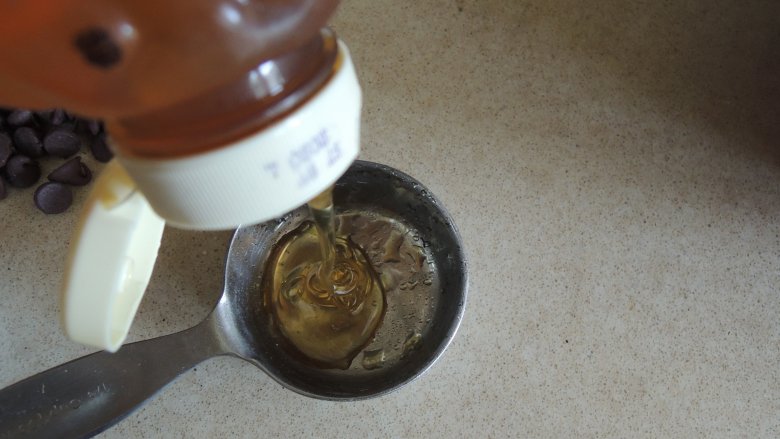 Now it's time to start combining the wet ingredients. Set aside the large bowl and pull out the small one. Start by measuring 1/4 cup of honey. Measuring honey always feels like such a pain, because it's so painfully slow and sticks to the measuring cup. One tip I picked up is first spraying your measuring cup with nonstick spray. This helps the honey slip right out when you pour it into the bowl. I used an olive oil spray, and it was easy!
Whisk the wet ingredients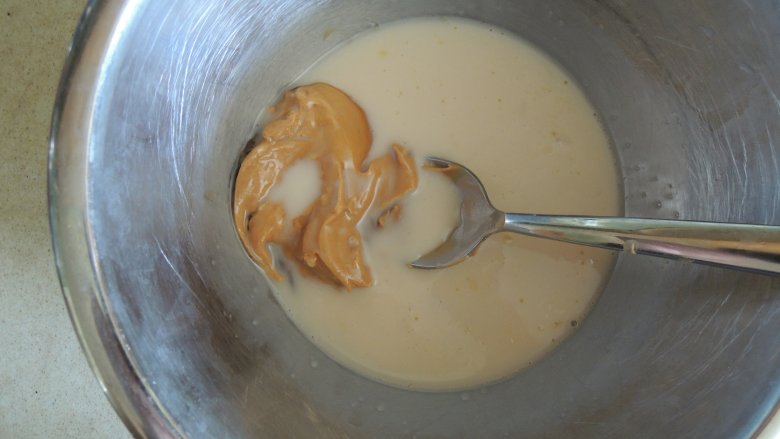 Once you've quickly and easily poured your honey into the bowl, add the almond milk and peanut butter. If you have allergy concerns or prefer a different milk or nut butter, they can easily be altered, just use the same amounts.
For my nut allergy friends, feel free to try sun flower seed butter instead. If you'd like to try a different milk, try skim, cashew, or soy milk.
Use a whisk to make sure the mixture has come together. To make it easier, you could first microwave your peanut butter, so it's more liquid. I used it straight out of the jar, and it worked well.
Add the wet ingredients to the dry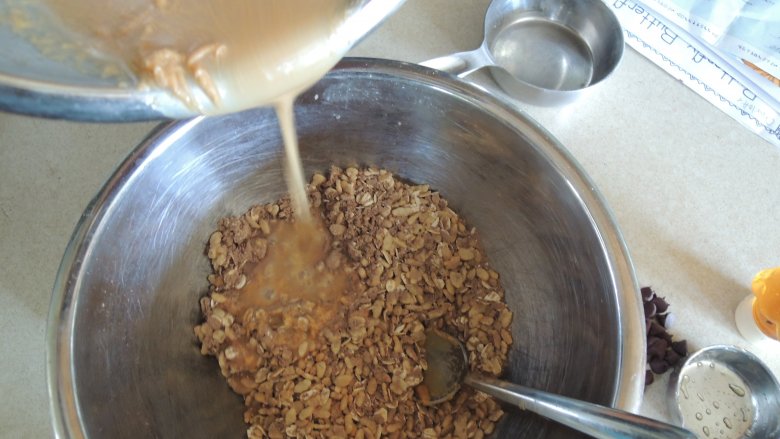 Once you have all of your wet ingredients mixed together, pour the mixture into the large bowl with the dry ingredients right away. If you leave the wet ingredients sitting, the peanut butter will sink to the bottom. 
Mix well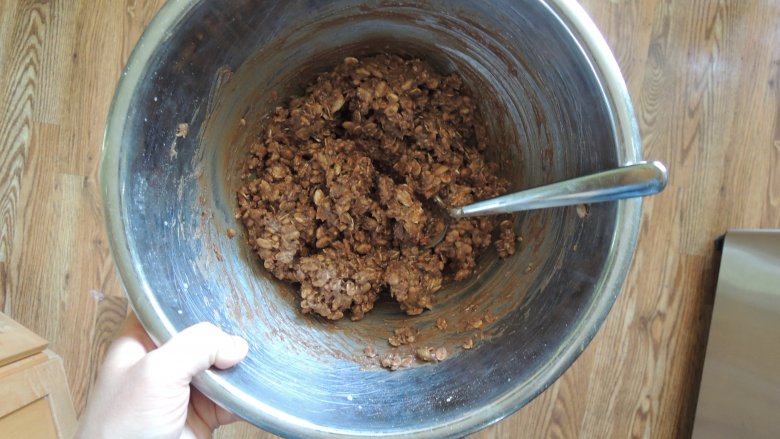 Once you've poured the wet ingredients into the large bowl, use a large spoon to mix together. Once combined, the mixture should look like a thick batter. And the best part about this batter? It's egg-free, so feel free to taste without the guilt or risk of salmonella! 
Press into the pan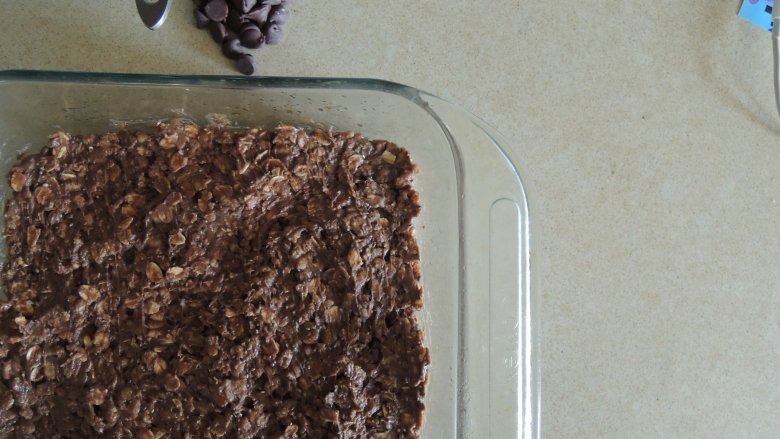 Once you've mixed your batter, spoon it into your prepared glass baking dish. It needs to be packed tightly, so smooth it down with a large spoon, then press firmly with your fingers, making sure it's evenly spread throughout the pan. 
Place the dish in the oven and bake for about 20 minutes, or until set. 
Allow to cool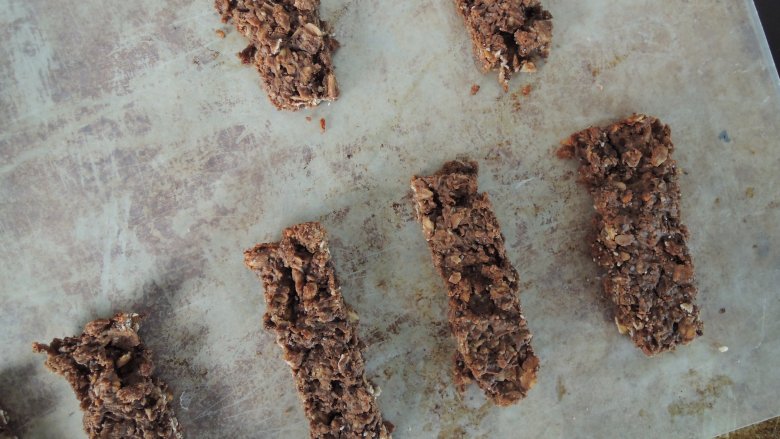 Now comes the hardest part. Once the bars are baked and out of the oven, you can't touch them. They are pretty fragile when they're hot and will fall apart if you cut into them too quickly. Allow the pan to sit for at least 30 to 60 minutes. If you're dying for a granola bar, you can place the pan in the refrigerator to speed up the process.
Once the bars have cooled, cut them into 12 bars by slicing the mixture in half, then cutting six bars from each half. They will resemble the size of a store-bought granola bar. Feel free to cut them into smaller squares for quick energy bites, or larger rectangles for a decadent dessert. Allow the bars to cool completely on a wax paper-lined baking sheet.
Melt the chocolate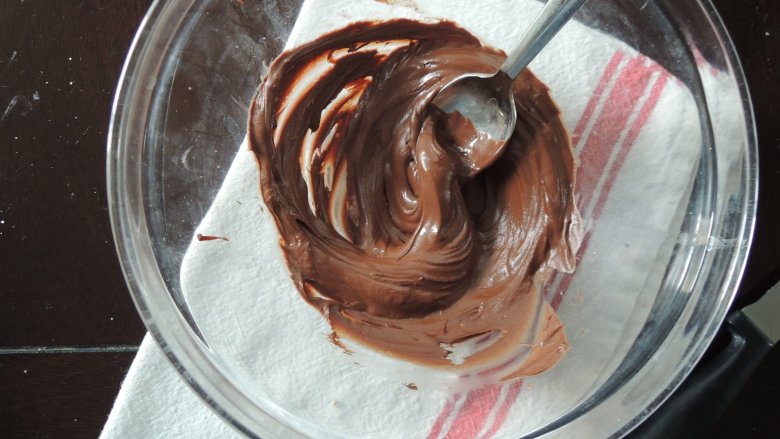 While the bars are cooling, place the dark chocolate chips into a small microwave-safe bowl. I've read all about the best techniques for melting chocolate without burning it. I've watched the YouTube videos of chefs using their double boilers perfectly, but for me, that feels like an unnecessary step. As long as you're careful, you can easily microwave your chocolate chips without burning them.
I like to microwave mine in 10-second increments until they're completely melted. After each ten second interval, I stir the chocolate with a small spoon, and then return it to the microwave. This should take about a minute. Once the chocolate is melted, stir in the kosher salt for more flavor.
Glaze the granola bars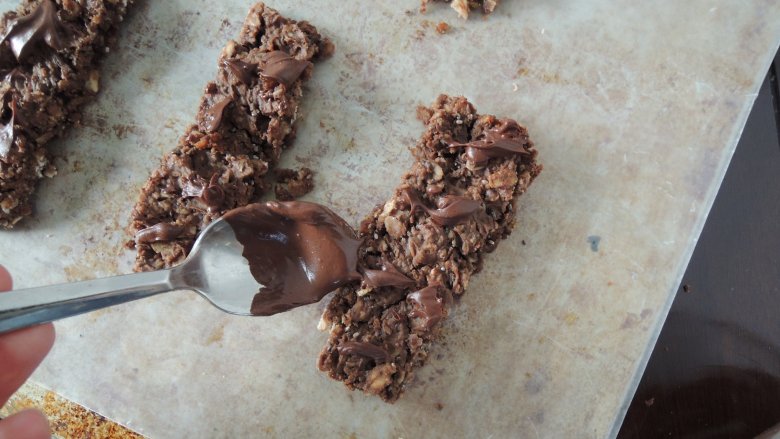 Now comes the fun part! More chocolate! Using a small spoon, glaze each granola bar with drops of chocolate. You could spread an entire layer over each bar or simply drizzle it over. I went for the less is more technique, but listen to your stomach when it comes to this step. If it feels like a chocolate day, go crazy with your glaze!
Once all the bars have been glazed, they're ready to be enjoyed or placed in the refrigerator. Enjoy!
Salted Dark Chocolate Granola Bar Recipe
These salted dark chocolate granola bars provide all the chewy richness of a salted brownie, without all the butter and sugar weighing you down.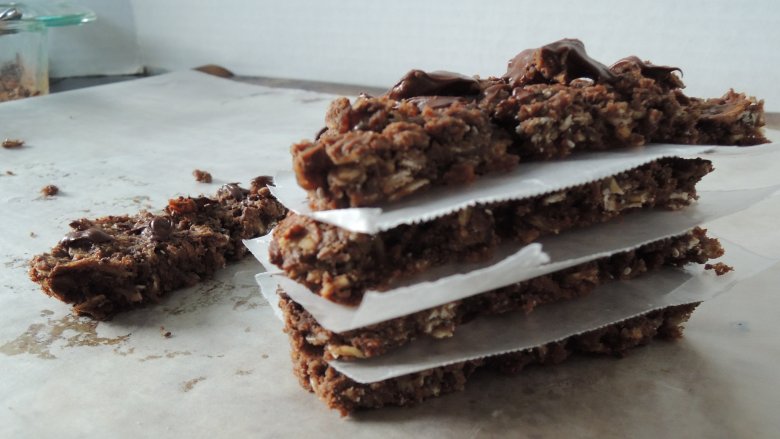 Ingredients
1 cup old-fashioned oats
1 cup crisped rice cereal
2 tablespoons chia seeds
½ cup chocolate protein powder
1 teaspoon cinnamon
1 and ¼ teaspoon kosher salt
¼ cup peanut butter (or nut butter of choice)
½ cup almond milk (or milk of choice)
¼ cup honey
⅓ cup dark chocolate chips
Directions
Preheat the oven to 350 degrees Fahrenheit. Spray a glass 8-inch by 8-inch baking dish with nonstick spray and set aside.
In a large bowl, combine the old fashioned oats, crisped rice cereal, and chia seeds. Stir with a large spoon until well-mixed.
Add in the protein powder, cinnamon, and ¼ teaspoon kosher salt. Mix well.
In a small bowl, combine the nut butter, almond milk, and honey. Whisk to combine and pour over the dry ingredients. Mix with a large spoon until the dry ingredients are completely coated.
Pour the mixture into the baking dish and press down firmly. The mixture should be tightly packed, so use your hands to press down. Place in the oven and bake for 20 minutes.
Remove the pan from the oven and allow the bars to completely cool, at least 30 minutes. Cut the bars into 12 rectangles and allow to cool before glazing.
Place the chocolate chips in a microwavable dish and microwave on ten second intervals until melted. Stir in 1 teaspoon of kosher salt. Using a small spoon, gently glaze the granola bars adding as much chocolate as you like.
Keep the granola bars refrigerated for freshness. Enjoy!
Nutrition
| | |
| --- | --- |
| Calories per Serving | 182 |
| Total Fat | 6.9 g |
| Saturated Fat | 2.1 g |
| Trans Fat | 0.0 g |
| Cholesterol | 0.2 mg |
| | |
| --- | --- |
| Total Carbohydrates | 20.3 g |
| Dietary Fiber | 3.3 g |
| Total Sugars | 11.0 g |
| Sodium | 121.7 mg |
| Protein | 11.2 g |