Ben & Jerrys' Newest Flavors Are A Chocolate Lover's Dream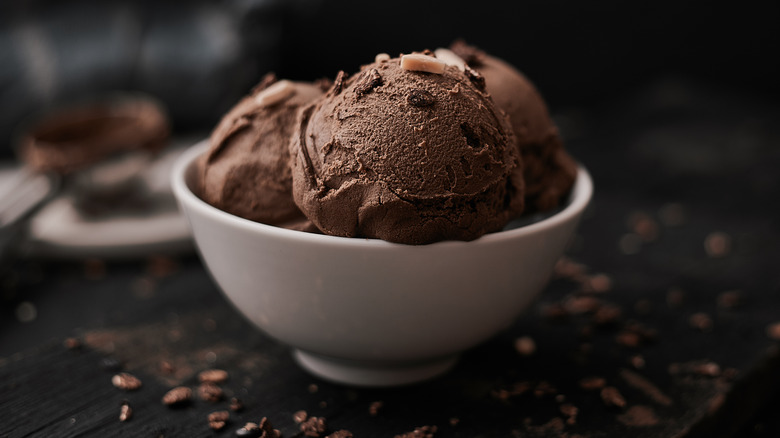 musicphone/Shutterstock
You've likely tried at least one flavor of Ben & Jerry's ice cream. According to the brand's website, its chocolate chip cookie dough, Cherry Garcia, and Half Baked flavors rank as fans' favorites. While many of the brand's top 10 best-selling ice creams incorporate chocolate in some way, only one — chocolate fudge brownie — stands out as a purely chocolate-centric experience.
Now, Ben & Jerry's is introducing two new flavors for chocoholics: chocolate milk and cookies and Dirt Cake, per a a statement sent to Mashed. These new offerings join the ice cream company's recently launched Topped line, which first came out about a year ago and consists of ice creams with a "spoonable" layer of flavored ganache and toppings underneath each lid. (Food & Wine compares the ganache to a firmer version of hot fudge: not crunchy but also not runny.) The brand's two new flavors are "Topped" with a thick coating of milk chocolate ganache. What's on the inside?
Inside the two new Ben & Jerry's flavors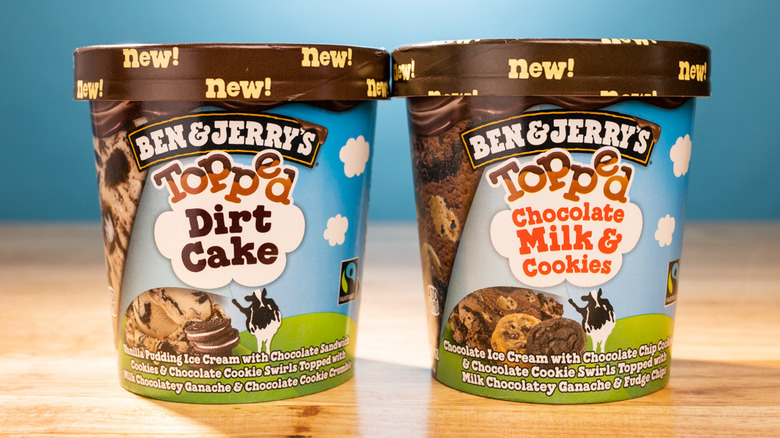 Ben & Jerry's
You can safely expect a chocolate overload from these new Ben & Jerry's Topped flavors. According to the statement sent to Mashed, the chocolate milk and cookies flavor has a chocolate ice cream base that's mixed with chocolate chip cookies and chocolate cookie swirls. On top is a layer of milk chocolate ganache studded with fudge chips. Dirt Cake incorporates the same cookie elements, but the ice cream is vanilla pudding-flavored, and the ganache is sprinkled with finely crumbled chocolate cookies.
Ben & Jerry's says these new items "will appear on shelves soon" at participating grocery stores nationwide, where they should retail for between $4.99 and $5.49 per pint. If you can't find chocolate milk and cookies or Dirt Cake but still want to try something from the brand's Topped ice cream lineup, you have seven other flavors to choose from. Listed on the Ben & Jerry's website are Topped tiramisu, Thick Mint, salted caramel brownie, and more.