Instagram Is Cracking Up At Bobby Flay's Failed Cake Decorating Throwback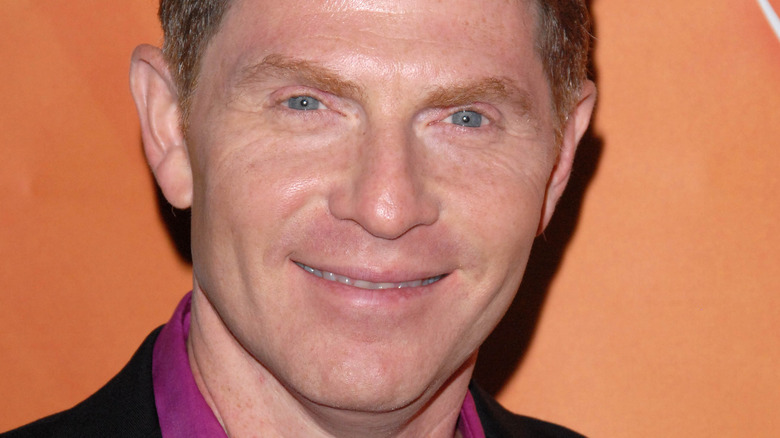 s_bukley/Shutterstock
Just when you think everything Bobby Flay touches turns to gold, the Food Network personality finds a way to remind us that he's human, after all. And there's photographic evidence to prove it, too! Flay recently posted a throwback image on Instagram showing a hilariously "decorated" cake circa an early episode of "Beat Bobby Flay." And with the reminder, suddenly, the rest of America doesn't feel too bad about our lack of cake decorating skills.
In the photo caption, Flay referred to it as his "infamous cake decorating" incident, and mentioned he only did it when challenged by Buddy Valastro, who Flay called "THE absolute master of cakes." While it's probably quite delicious, the baked good, which appears to be festooned with flowers, definitely lacks in the visual department. Never one to take himself too seriously, Flay said, "In my defense, my inspiration here was #JacksonPollack and his signature splashing technique ... so let's call it an abstract expressionist cake??"
Flay was inspired to revisit this pic following an episode of his "Always Hungry" podcast, during which he talked about the epic challenge.
Fans have come to Flay's defense after this epic fail
Everyone loves a spoonful of humility, and as such, fans are eating up Flay's ability to laugh at himself. Celebrity chef Brooke Williamson apparently saw the original episode in which the cake first appeared, and commented on Flay's Instagram post, "This was the best 30 minutes of TV I ever saw." Chef extraordinaire Alex Guarnaschelli also simply said "Love it."
Another Instagram follower applauded the effort, and said, "At least you tried." A fellow fan added, "Who needs cool decorations? It's all about the taste." Although they are not wrong, others noted that the cake was pre-baked, so all Flay had to do in that episode was decorate, which may not be his strong suit, after all. As one person said, "Kind of an unfair challenge as decorating is not exactly cooking."
Another Instagrammer is fully on board with Flay's "abstract expressionist" take and commented, "This is ART!!! Yummy!!!" While someone else personally called Flay out for his great attitude during the challenge, despite not being a trained cake decorator, and said, "You looked so adorable and yet flustered. You're a good sport!"