Chef Martin Yan Looks Back On 43 Years Of Cooking On TV And His New General Tso Line - Exclusive Interview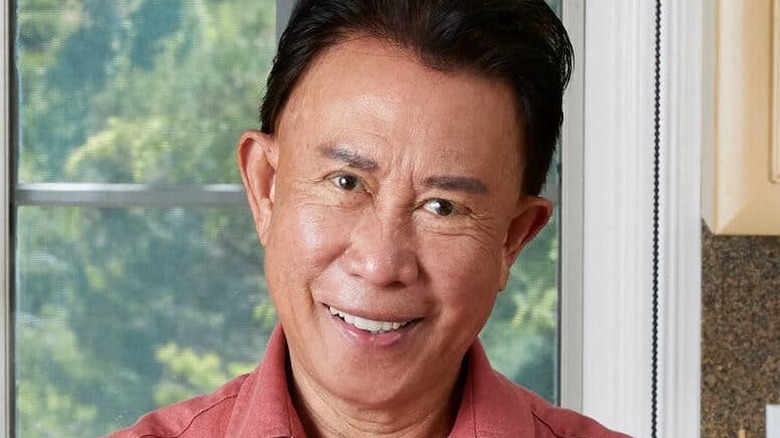 Martin Yan
Public television has given Americans some of the greatest chefs and cooking shows to have aired, but none have run longer than Chef Martin Yan's programs (via the New York Times). Over the course of more than 40 years, Yan has hosted more than 2,000 cooking programs and has received some of the most prestigious culinary awards including an honorary doctorate from Johnson & Wales University alongside Julia Child, an Emmy and multiple James Beard awards (via PBS). Through it all, Yan, who was born and raised in China before immigrating to the United States, made his homeland's cuisine accessible to average home cooks. 
While Yan's many cooking shows and cookbooks have taught his fans and viewers how to become better cooks at home, his latest product, M.Y. Asia General Tso's Chicken, is making fresh Chinese food even faster, easier and healthier for home cooks. The new pre-cooked and chilled dish can be found at Costcos around the Bay Area and Northeastern U.S. That's why Yan sat down with Mashed to discuss his take on General Tso's Chicken, among other things, ahead of its release. 
Chef Yan on his new M.Y. Asian line
M.Y. Asia Kitchen
Tell us about your new M.Y. Asia product line.
First of all, I've been a chef [and] a television show host from PBS for 40 some years, and we also have a number of restaurants and we always serve the best quality product dishes to the consumer. And we want to make sure that it's delicious yet at the same time, it's healthy. And in the market, there's a lot of frozen product lines, but ours is chilled. This way, you know that whenever protein or vegetables are frozen, when you reheat them, when you prepare them, then they normally don't have the same intrinsic quality as a freshly cooked product. When it's chilled, it's a very different scenario. That's why we created this wonderful M.Y. Asia product line, which is actually a chilled protein, and we use big chunks of white meat marinated properly and [seared].
When you reconstitute them at home, whether it's microwaved or [in] a sauce pan or even quickly put in an oven to warm it up, the piece of protein is still juicy, tasty, and succulent. We launched that in early 2021 for the Lunar New Year in the Northeastern region. Now we are very, very happy and excited to be back again, making it available in two different regions, in the Bay Area region, too. We are very excited to hear the acceptance and the wonderful feedback from the Costco members that have tried our product, and we will hope to continue our success and grow our brand across the Costco regions all over the country, maybe all over the world, because Costco is also in Asia, all over the place. So we are very excited.
How M.Y. Asia General Tso's Chicken is healthier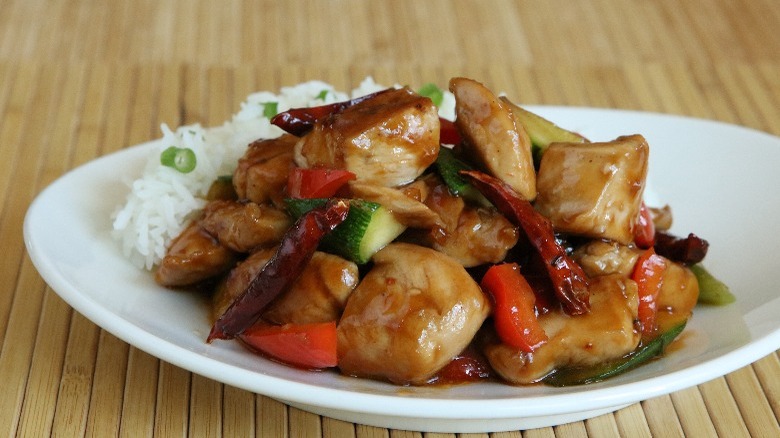 M.Y. Asia Kitchen
Can you tell us about the process of creating the new General Tso's chicken and making it a healthier spin? 
We tried to create a product that, when people taste it, [resembles] restaurant quality. [When] we select the protein, [we pay attention to] the size of the protein, the shape, the thickness, and we use white meat, which is healthier because people want a healthier spin on their diet nowadays. 
Everybody knows that General Tso's chicken [and fried] rice is the most popular item. There are 52,000 Chinese restaurants all over the country, and you go to any particular restaurant menu, you see General Tso's chicken, or orange chicken, or Kung Pao chicken. We'll hopefully [be able to] grow our product line in a different item.  
We use fresh ingredients. We don't use MSG, and we use [APFV-approved] chicken breast, really, really nice, marinated [but still] tender. You probably know that if you love to cook, when you use chicken breast ... if you don't [marinate and prepare] it properly, it can be a bit dry. It's fresh, never frozen to give Costco members the best possible dining experience at home. I'm basically cooking for them. All you have to do is add it a little bit, and I encourage people to eat it as a [single] dish and then serve with a spaghetti noodle or rice at the same time. They can also add whatever they have in the refrigerator. They can eat it by themselves because we have plenty of sauce. The sauce is proprietary, it's delicious and colorful, with just the right touch of sweet and sour tanginess, and a little kick to it.
If you have carrots, celery, bell peppers, or onions, cut [them] up [into] bite size chunks and throw it in, and stir a little bit with a few drops of oil. A couple minutes later, you throw in the chicken from the package and throw in the sauce we have created [after] a lot of trials, and we came up with a really wonderful [flavor that everyone will love]. We tried to ... inspire people to use whatever leftover vegetables they have in the fridge, so it's really a healthy way to do it.
Chef Yan on Lunar New Year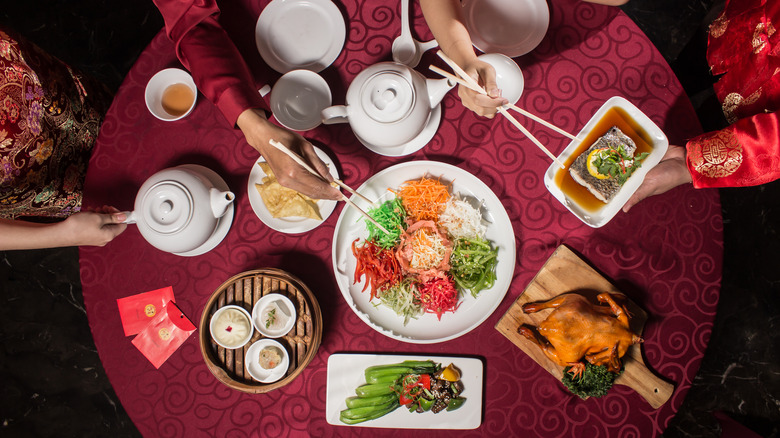 firmansaputra888/Shutterstock
With the Lunar New Year approaching so quickly, can you tell us a little bit about your traditions or what you plan to prepare this year?
Well, during the Chinese new year, you always serve a vegetarian dish because they always believe that the wish is celebrated all over Asia from Japan, Korea, Vietnam, Taiwan, Hong Kong, China. They believe that the first day, besides eating the protein and the meat that you prepare on New Year's Eve, the first day, you always serve a vegetarian dish, and always serve with noodles [and/or] with fish, because fish is abundant. I'll normally prepare a Chinese New Year meal and invite some of my neighbors and friends of my staff to come to my house, and then we'll have a little Lunar New Year. This year, we canceled that, but I'll prepare it and I'll deliver it to my office and deliver to my neighbors.
Noodles are always served, and eventually, we're going to develop a noodle line for the M.Y. Asia product, because noodles are universal. Everybody loves noodles — it doesn't matter whether you're Italian or Japanese or Korean or Thai or Vietnamese ... so, noodles, being long, symbolize longevity. When you serve noodles on Chinese New Year, it symbolizes long lasting happiness, long lasting prosperity, long lasting health, and long lasting relationships. Noodles are always served during weddings and anniversaries and birthday parties. 
So we're going to do a wonderful, simple lunar New Year menu and share with everybody. I will even probably film it when I'm cooking it. I can share with millions of people around the world how to celebrate Lunar New Year with a simple, healthy, delicious menu.
Chef Yan on a new generation of celebrity chefs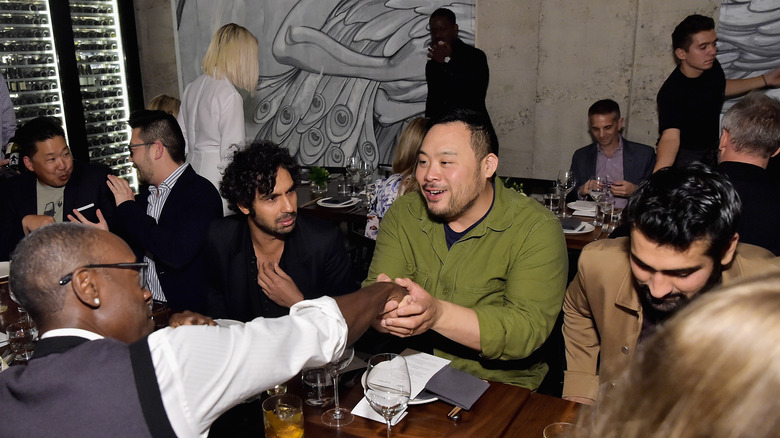 Stefanie Keenan/Getty Images
Can you weigh in for us a little bit about the growing age of celebrity chefs and the new generation of Asian American chefs like David Chang or Roy Choi?
Yeah, well, you know what? I was very fortunate. I was one of the first Asian Americans to host a daily food and travel program, and since 1979, so I've been on television for 43 years and I'm so excited and happy to see all these up and coming very talented, young people. They're passionate about what they do and they're doing really well. In fact, I'm teaming up with Chef Lucas Singh from New York to do a Chinese New Year promotion too, he's actually coming to my kitchen in my house to cook with me, to celebrate Chinese New Year. He's young and upcoming, just like David Chang. It's actually a lot of wonderful chefs, and a lot times when I travel all over the country, a lot of young chefs will come to me [and say], "Oh, Chef Yan, we are so honored to meet you because when I was the little kid I watched this show, that's why I became a chef."
In San Francisco, there's a very successful Michelin-star chef just like David Chang [named] Brandon Jew,  and he tells everybody when he was young, he watched the "Yan Can Cook" show. I'm so honored to be able to see all of these wonderful people. They love what they do, and they're doing so well. David Chang in New York is a classic example. He's very passionate. He loves what he does, and he's very good at what he's doing. They will continue to inspire the next generation of young chefs and celebrity chefs. I've been very fortunate and have the opportunity to work with a lot of chefs on the Food Network. I normally get on as a guest, a judge on a Iron Chef, Top Chef, Master Chef and Hell's Kitchen with Gordon Ramsey.
It has been a wonderful opportunity for me to work with not only very established celebrity chefs, but at the same time ... because I travel a great deal all over the world, [I] also have the opportunity to work with the young, up and coming, growing, celebrity chefs. I'm so excited to see people getting into the kitchen because food cooking is wonderful. I admire a lot of the up and coming Asian chefs, like David Chang, Roy Choi, Brandon Jew, and Lucas Singh and the food they prepare is innovative and is contemporary. They have little twists, they bring the tradition and flavor, but the way that they present the selection of ingredient [and] the combination of ingredients they use is much more creative than some of the senior chefs and the generations of chefs before them. I'm so happy for their success.
The celebrity chefs Chef Yan would like to dine with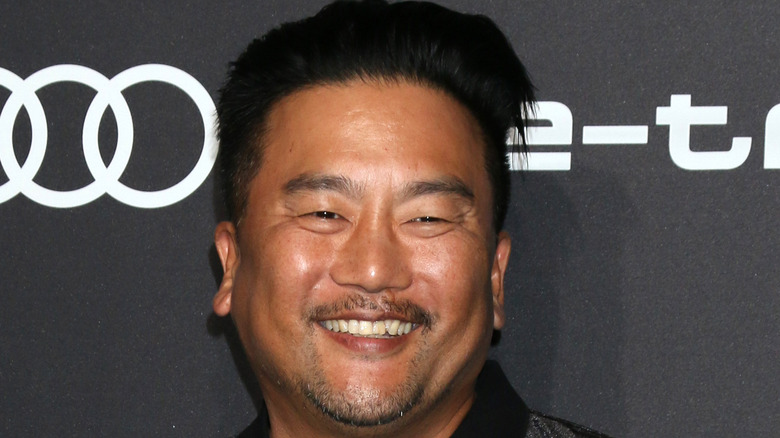 Kathy Hutchins/Shutterstock
If you could choose one other chef to prepare dinner for you, who would it be?
I'm a chef instructor. I'm a cooking teacher at the same time as a restaurateur. So what I would do is, maybe this year, I would love to have David Chang to cook a wonderful dinner for me. And then maybe next year, Roy Choi, and then the following year, Brendan Jiu. In fact, I'm working with Lucas Singh anyway. I would love to work with them, enjoy dinner with them in their restaurant or in my home. If they can come to my house, I'll be happy to wash all the dishes and do shopping and they can cook, and I watch and learn from them.
Rather than having just one chef, I want to learn from them too, not just have a wonderful meal. I want to get to know them and see why they're so good and so creative and why they're so passionate. I want to listen to their story and each one of them, I guarantee, each one of them will have a different story, a personal story to share. I want to be inspired even though I'm the senior [chef of the group], but at the same time, I love to see all these people, why they're so successful, so we can learn.
Because I do a lot of presentations at a lot of culinary academy institutions, like Johnson & Wales University, Culinary Institute of America, and many others around the world, I always do it and share with young people. I would love the opportunity to not only have dinner, but to taste the food [from] their restaurant in my own kitchen. I also [want] to hear their story and their career path and hopefully we can inspire each other and grow together.
Chef Yan's two favorite ingredients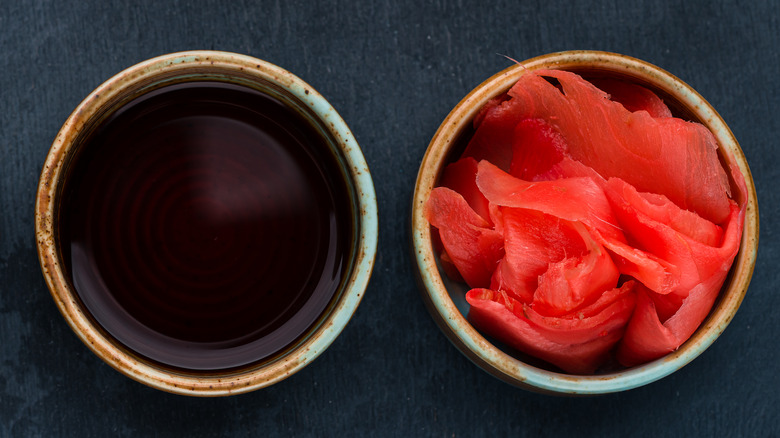 Smspsy/Shutterstock
If you can only choose one ingredient to never live without what would it be?
To me, the most important thing is not just one ingredient. It's two ingredients. I would definitely choose ginger because ginger in Asia is not only used as a spice, as a seasoning, but ginger is also a medicine because when you have a cold, when you have a sore throat, all over Asia, from Indonesia, China, Taiwan, and including Japan and Vietnam, they use ginger. They boil ginger, put [in some kind of] wild honey, and then they drink it. It's therapeutic, and I always, always carry ginger. I have ginger powder when I make cakes or New Year cakes, and I always have ginger candy when I make dessert and I always have fresh ginger. Sometimes, I even add young ginger. When I use young ginger, I pickle them, just like sushi restaurants.
Ginger is definitely the most prized, precious ingredient in my kitchen. Of course, for Asians, you ask any Asian chef [and] besides ginger, soy sauce is a must. A lot of people don't realize soy sauce is actually wonderful. This is basically a fermented product, a final product from fermented soybeans, a kind of flour. If you are allergic to gluten, they have gluten-free soy sauce available in the market. 
A lot of people don't realize that soy sauce has over 100 flavor components because they break down all the protein into amino acid. When you mix it with a tiny bit of salt, it create a multitude of flavors. It goes well with any dish, any cuisine. You go to any household nowadays, I guarantee in an American household, you go to any restaurant, whether it's Davis or Roy or Brendan Jiu or Lucas, [there] must be ... several bottles of different quantities of soy sauce in their pantry, guaranteed. In any restaurant kitchen, hotel kitchen, you see soy sauce. So, there is not just one ingredient I would use. I would definitely say with these two ingredients, you can create hundreds and hundreds of dishes with multiple flavor profiles.
Chef Yan's go-to fast food orders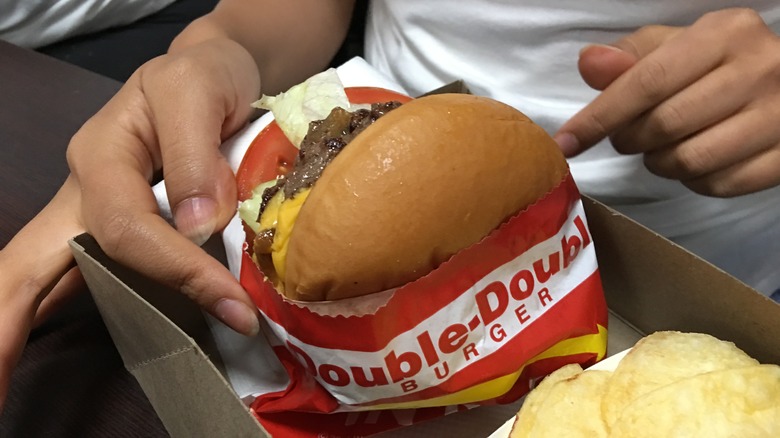 Ming Yeung/Getty Images
Do you have a go-to fast food order? And if so, which restaurant?
I love pizza, and I also love ramen. Sometime, when I go really, really fast, I go to a local restaurant and [create a pizza myself]. You can actually create your own pizza. It's only $9. There's a chain there, in quite a few places. Within 15 minutes, I go and pick it up and it's fresh and it beautiful. I can have all kind of toppings I have. I love to create things myself, just like [when] I'm cooking and I'm involved in the cooking. 
Sometimes, of course, I love a big juicy burger. I have an In-N-Out close to my house, so we go and pick it up because they have a wonderful sauce on top, and I love a very unique flavor profile and I love things that are properly cooked and not overcooked. 
Most Asians don't eat a whole lot of protein in one meal. They normally share, so Chinese meals are about sharing the same thing with the M.Y. Asia product line. You can actually share with two, three, or four people ... we have two packages inside. 
Chef Martin Yan's M.Y. Asia General Tso's Chicken is now available in Bay Area and Northeastern U.S. Costco stores.