These Target Hot Chocolate Bombs Are Perfect For Valentine's Day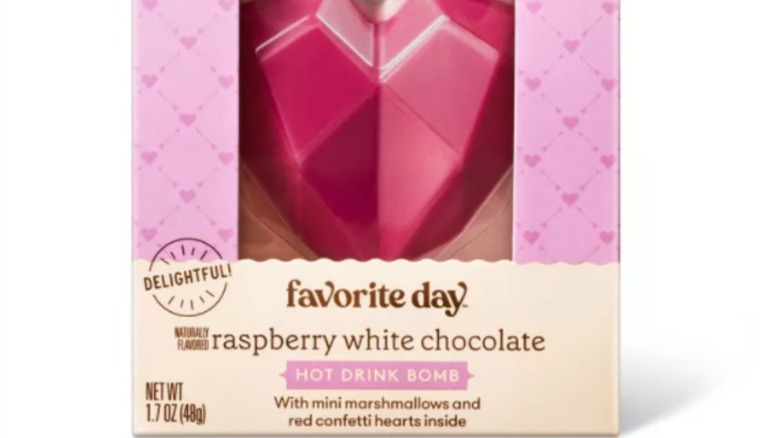 Target
Hot chocolate can warm up any day, but sometimes, you feel like adding something extra special to this already decadent drink. When you want to take your beverage to the next level, you can't go wrong with a hot chocolate bomb. Eater reports that these treats consist of balls of chocolate loaded with marshmallows, sprinkles, or other candies that just need to get dropped in a cup of warm milk. Once the bomb hits your drink, it starts to dissolve, unveiling all the sweets hidden inside, while turning your milk into hot chocolate.
These bombs have the potential to make any drink that much more intimate, and anyone who wants to cozy up at home this Valentine's Day can soon get their hands on some very special hot chocolate bombs. According to Taste of Home, Target intends to sell these hot chocolate modifiers in the shape of roses and hearts, and each comes filled with a special flavor. The rose-shaped bombs come with a strawberry white chocolate flavor and feature mini marshmallows and red confetti hearts. Meanwhile, the heart-shaped hot chocolate bombs taste like raspberry white chocolate and once dissolved, fill your drink with mini marshmallows. The rose bombs come with three bombs per pack, while each heart bomb comes packed individually.
How to get these hot chocolate bombs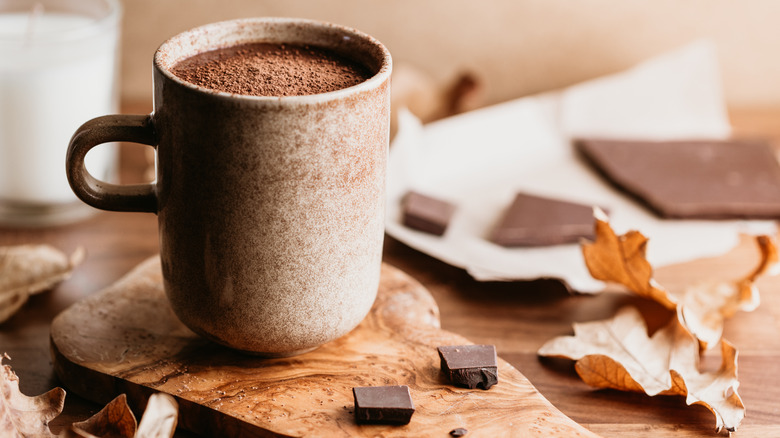 Edalin Photography/Shutterstock
If you want to get your hands on these Valentine's Day-themed hot cocoa products, you might have to hunt around a bit. Taste of Home reports that Target might not carry them in your area, but with a bit of luck, they should appear more and more frequently as Valentine's Day approaches. If you want these sweet treats sooner rather than later, you can also order them from Target's online shop for somewhere between $2.99 and $4.99 while supplies last.
The chain has a history of selling hot chocolate bombs that can get anyone feeling that much more cozy. The brand released a set of holiday-themed hot chocolate bombs during the winter of 2021 that ranged between mint-filled chocolates all the way to bare-bones simply hot chocolate-making concoctions, per Stylecaster. With any luck, Target's latest foray into the world of hot cocoa modifiers should prove successful. Only time can tell how successful these new products might be or how they might taste, but with any luck, you can try one or three out for yourself and see if they live up to the hype.