Alex Guarnaschelli Confirms What We Expected All Along About Chopped Contestants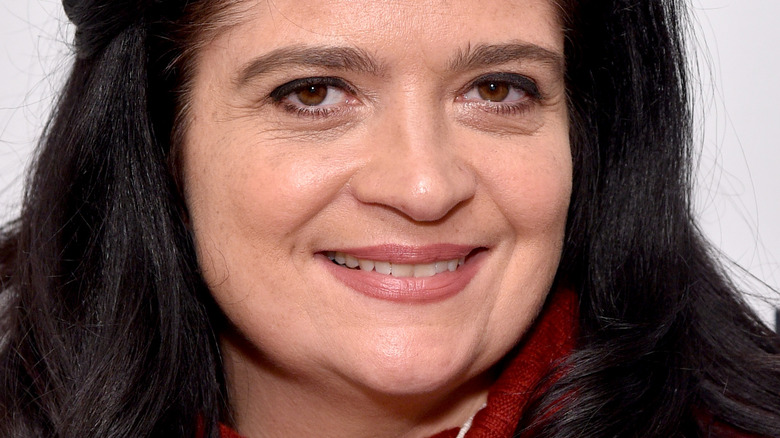 Bryan Bedder/Getty Images
Among the many cooking competition TV shows out there, "Chopped" has remained consistently popular and follows a winning formula. As outlined by Delish, participants must impress the judges by cooking up a storm and surviving three rounds that require them to prepare appetizers, entrées, and desserts. They're forced to use a box filled with mystery ingredients and race against time to prepare all of the dishes. There's a lot going on, but that "pressure cooker" environment also separates out the most talented chefs of the bunch.
One Twitter user praised "Chopped" and wrote to chef and "Chopped" judge Alex Guarnaschelli, "Format has worked beautifully for years — hence the large viewership. I'll bet every contestant has left the studio a better chef." Guarnaschelli had a wonderful response, tweeting on January 20, "I love this thought. That's the hope #chopped @FoodNetwork." Another fan also said they enjoy the fact that the "chefs sometimes have to pivot on the fly" because it gives viewers a chance to observe their "talents and creativity." 
The celebrity chef had initially exchanged tweets with skeptics who argued that "Chopped" has a flawed format, with drawbacks such as the fact that "there is only one fryer" for the contestants to use while preparing their dishes. An exasperated Guarnaschelli wrote in response, "The show is a near perfect format. Its goal is to showcase the work under pressure of up-and-coming chefs who risk putting themselves out there in the public eye. That's the pressure cooker of it all."
Alex Guarnaschelli has an interesting perspective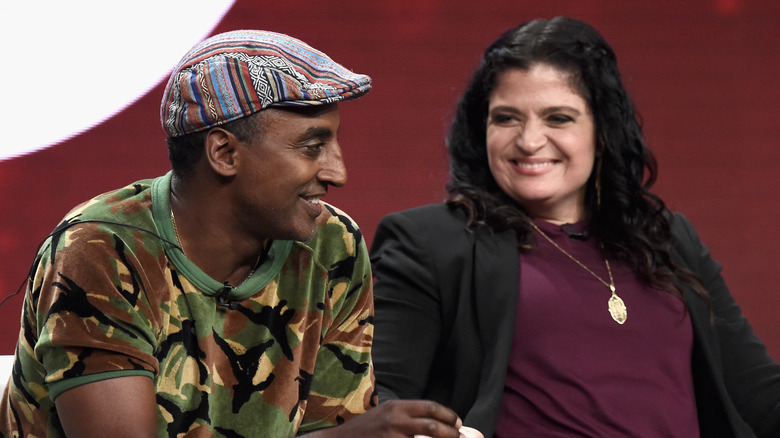 Amanda Edwards/Getty Images
Former "Chopped" participant Sequoia Pranger told The Statesman Journal in 2014 that working on a single episode of the show is hard work for its crew, judges, and contestants, as they're usually on the set for 12 hours until the entire process is complete. And the judges can take as long as 90 minutes after every round to come up with a decision.
With the arduous competition process in mind, it's not surprising that Alex Guarnaschelli shared something relatable about being the show in a March 2015 Reddit AMA. "Cooking and eating food always involves great emotion, from the person who cooked it to the person who eats it," she wrote. "'Chopped' looks easy when you're sitting on your couch with a bowl of popcorn, but let me tell you, it's a whole different world when you open that basket, and Ted [Allen] is giving you that stare."
Guarnaschelli has opened up about the emotional aspect of food and cooking competitions in the past, too. She told Mashed in July 2021, "If you're competing, you're learning about yourself and what you can do under pressure. When you win, it's great validation. If you don't win ... you still learn a lot about yourself. There's a lot of different ways that it's rewarding and a lot of different ways that it's just hard. And a byproduct of that experience is always emotion, whether we're talking about crying or elation or euphoria or disappointment, or excitement."
Chopped's application process is intense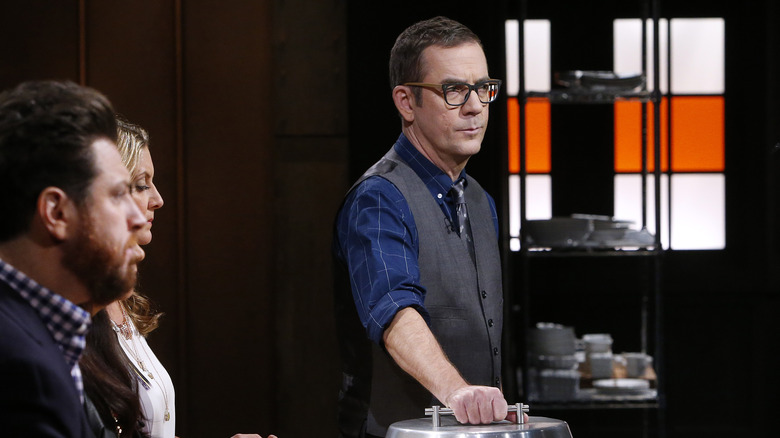 Food Network
If all of the "pressure cooker" talk — and the fact that there's only one fryer and one ice cream maker — hasn't deterred you from wanting to experience "Chopped" for yourself, just know that the "Chopped" application process is almost as involved as the actual competition. "I am filling out the application to be on Chopped (as an amateur) and boy howdy it's extensive," one fan tweeted in 2019. Per the official "Chopped" casting call, you'll have to answer questions about your cooking experience, along with your "style of cooking and approach to food."
Thrillist writer Julianne Feder wrote an essay about applying for the show in 2017, and the process included answering numerous questions about her cooking background, as well as an on-camera, in-person interview. (Feder became a "standby chef" but didn't ultimately make it onto the show, though she did go on to appear in an episode of Food Network's "Cooks vs. Cons.")
Of course, with a $10,000 prize on the line, it's understandable that the Food Network series would want to choose the best possible contestants. But being a good cook isn't everything — so if your dream is to be on the show, be ready for a lengthy interview process, too. Feder explained that her on-camera interview took roughly an hour, where she went into more detail about her food background and what dishes she enjoyed making. Applying and competing on "Chopped" isn't easy — but for the show's winners, it's worth it.