Dolly Parton Always Makes This Secret Recipe For Her Costars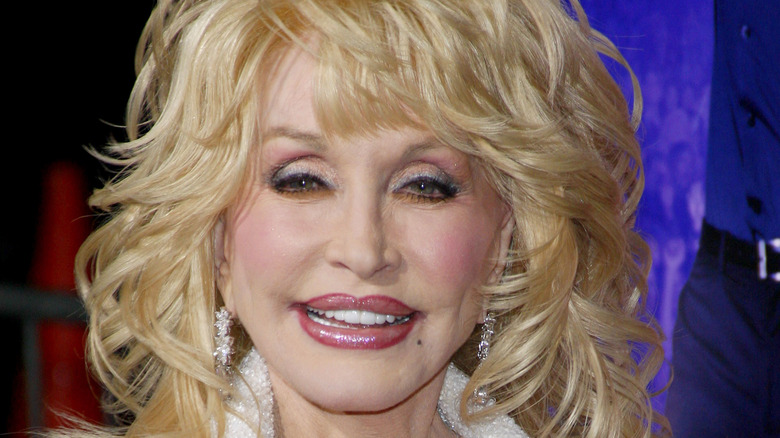 Tinseltown/Shutterstock
Dolly Parton is a successful and beloved talent, a country music legend who happens to know her way around the kitchen. Southern Living shares that Southern cooking, affectionately known as soul food, is seen by many as a tool that shows and dispenses love — bite by delicious bite. Thinking of Dolly Parton's sweet and classy demeanor, it just makes sense that the actor could whip up some classic Southern comfort meals.
Soul food comes in the form of desserts too, and Parton has launched a line of Southern-inspired cake mixes with Duncan Hines. The flavors, which include Banana Puddin' Cake and Coconut Cake options, sold out online in mere minutes, reports NPR. As delicious as these cake mixes apparently are, Parton is also a staunch fan of good old-fashioned home cooking from scratch. She recently told Today that her favorite foods include fried chicken, mayonnaise-based potato salad, and vinegar-based coleslaw. None of those, however, are what she typically serves on set.
Dolly Parton serves a special chicken and dumplings recipe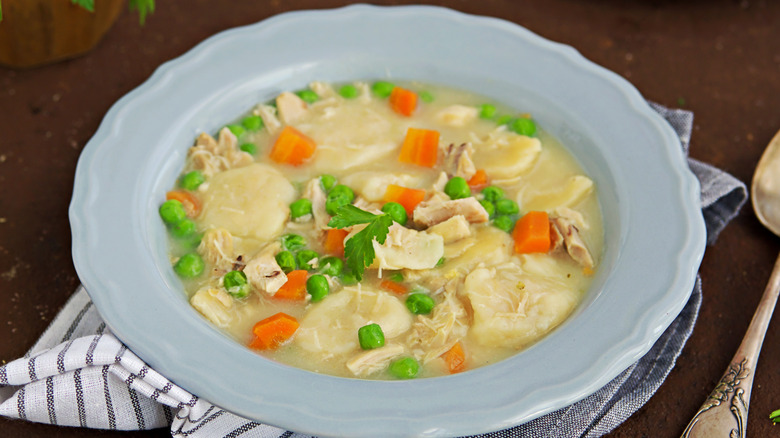 Natallya Naumava/Shutterstock
Throughout her decade-long career, Dolly Parton has earned a reputation for being kind, funny, and honest. But what her costars most often look forward to is when she makes a big batch of chicken and dumplings for the cast and crew. When discussing the recipe, she told Today "My mom was good at that, so I kind of follow her." The icon also credits her mom for being "the greatest cook in the world." 
The chicken and dumplings are so good that everyone on set anticipates the feast, which, she shares, she makes in a huge pot. "I'm famous for it, so everybody wants me to make that or a peanut butter fudge that I love and take on set with me," she says. To make sure no one spoils their appetite on dumplin' day, Parton announces the meal a few days in advance. Although she won't give out the recipe, she did reveal one key ingredient — love. Now if that isn't the most Dolly-like thing to say, we don't know what is.