Trader Joe's Fans Are Freaking Out Over Its New Organic Date Syrup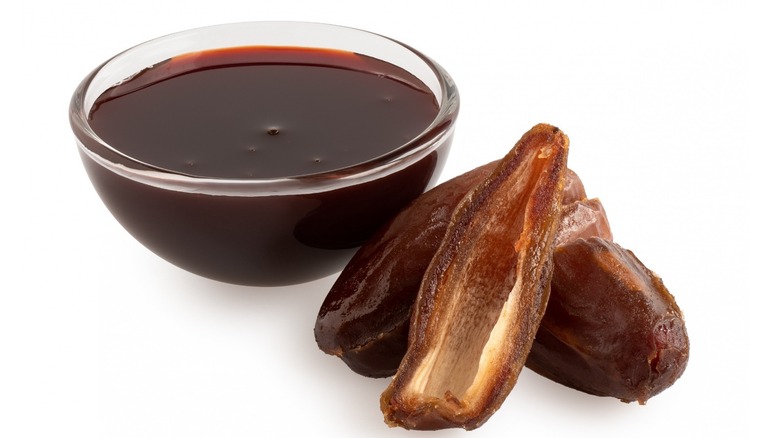 Moving Moment/Shutterstock
When it comes to picking out the optimal syrup, consumers have some strong opinions. The way we see it, Ghiradelli chocolate, Monin vanilla, and Torani salted caramel all rank as optimal liquid add-ins when you want to add some pizzaz to your coffee. If you're in the mood for pancakes, High Kitchen IQ proclaims Mrs. Butterworth's syrup, Hungry Jack, and Log Cabin as their preferred syrups. Trader Joe's now has a product that might just close the gap between all varieties of syrup and fans can't hold back their excitement.
Instagrammer @traderjoesaficionado recently discovered this find during one of their latest shopping expeditions and had to post the item on social media. "Love this new item," their post's caption read. "I've been waiting for TJ's to carry this for awhile now. I use it in smoothies, oatmeal, baking cookies and even drizzled in coffee. It's a low-glycemic sweetener only made from dates. I'm just waiting for date sugar now @traderjoes. ohhh I also drizzzle it on salmon and bake it. I love date syrup!" Eager fans immediately jumped in to comment.
Trader Joe's shoppers love this syrup
Excited replies flooded the Instagram post. "Finally a syrup for date night. I was sick of having to use my regular syrup," one person joked, while another said they had bought date syrup elsewhere for "double" the cost of TJ's and were excited to try this more affordable option. Others simply loved knowing they could get their hands on the syrup, saying, "Wow! I can't wait to try this!" Another follower summed up the sentiments with a solid pun — "Use it on your date!" 
Not everyone has had luck with this item, though. One user had trouble finding it locally, saying, "I wish we could just get a Trader Joe's in Yuma AZ... I'm tired of driving to San Diego or Phoenix to stock up on things."
If you need a change of pace from maple syrup, this offering might just have your name on it. This date syrup has so far proven it can inspire a handful of puns, but with any luck, it might provide an extra kick of flavor, too.