Instagram Is Divided Over Nigella Lawson's Tomahawk Steak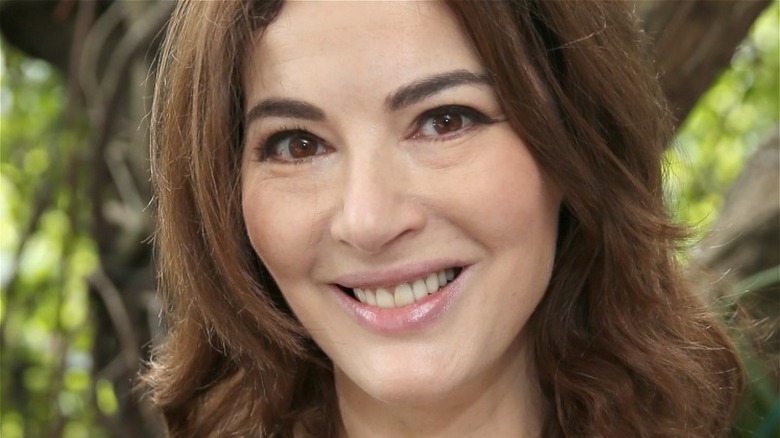 Neilson Barnard/Getty
Nigella Lawson recently posted a dinner pic that has Instagram divided. The celebrity chef and author shares what appears to be an expertly-cut steak with a vibrant green sauce and, at least to us, it looks downright delicious. Her caption reads, "Forgot to post the glorious main course after the prawns last night: A gorgeous @meatpeter Aberdeen Angus tomahawk steak with green sauce (parsley, chives, lemon zest and juice, anchovies, chilli [sic], and olive oil); steamed new potatoes with olive oil and chives, roast onions with thyme, and castel franco and red chicory salad out of shot." The prawns referred to were posted in an earlier Instagram share the same day and were described as "red prawns from @rex.goldsmith" with "@abernethy_butter black garlic butter," further showcasing Lawson's love of local ingredients. 
As the star chef said of the steak dinner in her post, "And I have an old-fashioned sandwich loaf ready to make luscious sandwiches with the leftovers today!" While not doubting her overall skills, especially with the genius idea for the leftovers, this dinner had some fans questioning the preparation choice, with some noting, "You forgot to cook it."
Nigella likes her tomahawk steak cooked very rare
In fairness, the steak pictured on Nigella Lawson's Instagram is quite pink, with only a little browning on the edges, which typically signals a rare or medium-rare preparation. That's not to say there's anything wrong with lesser-cooked quality meat, as steak tartare is actually a quite popular dish served raw. Not everyone, however, enjoys it. Some fans added comments to her post showing their distaste, such as, "A good vet could save it," or another wondering if it was "full of bacteria."
Lawson specifically tagged self-described "meat merchant" Peter Hannan in her post, so we can assume the quality of meat is not an issue here, and instead the "doneness" is more a matter of taste. While many objected to her particular choice, others loved this preparation and showered the chef and dish with compliments such as, "What a phenomenal meal, awesome." Or, "That steak has been cooked to SHEER PERFECTION!" Another added, "How delicious! Green sauce, so many fab ingredients."
Though, for a few fans of the dish, a few were concerned they wouldn't have the ability to cook this as expertly as Lawson did herself. Though, ever gracious, she responded with words of encouragement, and said, "You mustn't talk yourself down!!" Even if this dish isn't a winner for everyone, chef Lawson is still a champion in our books.