Padma Lakshmi Just 'Sleigh'd' Instagram In The Way Only She Can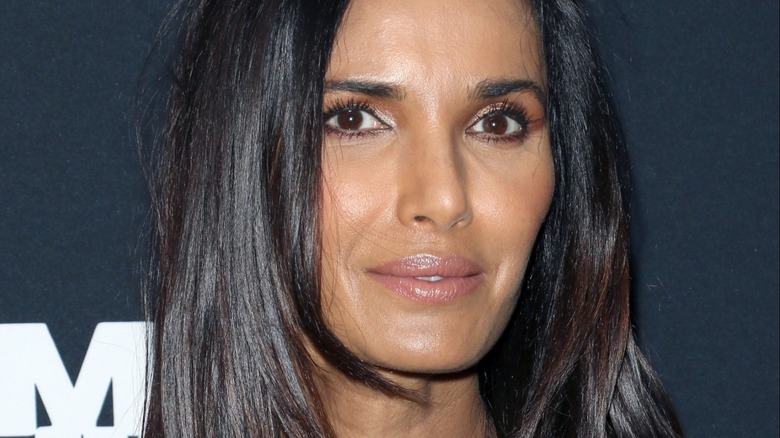 Jim Spellman/Getty
We love Padma Lakshmi's sense of humor across all of her social media platforms, and she did not disappoint in her most recent Instagram post. In the caption, the "Top Chef" host referenced the winter snowstorm that hit New York City over the weekend and encouraged her followers to "stay warm and safe."
Lakshmi posted the set of two pictures shortly after most of the city received seven to 10 inches of snow, according to the New York Post. But Lakshmi is no stranger to the cold, having grown up in the city before moving to Los Angeles and later traveling to Massachusetts, where she attended Clark University (via Insider). But if you were expecting Lakshmi to be in full snowboard gear and coasting down the streets of Soho, where she lives, think again. The "Top Chef" star is more crafty than that!
Instead, Lakshmi showed off her sledding skills in a single-seated sleigh, looking graceful, as per usual.
Padma Lakshmi's outfit 'sleigh'd'
In true fashion, the television personality started her Instagram caption off humorously. "Sleigh'd it," wrote Lakshmi. And following the pun, she stated in her caption that these pictures were throwbacks from 2012, when she was filming for "Top Chef" in Alaska.
Users were loving the usual sass of Lakshmi's caption. One fan, @jasonkcaudill, wrote, "Sleigh the day!" Other fans complimented Lakshmi's outfit in the pictures, which was on point as usual. The television star was dressed in a warm brown coat, red leggings, and wedged boots. To top off her look, she also had a classic pair of black aviators on. "Nice boots," said @jimmie_c, as another follower, @mlagr13, likened the television star to an "ice queen."
So while Lakshmi may not be in Alaska anymore, nor on a sleigh, she continues to slay at what she does, with the next season of "Top Chef," which premieres in March 2022 (via Food & Wine).