Reddit Is Loving This Colorful Lineup From A Dunkin' In Austria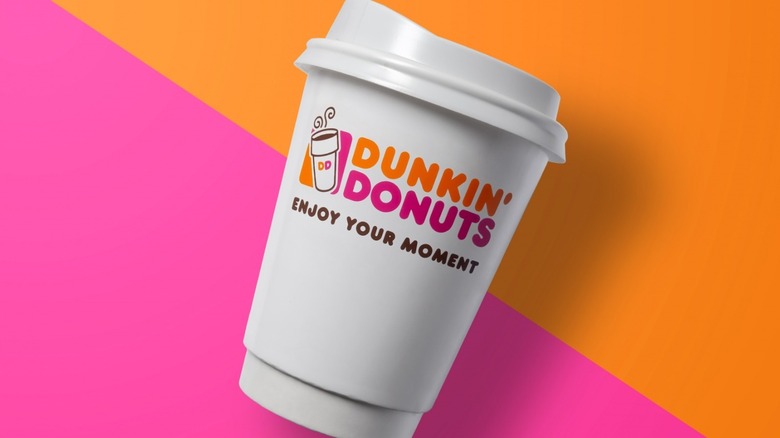 Nixx Photography/Shutterstock
As a company providing coffee, donuts, and other snacks, Dunkin' has definitely stood out among its contemporaries in the market. The chain can be found in more than 30 countries outside America, including China, Bulgaria, and The Bahamas.
The company, which claims to cater to over five million customers across the world each day, goes all the way back to 1950 when Dunkin' founder Bill Rosenburg launched the first store in Quincy, Massachusetts. The chain has a dedicated fan following — a Refinery29 piece about "fast food's friendliest fandom" points to the theory that there's immense nostalgia attached to Dunkin' for customers who also value the brand's affordable prices. Susan Fournier, the dean at Boston University's Questrom School of Business, told Refinery29 that she believes Dunkin's "authenticity is perfect for those who are not pretentious." 
This enthusiasm for Dunkin' extends across the world, as evidenced by the Reddit users admiring a colorful collection of donuts from Dunkin' in Austria.
People are excited about these donuts
A couple of days ago, a Redditor shared a colorful picture of a box of Dunkin' donuts from Austria. This delighted other fans on the platform; the post even won a "Yummy Award." A curious commenter who asked about the flavors was directed to Dunkin's website, which shows that its customers in Austria can choose from a large assortment of flavors such as Oreo, Lotus Biscoff, vanilla, strawberry, raspberry, Nutella, double caramel, cheesecake, and more. There are currently over 20 vegan options available to try.
"So cool that you have vegan ones there!" one Redditor replied. "Also, your bakers are definitely more dedicated to quality than what I've seen here in the U.S....they're beautiful!" Another person couldn't help but agree, joking that they're pretty jealous.
Redditors are undoubtedly impressed by the collection. One fan said that they'd love to try the Oreo flavored donuts, while someone else was more blunt about the topic: "Dunkin' does us dirty here in the U.S. Lol."