The Latest 'Resident' At Martha Stewart's House Has Some Fans Concerned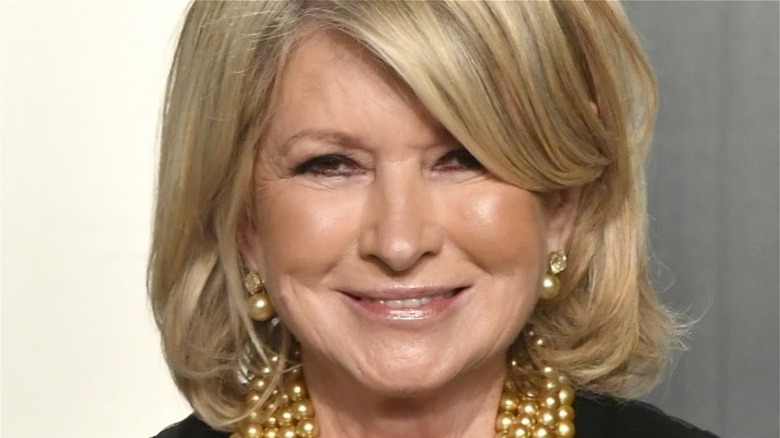 Frazer Harrison/Getty
Celebrity chef Martha Stewart is not without company at her luxurious New York homes in Bedford and The Hamptons. According to Business Insider, she spent much of her 2020 quarantine with her staff members, including her driver, gardener, and housekeeper, at her sprawling farm estate.
Of course, Stewart also has plenty of pets to keep her company. Per her website, she is an animal lover and has long looked after many dogs, cats, canaries, chinchillas, cows, peacocks, geese, pigeons, donkeys, and more (it's an exhaustive list). She once told Today, "Even though I live far out of the city, I go home at night because my pets are there. I really care about them, I really take very good care of them, and they take care of me, too." Stewart also revealed that she's used to wild animals, like raccoons, visiting her farm at night. Recently, however, she took to Instagram to share details of a more rare animal sighting, prompting some of her fans to leave concerned comments on the post.
An unexpected guest showed up at Stewart's farm
Stewart recently shared on Instagram that she was greeted by a fox at her home. "I just drove up my driveway and there, in the pergola, eating birdseed from feeders above was our beautiful resident fox," she wrote in the caption. Stewart mentioned that these last few weeks have been a difficult time for wild animals in the area because of the cold weather, ice, and snow. "Wild life is forced to look for food everywhere, even close to houses," she added. However, she seems to be much more amazed by the animal than alarmed by it, as were some commenters on her post.
One much-liked comment read, "Imagine being a fox and living next to Martha Stewart," while another user admired the fox and called it beautiful, suggesting that maybe Stewart should give him "a little snack." Other users were concerned for the fox's health and safety and requested that the chef provide it with food and water. Still, others felt that at a house like Stewart's, that wouldn't be a problem. One person joked, "If I were looking for food out in the snow, I'd be scavenging around your house too! Yum!" Another agreed, "No better place to grab a snack than at Martha's!"