TikTok Can't Get Enough Of The Viral 'Yogurt Toast'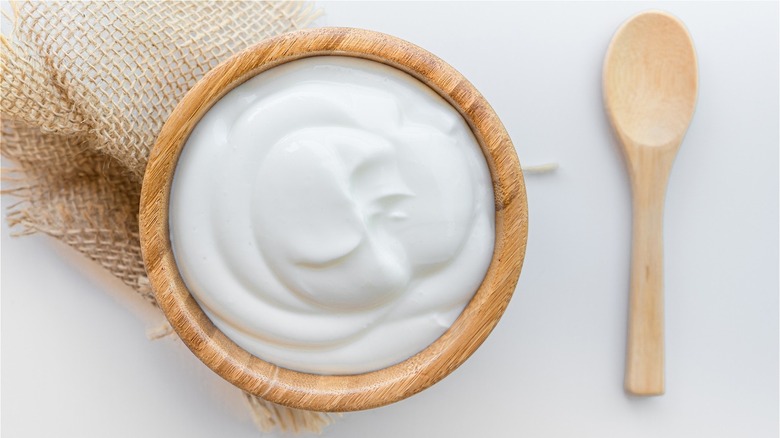 MIKISTOCKER/Shutterstock
There's a new viral trend going around for something called "yogurt toast." With a simple search of the term on social media, you can find hundreds upon hundreds of examples of the latest new craze that involves whisking together tangy yogurt, fresh eggs, and a sweet flavor of some kind in order to form a simple custard that is then poured over slices of bread and baked into a sweet, tangy treat with an impressive bottom crust, and then topped with fruit. Some swear it reminds them of cheesecake (via Food52). But, whatever it is about this particular phenomenon, it does appear that TikTok cannot get enough of the viral "yogurt toast" aka "custard toast" trend.
On January 18, TikToker Feel Good Foodie (aka Yumna Jawad) took to the platform to demonstrate how she makes her own variation on the sensation, much to the delight of her 1.5 million followers. While Jawad may not have been the first to post a video of herself whipping up a batch of yogurt toast, her post has quickly grown into one of the most popular on the platform. In fact, as of publication, Jawad's yogurt toast video has been seen more than 1.2 million times — well over twice the still-impressive numbers that her posts usually attract. So, what gives?
It's a great idea for "dessert for breakfast"
On TikTok, the simple hashtag #yogurttoast comprises a lengthy parade of posts related to the foodie phenomenon. As of this writing, there's been more than 3.2 billion views of this content. While TikTok user @FeelGoodFoodie (aka Yumna Jawad) is neither the first, nor should we expect her to be the last, to post content relating to this quick-and-easy baked custard treat, she is creating quite the stir with her take on it.
Posted January 18, Jawad's video, which dovetails with her explanatory blog post, offers a brief visual tutorial on how to turn Stonyfield organic whole milk yogurt, one egg, honey, cinnamon, and sliced bread into a "dessert for breakfast." Jawad's roughly 22-second take has been viewed more than 1.2 million times, liked by nearly 67,000 fans, and has attracted a whopping 262 comments.
For one, Stonyfield certainly seemed to love it ("This looks SO good," they commented), as did many other TikTok users. Some expressed concern about the heat of the oven killing the yogurt's probiotic content, and others suggested even newer versions that involve, among other things, mascarpone cheese. As lovers of cheesecake, we of course can't wait to see how that one plays out!