Aldi Fans Are Jealous Of This Location's Milk Prices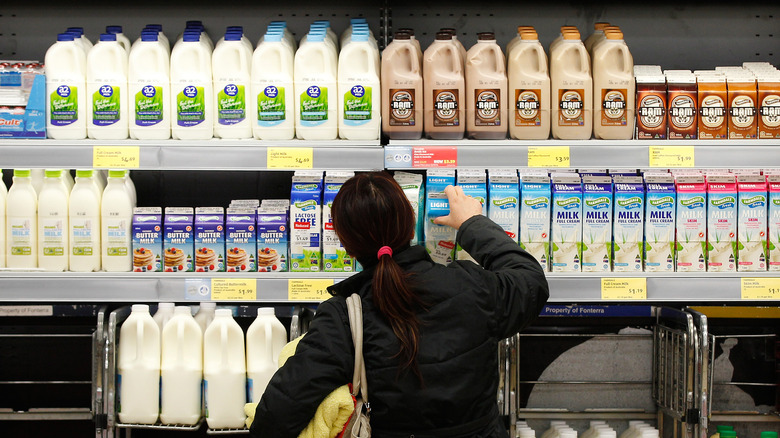 Bloomberg/Getty Images
While Aldi is known for its affordable prices on groceries, there are savings and then there are savings that seem so low, you might even think they've made a mistake marking the item. This seemed to be the case with one Aldi shopper, who recently posted a picture of a gallon of milk selling for just $1.35 per gallon to the r/aldi subreddit. "A couple weeks ago there was a discussion about Milk prices at Aldi. I had mentioned that the prices near me floated around $1.35. Some people were flabbergasted so I wanted to post some proof," the poster explained in the comments.
Unfortunately, it appears milk prices are not uniform across all Aldi stores. Milk prices are set according to local markets, so many other Aldi shoppers could hardly believe their eyes when they saw the low milk price, even with the proof right in front of them. The original poster, who was a Georgia resident, simply lucked out with a location that priced their milk over two dollars lower than average, while other Aldi shoppers in other parts of the country are paying a much higher price.
Milk has been getting more expensive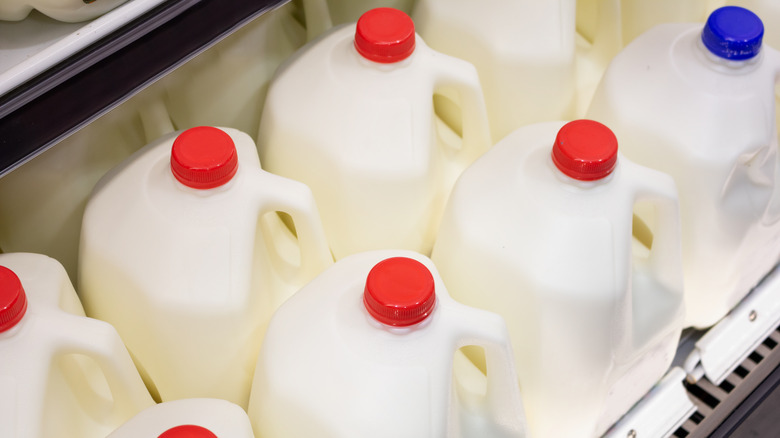 TonelsonProductions/Shutterstock
The average price of a gallon of whole milk in the United States is $3.82, per the USDA. Milk prices have been steadily rising in the past few years, increasing by eight percent from October 2020 to October of 2021, when the average price was around $3.66, according to Verify This. With rising inflation throughout the country, experts are estimating that food costs may increase as much as five percent by June 2022, so it seems unlikely that milk prices will drop anytime soon (via Fortune).
So it is no wonder that fellow Aldi shoppers couldn't help but express some slight envy over the Reddit poster's extremely inexpensive milk. "I am insanely jealous of your milk prices. I am big sad that it costs me $4 for a half gallon of lactose free milk. I miss being able to buy milk for less than $2/3," posted one user. "Jeez! That's less than I pay for a half gallon," another agreed. Others speculated as to the reason why this one particular Aldi's milk is so cheap. "Do you have a Lidl close to that Aldi? The Aldi and Lidl in Woodstock seem to have a price war so it's 1.21, " a Redditor asked, while another person suggested, "Maybe the dairy is next to your town." But no matter what the reason, this one lucky Aldi shopper probably isn't complaining about the extra savings on their grocery bill.