The Problem Shoppers Have With Costco's Hatch Green Chile Potato Skins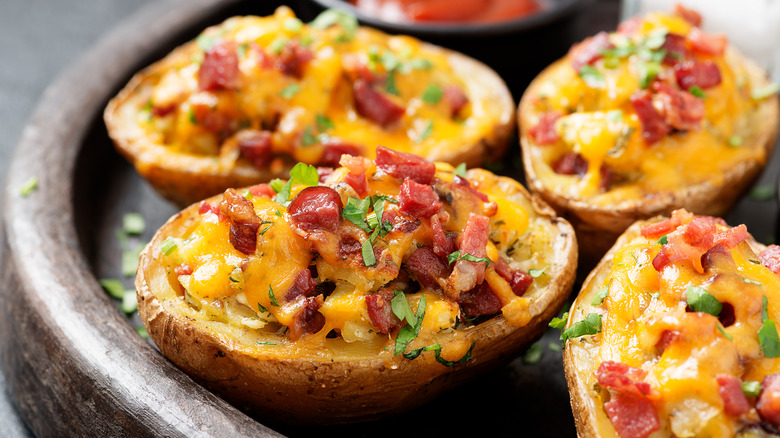 nelea33/Shutterstock
For nights when you really just don't feel like cooking, the freezer aisle at Costco can be a life saver. Their wide selection of easy-to-prepare frozen foods can be a great option for quick snacks or meals on a busy night. Recently, their Dee Amore Hatch Green Chile Potato Skins began turning heads online, after the popular Instagram account @costco_doesitagain made a post alerting their followers to the frozen snack.
Topped with uncured bacon and spicy hatch green chilis, these potato skins brought out some strong opinions in the comments section. Quite a few of their followers expressed a liking for these simple and easy frozen appetizers. "Bought these and love 'em!" @izismommy raved. "I love these for my lunch. Costco better not stop carrying them," posted another user. Follower @ vikki.loeffler offered their suggestions for best preparing these potato skins, writing "Added salsa verde and sour cream to these before serving and they were amazing! Might have been the antidote to other commenters saying they were dry."
Some shoppers felt these potato skins were too dry
However, the Hatch Green Chile Potato Skins didn't leave a good taste in everyone's mouth. This savory appetizer also garnered a few negative comments on the Instagram post, with some shoppers complaining that they were dry and tasteless. "These had zero flavor. I was so disappointed," lamented @amberlouwho, while @amyggivens wrote, "These were horrible. Super dried out no matter how you cook them and how [long] you cook them for." "They were awful! Dried out and won't buy again. Very disappointed!" agreed another user.
But no matter which side of this potato skin debate one might fall on, there are still some tried-and-true methods to make potato skins of any brand taste a little better. For starters, some home chefs recommend popping the frozen potato skins straight from the freezer into an air fryer, rather than a microwave, since it helps keep them crispier and prevents them from becoming soggy (via Recipes From A Pantry). Sour cream is a great classic way to add flavor and help prevent dryness, but other sauces like ranch or even barbecue sauce could also add some unique flavor. Additionally, adding fresh toppings like jalapenos, onions, or even olives can help bring these frozen potato skin appetizers to the next level.