Martha Stewart Jokes About Her And Snoop Dogg's Lighter Use In BIC Ad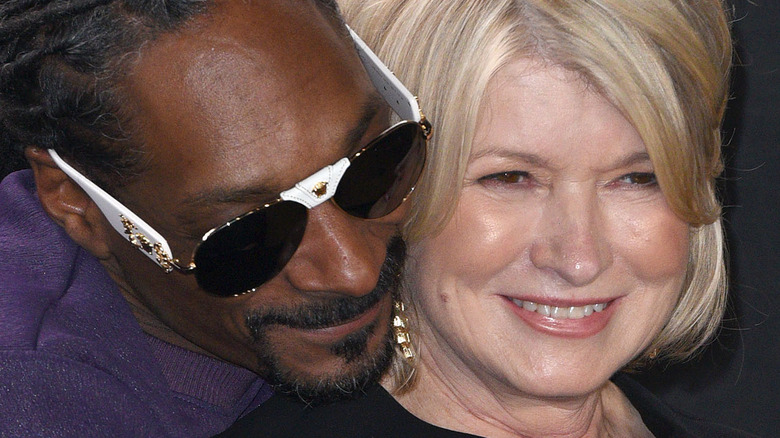 C Flanigan/Getty Images
Martha Stewart and Snoop Dogg are a powerful duo. The pair's chemistry was apparent from the jump when Snoop first met Martha as a guest on her eponymous show in 2008. Since then, they've collaborated many times, most notably as roasters on "The Comedy Central Roast of Justin Bieber" in 2015 and for their series, "Martha & Snoop's Potluck Dinner Party," which premiered in 2016.
Snoop and Martha are also well-versed in the art of the joint celebrity endorsement, having co-hawked products for T-Mobile, Tostitos, and more — and they seem to know exactly what their audience expects from them. Promoting a new chip and complimentary dip, Tostitos went with a "better together" theme (via iSpot.tv). "Pass me some of that green stuff," Snoop, holding the new chips, says to Martha, holding the new avocado dip. But you get it, right? For the T-Mobile ad, Snoop suggests the deal is "better than a bag of—" to which Martha rattles off "purple cushy throw pillows, herb-roasted lambchops, greenery (for your topiary garden) ... can of bisque." It's not the most subtle joke, but apparently it works. 
For their latest round of pithy ads that poke fun at both their odd couple nature and Snoop's tendency to toke up, the pair — perhaps most naturally — partnered with BIC to promote the lighter brand's newest EZ Reach model. 
Have you heard? Snoop Dogg likes to smoke
Snoop Dogg and Martha Stewart first promoted the BIC EZ Reach Lighter in a May 2021 ad, titled — wait for it — "Pass It." "Hey Martha, pass met that BIC EZ Reach Lighter, and that bowl," Snoop says to Martha, who innocently replies, "... of strawberries?" You see, Martha is "not a smoker," as she told The Hollywood Reporter, but her rapper compatriot, well, that's another story. "The smoke is quite thick around the set," she said of their "Potluck Dinner Party" series.
BIC leans hard on the joke again in its "Smoke Turkeys" ad (above), which almost directly replicates the T-Mobile bit as Snoop clearly attempts to say how ideal the EZ Reach lighter would be for his favorite past time, but Martha interrupts by guessing "lighting candles?" In another segment for the EZ Reach campaign, overtly titled "#LitQuestions," the veneer of the joke is completely pulled back when the question of "What's your favorite garden herb to pick and cook with?" is posed, and Martha asks Snoop, "Well, cannabis?" His blunt reply: "Oh boy, do I love that herb!"
Still, overplayed as the joke may be, the duo's fans are loving BIC's take on it. "Give the marketing team a raise," one commenter replied on BIC's post of the ad. "Goated commercial," another reply read, meaning "greatest of all time." Apparently the old adage "if it ain't broke, don't fix it," stays true with Martha and Snoop.