The Reason Michael Symon Can't Eat These Two Fruits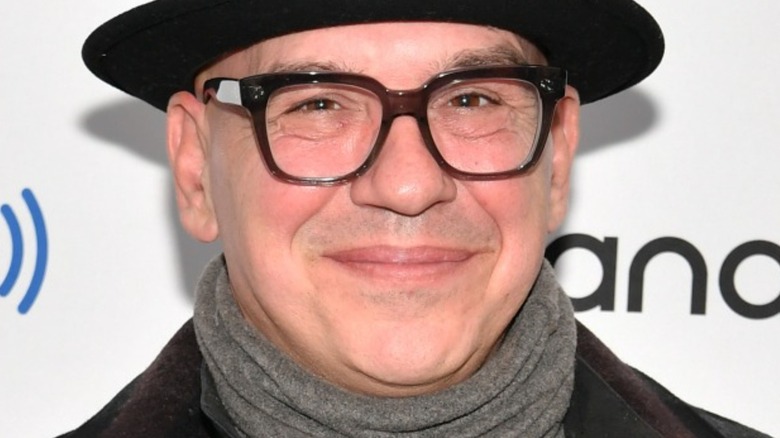 Dave Kotinsky/Getty Images
No one out there can accuse "Burgers, Brew & 'Que" host Michael Symon of being a picky eater. Throughout his career as a celebrity chef and television personality, he has tried a variety of delicacies, including bugs, ants, and animal testicles. The restaurateur told Philadelphia Magazine, "I've eaten everything at some point in my life." Although he's known largely as a "meat guy," per Food Network, his diet is far more diverse than that. In fact, he loves noshing on Greek yogurt, and enjoys drinking green juice with ingredients like kale, ginger, celery, and a smidgen of apple, describing the concoction as "incredibly delicious."
The chef, who favors cooking simpler dishes with fewer ingredients than found in many restaurants, also eats vegan or vegetarian between two and three days every week. This is largely because his wife is a vegan. "It's easier to cook for us both at home if we eat the same thing," he told Food Network. Clearly, Symon is a pretty open-minded guy. So how exactly did two fairly beloved fruits land on his personal "no-fly" list, so to speak?
The two fruits Michael Symon shuns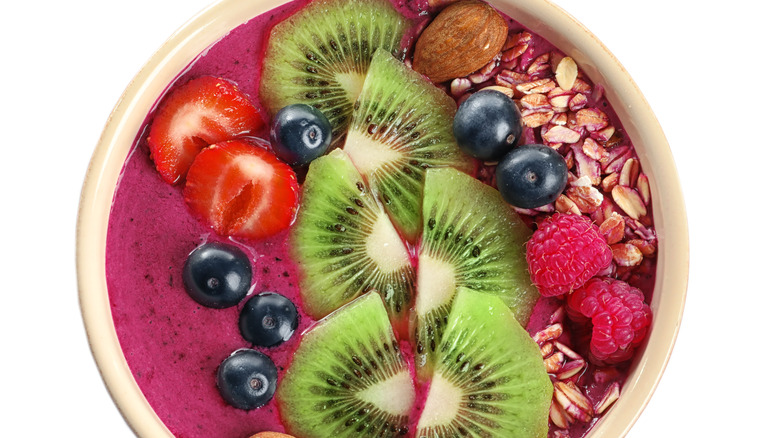 Africa Studio/Shutterstock
Michael Symon is an avid Twitter user, as it's one of his primary methods of communicating with fans. He recently spelled out exactly what he won't eat, and why, via the platform. "I'll try anything and have .. can't eat raspberries and kiwi [due] to allergic reaction," Symon tweeted. To be fair, though, he has also told Philadelphia Magazine in the past that he "just cannot stand" raspberries. Can't really blame him — most people don't like eating things that make them sick!
Symon didn't elaborate on what type of allergic reaction he suffered at the hands of these fruits, but a kiwifruit reaction typically presents as a rash or "prickly feeling" after eating it, per Medical News Today. The rash generally appears on skin areas that have come in contact with the fruit, usually around the mouth. Allergic reactions to raspberries can cause similar symptoms, according to Walk-in-Lab. Both may result in serious responses, like cramps, nausea, and difficulty breathing.
This tweet answers a question that probably more than one Symon fan has had over the years. One Twitter user replied to Symon's tweet to state, "I was wondering why the secret ingredient was never kiwi on Iron Chef America." Mystery solved!