Letterkenny's Canadian Caesar Is A Real Cocktail - Here's How To Make It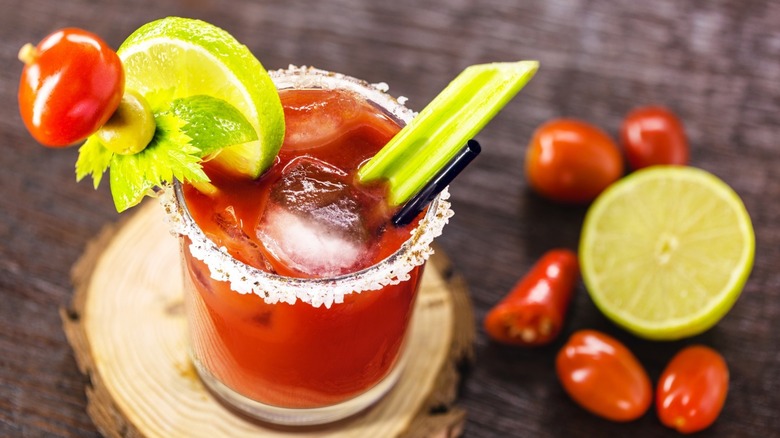 RHJPhtotoandilustration/Shutterstock
In many parts of the world, going into a bar or restaurant and ordering a "Caesar" would most likely get you a salad bowl filled with romaine lettuce, croutons, and Parmesan cheese, and tossed with a dressing made with lemon, anchovy, and egg.
But a "Caesar" is something else entirely when you cross the 49th parallel (via History) and move from the United States into Canada, where a "Caesar" is defined as a cocktail made with vodka, tomato juice, clam broth, hot sauce, and Worcestershire sauce (via "The Great Canadian Bucket List: One-of-a-Kind Travel Experiences"). Toronto resident Christian McPhee tells The New York Times that Caesars are "like comfort food for Canadians. For as long as I can remember, Caesars have been a part of my family's get-togethers." 
The Times reports that Caesars were first put together more than half a century ago by Walter Chell, a restaurant manager in Alberta. And while it might be tempting to dismiss the Caesar as a variant of the bloody Mary — which has similar ingredients — Canadians are likely to (respectfully) disagree. 
Hulu's Letterkenny held a Caesar contest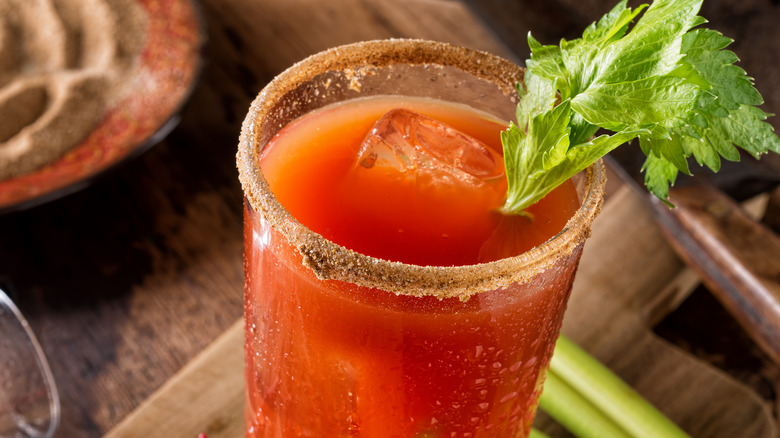 Foodio/Shutterstock
While the Caesar is Canada's "favorite cocktail" — according to CBC — it recently got more exposure in the United States through Hulu's "Letterkenny," a series set in a rural Canadian town that's about life in, well, a rural Canadian town (via Vox). And in one episode of the hit show, the characters held a Caesar-making competition.
Per Food & Wine, every Caesar recipe on the show had a "base, booze, boosters, garnishes, and a rim." The booze were clear spirits that ranged from gin to vodka — even moonshine. All the drinks were made with a base that included Clamato juice, and "boosters" incorporated more exciting ingredients such as dill pickle juice, or the more traditional Worcestershire sauce and hot sauce. Many garnishes were exotic like a Dungeness crab leg, beef jerky, pickled egg, or a Slim Jim, while the rims were dressed up with spices that included Old Bay, Montreal chicken seasoning, and Montreal steak seasoning.
To writer Sarah Crowder, the winner was a somewhat traditional Caesar named "The Hicks." The drink was made with the classic ingredients —  Clamato juice, vodka, Tabasco, Worcestershire sauce — adding a celery stick, dill pickle, and Slim Jim for garnish. The cocktail was rimmed with lemon juice, celery salt, and Montreal steak seasoning.
While the ingredients may make your head turn, Food & Wine gushed over it as "refreshing, flavorful, and, wow, I forgot how good a Slim Jim is."