Truly Is Willing To Pay For Your Valentine's Day First Date. Here's Why
They say fortune favors the brave, and this year, Truly Hard Seltzer is also hoping to heap some favor onto fans who are feeling courageous with their love life. The hard seltzer brand has just announced they will be footing the bill for anyone willing to step out of their comfort zone and ask their crush out on a first date for the most romantic of all days: Valentine's Day. Although most people probably would shy away from scheduling a first date on a holiday that's typically reserved for couples, it turns out many people don't think it would be weird to go on a first date on the love-filled day.
According to a 2019 survey of more than 6,600 respondents, conducted by the dating app Coffee Meets Bagel, 54% said they would have no problem going out with someone for the first time on February 14th (via Mirror). And a Cosmopolitan poll also showed that more than half of men polled would respond positively if they were asked out on a first date on Valentine's Day. To help people muster up the courage to ask out their special someone this year, Truly is giving that extra push by offering 100 lucky winners a pile of cash to cover whatever fun activities they may have planned for that first meetup.
Truly fans are already posting their Valentine's Day plans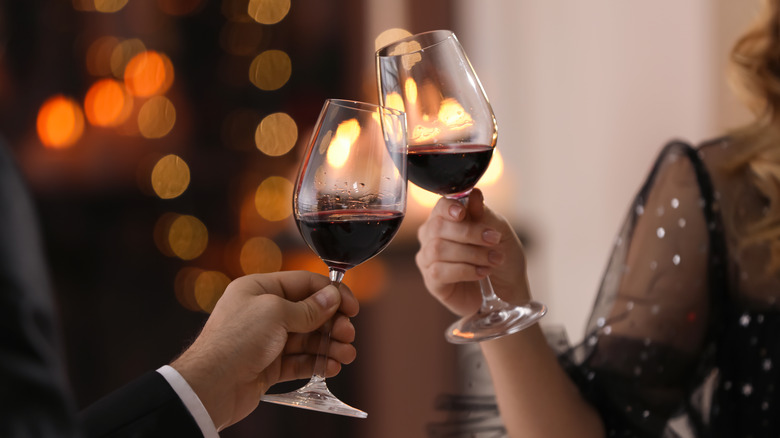 New Africa/Shutterstock
To be eligible to win, you simply have to show proof of the first date, such as selfies, photos, or DMs of creative pick-up lines. Send them by tweeting @TrulySeltzer and using the hashtags #TrulyVibin, or you can e-mail TeamTruly@trulyhardseltzer.com. (Oh, and you have to be at least 21 to enter — makes sense, right?) The company will then select five grand prize winners to receive $1,000 each via CashApp — plenty to cover all those big activities you have planned. Truly will also send 95 of the most creative responses a $100 runner-up prize through CashApp, according to PR Newswire. And the hard beverage brand isn't stopping there. If this risk pays off big time for any of the bold lovers and they become engaged within one year of that first Valentine's Day date, they could get up to $50,000 to help fund the wedding.
Truly's contest is open now through February 28, with winners to be announced on March 1. And it appears that plenty of people are not waiting to make the first move with their crushes. Truly's Twitter feed is already full of lovebirds setting up plans on Valentine's Day to picnic, get dinner, get mani-pedis, and, of course, hop on the trend and drink some hard seltzer. "I just did it! Thank you so much for such encouragement," said one fan, while plenty of others shared screenshots of asking out their certain someone. For full contest details, visit Truly's website.