Little Caesars' Newest Dessert Is All About Twix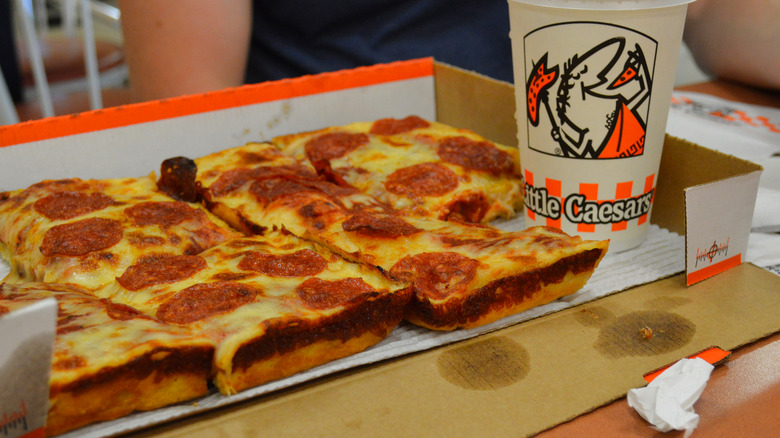 ScannableZebra/Shutterstock
Little Caesars' has developed some unique takes on dessert over the years. According to Fast Food Menu Prices, the brand has sold premade cookie dough that buyers could break off and bake at home, Pizza Cones that came loaded in Apple cheesecake and S'mores flavors, and cinnamon bread with frosting. The chain plans to break some new ground with their latest creation, which puts a new spin on Twix.
Chewboom reports that the pizza chain now plans to sell a limited-edition Cookie Dough Brownie that features pieces of Twix cookie bars. The item comes sold in a long package for $3.89 that holds four pieces of the dessert. These sweet twists on brownies also feature a signature Cookie Dough Frosting on top and the advertised Twix cookie pieces sprinkled throughout. Diners can now get their hands on this item, and one online reviewer has spotted the sweet find at their local Little Caesars location in Southern California.
A long time coming for these brownies
The evolution of these new Twix brownies has been coming for a long time. According to Brand Eating, back at the end of 2020 Little Caesars rolled out a test product that looked suspiciously like the current Twix brownie offering, except that product contained M&M's instead of candy bar bits. Meanwhile, fans on Reddit have gotten wind of the new brownies and seem less than enthused. One Redditor wished that the pizza chain would revive their Cinnamon Bites instead, while another asked, "Do these actually get made in store or are they just prepackaged brownies that are sold straight out of the box they come in?"
Diners can expect each serving of these treats to come with 800 calories, 44 grams of fat, 120 grams of carbs, 80 grams of sugar, and 600 milligrams of sodium, per Chewboom. For now, sweet-toothed fans of Little Caesars can try out the Twix brownies at their local participating locations and see how the limited-time menu item stacks up against other memorable Little Caesars' desserts.