What Makes This Cornell University Vending Machine So Unique
Inside Creative House/Shutterstock
We tend to think of vending machines as dispensing chips and other salty snacks, candy, soda, dishwater coffee, and sorry excuses for sandwiches. But there are more unusual and tasty offerings, some of which can be found on college campuses.
Xavier University in Cincinnati, Ohio, made headlines when it introduced the Pizza ATM on campus in 2016, marking the first-ever pizza vending machine in the U.S. It delivers freshly made 12-inch pizzas with your choice of toppings in just a few minutes – and became a big hit with students (per Forbes). Who wouldn't want to go to a college where you can get pizza 24/7? Is there a beer machine nearby? A student in the College of Food, Agricultural and Environmental Sciences at The Ohio State University, for example, developed a vending machine with cooked bacon products as a way to help promote the Ohio Pork Council. It debuted in time for finals week and sold out several times a day (via The Ohio State University).
And a vending machine at Cornell University in Ithaca, New York, keeps it simple, fresh, and hyper-local. This machine might not sizzle like bacon or attract as many visitors as the Cornell Dairy Bar, where the main attraction is innovative flavors of ice cream developed by the Department of Food Science (via The Cornell Daily Sun). But it might keep the doctor away.
Cornell's apple vending machine falls close to the trees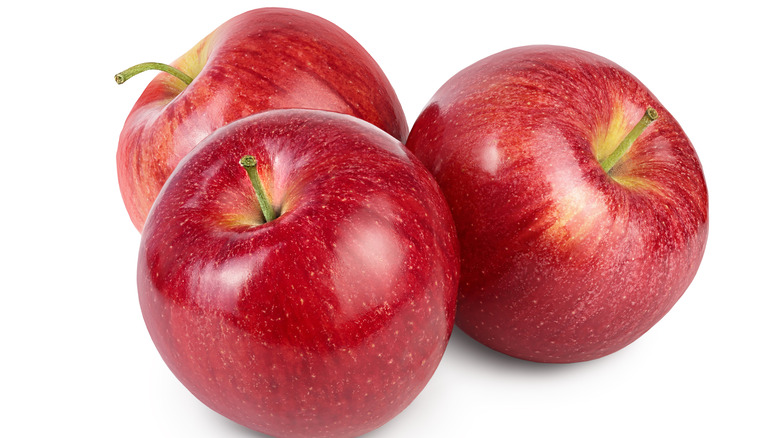 Nataly Studio/Shutterstock
It appears that Cornell University decided to ask students, "How do you like them apples," except in a non-joking and likely grammatically correct way. According to Atlas Obscura, a vending machine spotlights apples grown at several locations on campus. Even "unnamed, experimental varieties" of apples get star turns.
This mechanical apple-dispenser is ripe for anyone to patronize – make sure you have some $1 bills with you. It is located inside the Albert R. Mann Library, a research and study space (per Cornell University Library). As students return to campus each fall, the apple machine gets up and running. Graduate students in horticulture pick apples at Cornell Orchards' two locations, in Ithaca and nearby Lansing (via the College of Agriculture and Life Sciences). The students are also tasked with keeping the machine stocked. As the harvest season continues, the varieties of apples in the machine change.
Apples are an important part of the food and research landscape at Cornell. The College of Life Sciences (CALS) has developed and released about 70 apple varieties over the years, including newcomers like SnapDragon, RubyFrost, and Firecracker (per Cornell Chronicle). So, collegiate sports aren't the only "Big Red" at Cornell.