What Happened When Someone Reportedly Found A Chicken Head In Their KFC Order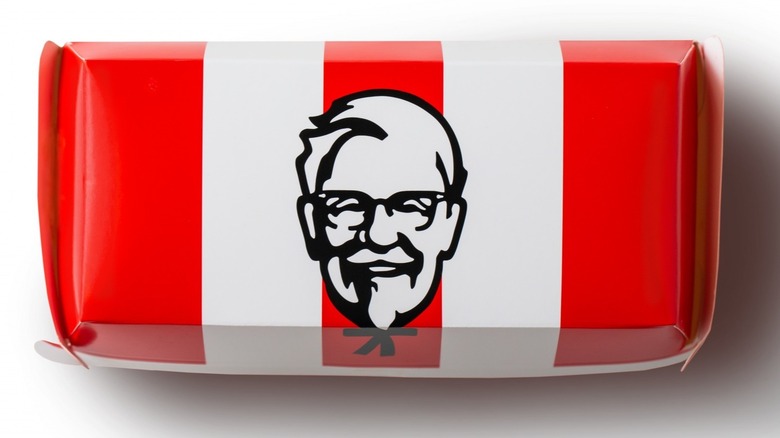 Robson90/Shutterstock
Surprises are generally a good thing — unless it involves something that shouldn't have come with your food order, which is what purportedly happened to one KFC customer from the UK. Gabrielle gave the KFC branch in Twickenham, southwest London, a social media shoutout after she ordered a hot wing meal and she came home to find a piece of chicken she thought she'd never get to see. "I found a fried chicken head in my hot wing meal, put me off the rest, ugh," the user remarked on Takeaway Trauma's Instagram page; the post was also shared on the site's Twitter feed.
The post did get a response from the fast food chain itself. Its response called Gabrielle's criticism, "Probably The Most Generous 2-Star Review Ever" and said it was proof that "we serve real chicken. And we're proud of that." But it also added that the incident had been addressed with the store staff, and that Gabrielle had been given free KFC along with an invite to access the kitchen so she might "feel confident the next time she orders from us" (via Twitter).
Social media was divided over the post
But KFC appeared to be far more generous toward Gabrielle than some social media users were. The post ended up sparking a Twitter debate. "Definitely wouldn't eat that but, not sure why it would put you off the rest unless you can't cope with the idea that the tasty KFC you're eating was walking alive around a few days earlier," one social media user pointed out. Another said, "Meat eaters really are so disconnected from what they eat" along with an eye roll emoji. A third asked (rather graphically), "A reminder that something living has to DIE so that you can EAT. do you think chicken grows on a tree? Its a living thing."
But Gabrielle's critics got some pushback from those who felt she shouldn't have been subjected to that trauma, regardless of her dietary choices. "Eating meat doesn't mean that a person should get the chicken head and eyes including in his or her order. This definitely will turn off the hunger in the man," one social media user responded. Another applauded Takeaway Trauma "for verifying that KFC does in fact sell REAL chicken! Post-Covid, with some of these supply issues and rising costs, some of these places were starting to serve suspect food for sure! I do like chicken, I'll have to grab some KFC on the way home!" Some fans think KFC's fried chicken is delicious and are excited to keep eating it.