Sandra Lee Found Love Again And Instagram Is Swooning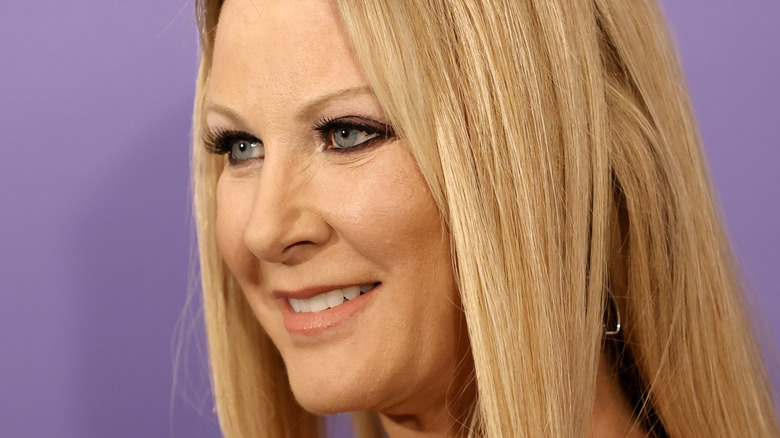 Frazer Harrison/Getty Images
Chef, TV personality, and author Sandra Lee chose to be vulnerable after she separated from her ex-boyfriend, former New York Governor, Andrew Cuomo. Per The New York Times, they parted ways in September 2019 but were still in touch in April 2020, and Lee said at the time, "He's still my guy. Neither one of us, well, as far as I know, has had a date."
The chef also said that she was on good terms with Cuomo's kids and referred to them as "family." She clearly expressed how important Cuomo was to her when she told The New York Times, "We share a home, we share children, we share friendship. I will protect him and be there for him until the day I die." A few months later, in December 2020, Lee vacated the home that was a huge part of her life when she was with Cuomo. The chef was gutted and posted a photo on Instagram with the caption, "Today will be one of the saddest days of my life. Today is the day that I do the final move out from Lily Pond. I love that house, and I have a personal relationship with every single room of that home."
Sandra Lee's fans know that things had been rough for her post-breakup. But now things have started looking up for the actor: She posted a series of mushy pictures of her boyfriend, actor Ben Youcef, on Valentine's Day and wrote a heartfelt caption on Instagram.
Lee can't stop gushing about her boyfriend
Sandra Lee celebrated Valentine's Day by treating her fans on Instagram to several photos of her boyfriend, actor and producer, Ben Youcef: The couple was seen kissing each other in many of the adorable pictures and posing happily for the camera. Lee wrote that she genuinely didn't think that love would find her again and was "shocked" when she was proven wrong. She added, "I swore I would never fall again, trust again, love again or open myself up again ... this Valentine's [Day], I wish you all an abundance of love, laughter, butterflies, long walks, intimate talks, chills, tender kisses, sweet moments, and pure joy in the world." 
The chef also promised to spill the beans on how she came across Youcef on their first anniversary. According to People, Lee and Youcef started seeing each other in August and "have been inseparable" since then. A source told People, "It's almost like a first love for both of them." Youcef separated from his ex-wife in 2019 and filed for divorce a year later.
Sandra Lee's fans are happy for her and have left many excited comments on her post. One of the most-liked comments read, "What an upgrade! So happy you're happy" while another one noted that Lee really does "deserve all the happiness and love in this world." A wise fan added, "When you stop looking [for love], it usually finds you. Congratulations! You look so happy!"