Gordon Ramsay Has Voiced More Characters Than You Thought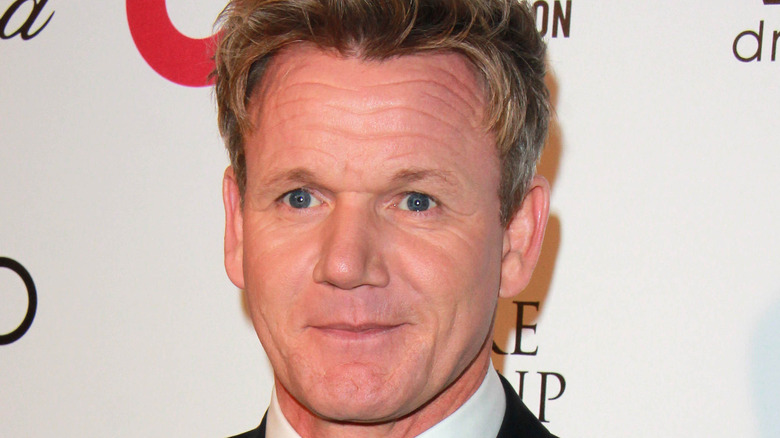 Kathy Hutchins/Shutterstock
Gordon Ramsay's voice is hard to miss, especially at the decibel he's known for. Whether one of Ramsay's worst insults is yelled across the kitchen in "MasterChef" or he is making new friends on his culinary travel show "Uncharted," his mannerisms prevail. If his distinct accent has ever sounded a tad familiar, it may not just be from his food-focused TV appearances. The world is well aware of the chef's charisma and comfort on-screen playing himself, but Ramsay is also a whizz at portraying different characters. 
In addition to his cooking skills, Ramsay steals the show on a handful of animated series and films, according to Pop Sugar. He doesn't steer far from the typical culinary tropes when showing off his knife confidence as Bolton Gramercy in the series "Big Hero 6" or whipping up something big and blue as the top baker in "Smurfs: The Lost Village." When casting crews are seeking the perfect voice to bring a food-loving character to life, they often look to the star chef. As such, he has accrued quite the list of credits.
Chef Ramsay shows off culinary skills in animated kitchens as well
The character Gordon Ramsay voices in "Big Hero 6" is suspiciously similar to himself, a celebrity chef with a gritty attitude. With note-worthy diggers such as "Look, dear, sometimes I must choke down pedestrian swill as simple body fuel," it's hard to argue that Bolton Gramercy influenced by the harsh chef we see dishing out tough love in "Kitchen Nightmares" or "Hells Kitchen." The cookbook author was likely quick to pick up his lines in other Disney debuts where his characters spent most of their time in the kitchen. Per Pop Sugar, Ramsay was the voice behind the chef in "Phineas and Ferb" as well as "Mickey and the Roadster Racers."
While he didn't get to showcase his signature insults on Disney's "Ratatouille" as fans had fantasized on YouTube, he did get to voice his cartoon self in a few animations. He sassed contestants as the host of a heated French cooking competition in Amazon's reboot of "The Adventures of Rocky and Bullwinkle" (per Grub Street). The chef also got to cuss Marge out in an episode of "The Simpsons," and talked about the experience (via YouTube).  "It looks easy, but it's not," he said before diving into the recording studio. Even though the culinary star didn't have to censor himself much when voicing his Simpson-ified self, he shared that he still had to get "in the zone."