Instagram Is Giggling At Sunny Anderson's Valentine Shout-Out To Bobby Flay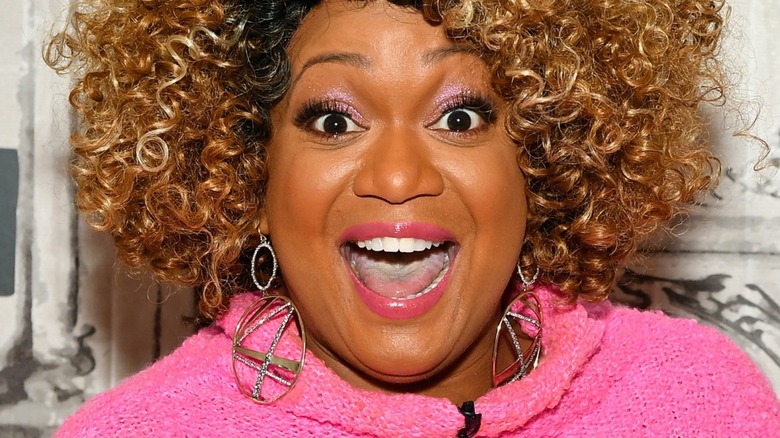 Slaven Vlasic/Getty
Sunny Anderson, co-host of Food Network's "The Kitchen," is arguably one of the funniest personalities on the network. Anderson's known for her cozy comfort food recipes, her silly Instagram antics, and, of course, her undying love for her friend Bobby Flay. Anderson has posted about her love for Flay in the past, and she hasn't shied away from teasing Flay, either, both when she's been a guest on his show "Beat Bobby Flay" and on social media.
In the past, Anderson has posted on Instagram to celebrate Flay's birthday, to rejoice when he renegotiated his Food Network contract, and to make fun of his hat. But this time, Anderson wanted to spread some Valentine's Day love to her friend. "Happy Valentime's Day," she said. "Yes, I spelled that incorrectly, cuz you know this ain't my man man ... but HE IS MY MAN, man" (via Instagram). The caption accompanied a picture of Flay kneeling before Anderson and offering her a ring on the set of "Beat Bobby Flay." Referencing the faux proposal, she joked, "May your love be as real as my wig and @BobbyFlay's dye job, and ya haters be as worthless as that ring he's giving me."
Fans and colleagues loved Sunny's post
Sunny Anderson isn't the only person who loves Bobby Flay, but there's now also a whole contingent of Food Network fans who specifically love Anderson and Flay's friendship. Alex Guarnaschelli, one of Anderson's co-hosts on "The Kitchen," is one of them. "I'm obsessed with this," the Iron Chef said, while former "Top Chef" contestant Leah Cohen commented, "Best non couple couple."
But it's not just fellow food stars who seem enamored. In the comments on her post, user queenya_ya referred to Flay and his bride-not-to-be as icons. And g.retch08 described Anderson as a "ray of sunshine." Another admirer called the duo their "favorite couple." The post even reduced some users to tears ... of laughter. They splattered crying-laughing emojis splattered across the comments section like hot grease at a fish fry. Anderson and Flay may not be together romantically, but based on the social media posts by his funny "Valentime," it sounds like they said "I do" to friendship. And fans are eating it up.