Instagram Is Raining Hearts On Rachael Ray's Adorable Valentine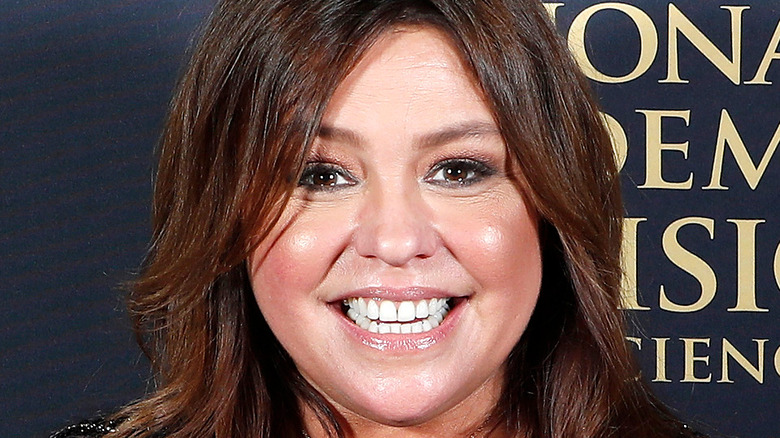 Joe Seer/Shutterstock
Many have come to regard Rachael Ray as one of the biggest food celebrities around. Fans might not know that her husband, John Cusimano, has also had his fair share of televised cooking moments. According to Distractify, Cusimano has appeared on "Cake Boss" and has joined Ray on her own shows in the past. The couple has celebrated a relationship spanning over two decades, and it looks like their affection for each other isn't slowing down either.
People reports that the couple have celebrated a marriage lasting over 16 years, and recently showered each other with affection over on Instagram. Ray posted a photo of Cusimano wrapping her up in a hug, and the TV chef captioned the post, "Still got it. Thank you @paolaandmurray for capturing these laughs with my funny Valentine xo." Fans loved seeing this sneak peek into Ray's life and couldn't wait to share their responses to the cute Valentine's Day post.
A ton of love for Rachael Ray's post
Followers couldn't wait to jump on Rachael Ray's Instagram post and start raining love down in the comments. Excited replies included takes like, "These pics are so YOU," and, "Happy Valentine's Day! Love the picture!" Others chimed in with, "Best couple ever!" and "Cuties!!!" while others chimed in, saying, "Such a sweet picture," and "Y'all are super sweet." One follower even noted, "That first pic is adorable and MUST be in a cute frame!!"
The couple has a lot to celebrate. According to People, the two personalities have leaned on each other for support over the course of the pandemic. They have overcome obstacles like the heartbreaking loss of their home and the death of their dog. The couple made it through and the appearance on social media melted hearts and showed the world the endurance of their love for one another. Ray has one secret when it comes to finding bliss with Cusimano. "We don't take it too much to heart when one person just has to vent or blow up," the chef said. "We're very good at being quiet also, with each other. We don't look for there to be constant chatter. And we're very good with giving each other space to work on our passions."