Heavy Snowfall Emptied Out A Costco And Fans Are Jealous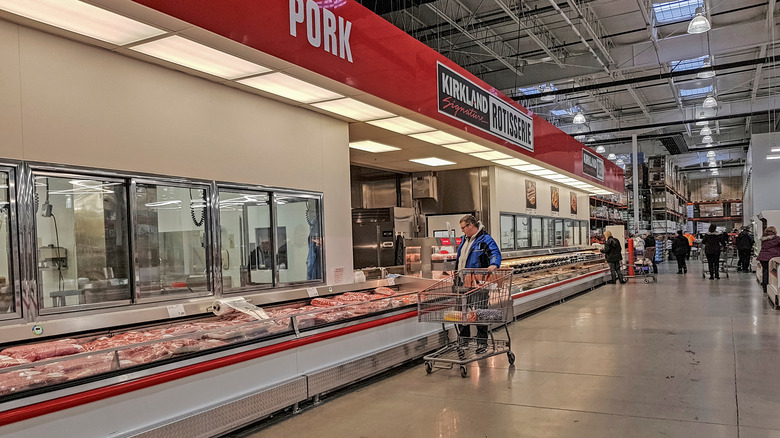 Alastair Wallace/Shutterstock
Grocery shopping may not be the most exciting errand in the world, though some might argue that venturing to Costco for fridge, freezer, and pantry re-stocks makes the task infinitely better. In fact, some members enjoy shopping at the wholesaler so much that they've even admitted to wandering aimlessly around the warehouse just for fun. Despite the clear love that some cardholders have for the big box retailer, Costco fanatics also agree that there are a few downsides to shopping there, like having to navigate the hoards of shoppers it draws in on a regular basis. 
Reader's Digest suggests planning your shopping trip for either a weekday afternoon – more specifically, a Tuesday, Wednesday, or Thursday from 3 p.m. to 5 p.m. – or a weeknight during the last hour before close to try and avoid the large crowds that are so common at Costco stores. However, if fans can't make it to their local warehouse during either of those super precise periods of time, putting the Costco trip off until the next snowfall may land them a crowd-free shopping experience, as well.
Such was the case recently at one Midwestern Costco location, according to one of its employees, who took to Reddit earlier this week to show off just how empty their store had gotten once the snow started falling from the sky.
Shoppers called this phenomenon 'Costco nirvana'
"Here's what our front end looked like at 7:30 tonight," Reddit user u/IchBinDurstig posted to the Costco subreddit page along with a photo of what appeared to be vacant checkout lanes. "It snowed pretty heavily and our last 4 door counts combined was 31," they added. For those that don't speak in Costco employee, door counts are a tally of the number of people that enter the warehouse within a 30-minute period (via Quora). This means that in the case of this Redditor's Costco, the store only saw 31 shoppers come in during a span of two hours.
As you might imagine, the rare phenomenon of an empty Costco – which was dubbed "Costco nirvana" by Redditor OCR10 in the comments – sparked a bit of jealousy among cardholders. "Man, I missed the perfect day to shop!" one user wrote, while another said that the sight was "beautiful."
Timing (and snow tires) is key if you're planning a Costco trip around inclement weather. As demonstrated on Popville, going too early could land you in an even larger crowd than the one you'd have to navigate on an average day. However, when executed right, the snowy shopping experience that awaits could be one of the best, depending on whom you ask. "I have said it before and told others. The absolute best time to go to Costco is when it's snowing," a Redditor shared. "I've gone twice in such situations and it's a ghost town."