This TikTok Had Fans Debating Chick-Fil-A's Treatment Of Employees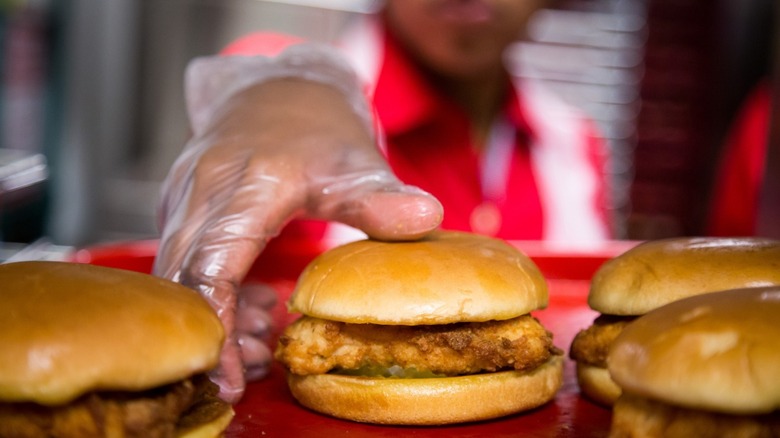 Bloomberg/Getty
In addition to being consistently rated one of the finest fast food chains in America — it got its seventh straight customer satisfaction award win last summer — Chick-fil-A is highly respected among its workers. Almost 80% of employee reviews on Comparably are positive, while Indeed gives the company nearly four stars out of five. TikTok isn't completely convinced that Chick-fil-A employees have reason to show love for the chicken chain, however. A video uploaded to the social media platform shows workers at a Chick-fil-A drive-thru, using tablet computers to take customers' orders while standing in the rain. To remain shielded from the elements, they are wearing bright yellow reflective boxes with plastic windows, which have received mixed opinions from commenters. 
TikTok user @fadi.ataalla, who uploaded the video, said the rain gear shows that Chick-fil-A is considerate of its staff, noting it as "one of the reasons [why they] love" the restaurant chain. While some viewers agreed with this sentiment, many suggested that Chick-fil-A had ulterior motives for keeping its workers dry.
Some think Chick-fil-A was protecting its workers, while others believe it was protecting its iPads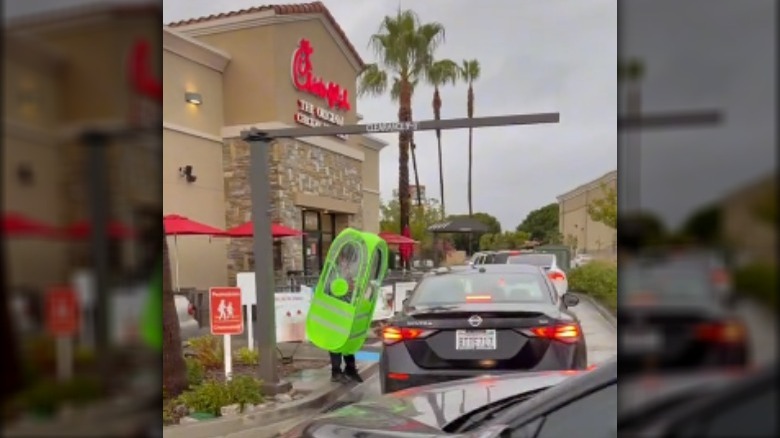 TikTok
Some commenters on @fadi.ataalla's TikTok have been lambasting Chick-fil-A, suggesting that the company is more concerned about keeping its tablet computers dry than ensuring the comfort of its employees. Several said that workers shouldn't have to take orders in the rain at all. Other users claiming to have worked for the restaurant chain said the protective gear is not available at all locations, so some employees have been forced to work in the cold and rain without cover.
However, others were fans of the rain gear, such as a couple of viewers who said they'd love to have some pods of their own. Another said it was evidence of the chain's "values and morals." Responding to the viral debate, a Chick-fil-A spokesperson told Daily Dot that the wearable pods were provided to workers in order to shield them from inclement weather during the chain's increase in drive-thru volume.