Italian Foods They Don't Serve In Italy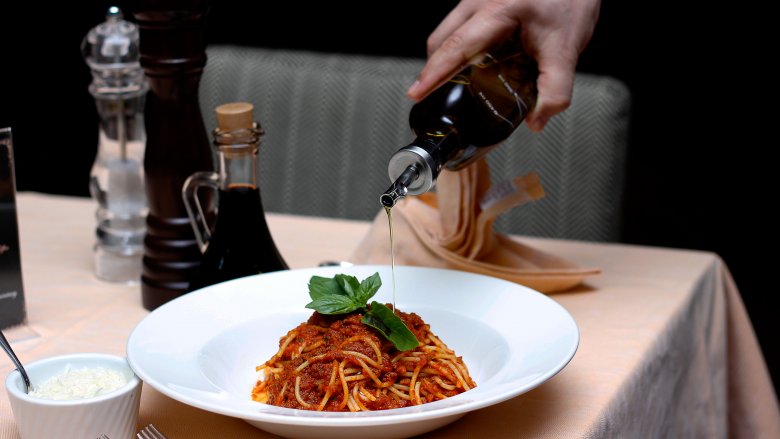 Shutterstock
Growing up in my Italian-American grandmother's kitchen, I thought I knew Italian food. That was until my first of many trips to Italy, where I learned that the sumptuous family feasts enjoyed at my grandparent's house, complete with heavy Sunday sauce, enormous meatballs, chicken Parmigiana, and tortellini stuffed with pepperoni and cheese were actually a cuisine all to themselves — Italian-American cuisine. 
So which of your favorite "Italian" dishes would you be able to order in a real Italian restaurant, and which would get you nothing more than some raised Italian eyebrows? Read on to discover!
Pepperoni pizza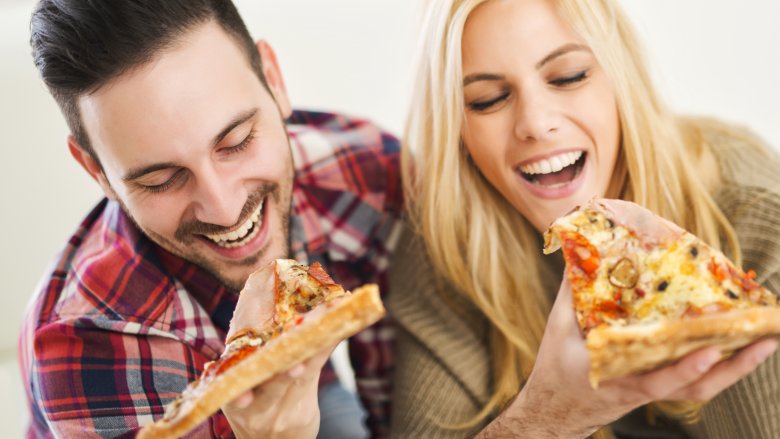 Shutterstock
Once considered a pauper's food in Italy, pizza was brought to the shores of America by Italian immigrants. Businesses developed pizza recipes designed to replicate Italian flavors cheaply and quickly for the new wave of factory workers in cities like New Haven, Boston, Chicago, and New York. The famed Lombardi's in NYC still churns out Neopolitan-style pies today.
While pizza certainly does continue to exist in Italy, it's not quite the Americanized version we enjoy here in the States. Pizza in Italy is a simpler affair that's lighter on the cheese and toppings. Italian pizza is served in convenience markets and bars, and is meant to be a quick snack. The best pizza I enjoyed in Italy was in the city of Lucca, in Tuscany. The only topping choices were cheese, sauce, basil, potatoes, and anchovies. The pizzaiola was kind enough to slice some fresh spicy salami from the deli counter to top the pizza with for his "new American friends." Pepperoni, which is an American invention, was nowhere to be found. Besides, if you did request it, you'd likely get Italian peperoni — which is bell peppers.
Lobster fra diavolo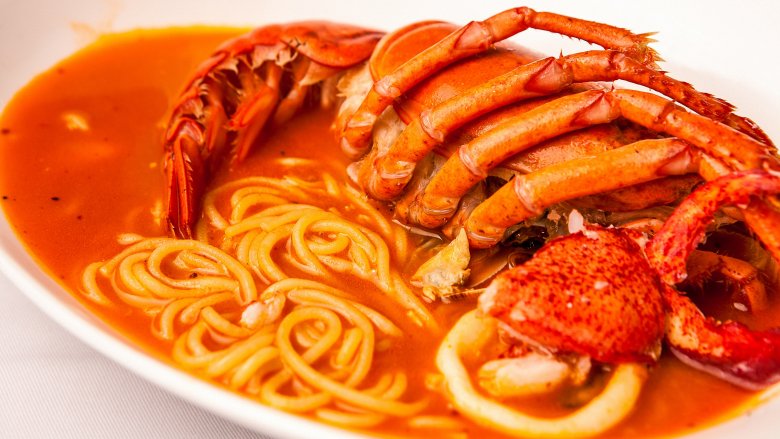 Shutterstock
Lobster fra diavolo, while quite a treat, can be a mess to eat. In the classic recipe, a whole lobster, cooked in its shell, is served over spaghetti and topped with tomato sauce. Cracking lobster shells while dealing with hands covered in sauce makes it a meal that certainly requires a bib. Yet this decadent dish has long enjoyed popularity on the menus of Italian-American restaurants like the original Patsy's in Manhattan, a favorite spot of many celebs.  
Like many Italian-American recipes, the origins of lobster fra diavolo are a bit murky. Cookbook author Anna Teresa Callen, told The New York Times, "It's not an Italian dish. It's really another Italian-American invention. I have never seen it in Italy, and I suspect that it came from Long Island."
Wherever it may be from, the dish is still popular in many American restaurants. So go ahead and mangia... but don't forget to ask for extra napkins.
Chicken and veal Parmigiana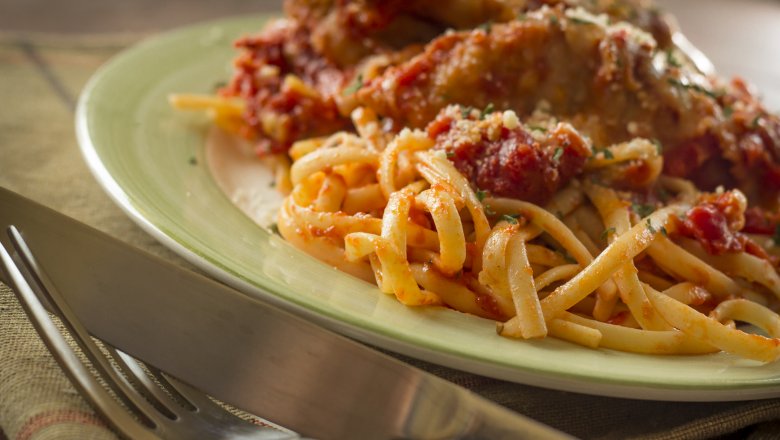 Shutterstock
When it comes to true, Italian-American cooking, it doesn't get more classic than a saucy and cheesy chicken or veal parmigiana. Did you think this dish was as authentically Italian as you could get? Guess again!
While you can enjoy eggplant Parmigiana, or "mellenzana alla Parmigiana" on your Italian getaway, chicken or veal Parmigiana will definitely not be on the menu. It turns out the two popular dishes are American inventions, inspired by the Italian eggplant dish, that were perhaps tweaked to include the meat that newly arrived Italian-American immigrants could now afford.
Italian flag cookies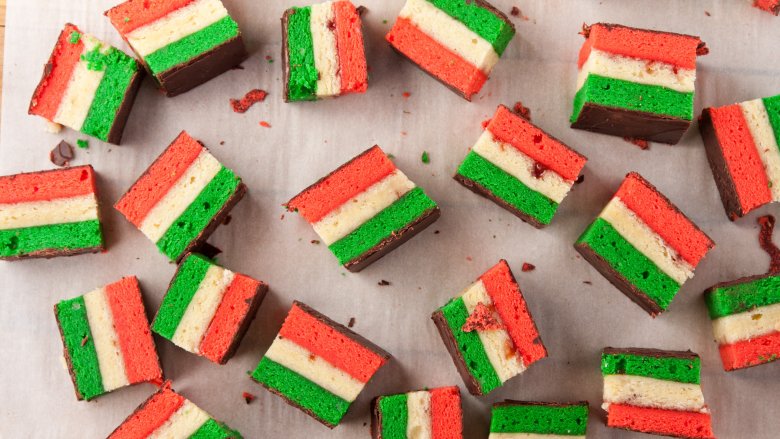 Shutterstock
Some people call them Italian flag cookies, others call them rainbow cookies or seven layer cookies. At my house we always called them marzipan cookies, for the distinctive flavor they get from the almond paste. Italian flag cookies are really not cookies at all, but sponge cake, layered with jam, dipped in chocolate, and cut into bite-sized morsels. Whatever you call them, we can all agree on one thing — they don't actually come from Italy.
According to Italian cooking master and cooking show host, Lidia Bastianich, "There are many traditional Italian almond paste cookies, but rainbow cookies seem to have been created in America by Italian-American immigrants to honor the colors of the Italian flag. You can find them in Italian bakeries year-round, but they are especially popular at Christmastime."
Cioppino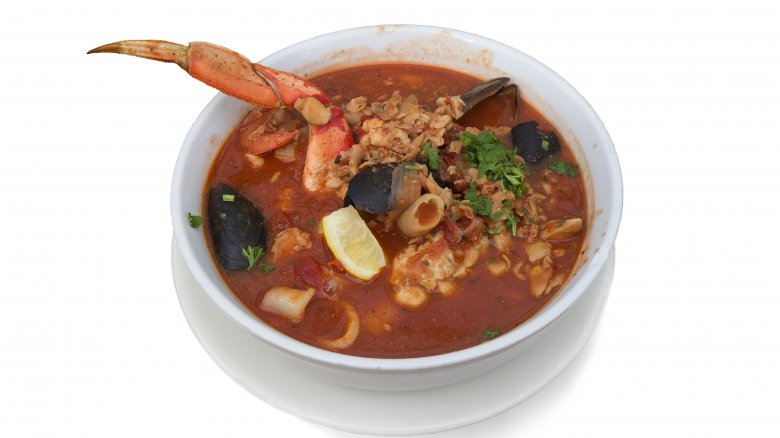 Shutterstock
Cioppino, a deliciously spicy fish stew, has an incredibly Italian sounding name, but is not from Italy at all.
San Francisco is said to be the original home of cioppino. Italian immigrant fishermen created it from the day's catch, mixing the assortment of seafood with tinned tomatoes, wine and few spices they would carry while at sea. The origin of the name, cioppino, is debatable, with some believing it to be a Ligurian word which means "to chop," while others say it is derived from the word "il ciuppin" which means "little soup." Still, others claim that the name was an Italian hybrid of the English words "chip in," since the fishermen from various boats would all chip in the scraps of their day's catch to make one giant communal stew to share.
Cioppino is still popular in Californian restaurants, where it might be made with fish, shellfish, or a mixture of both. If you have access to good, fresh fish, it's a pretty easy recipe to whip up yourself.
Muffuletta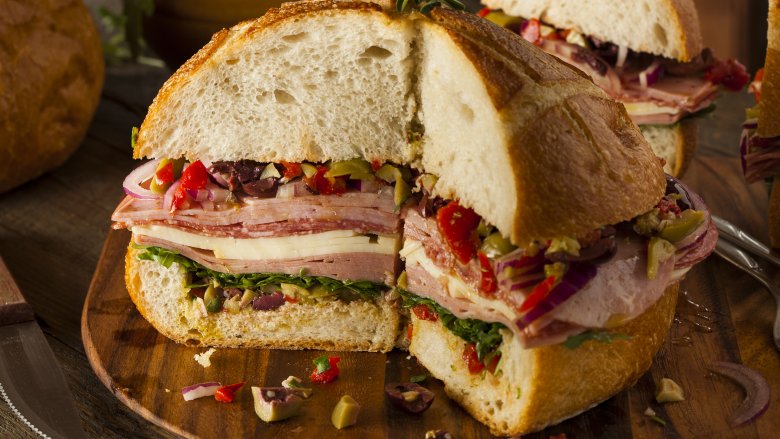 Shutterstock
Muffuletta sandwiches may be stuffed with big Italian flavors like salami, Italian ham, provolone cheese, and olive salad, but the origins of the sandwich are firmly planted in America.
Invented in 1906 at the New Orleans Italian Market, the owner of the Central Grocery Company, Lupo Salvatore, created the sandwich so the local working men could manage an easier midday meal than their typical request of separate portions of meat, cheese, bread, and salad. The sandwich grew in popularity, becoming an iconic food of the colorful city. Muffuletta sandwiches can still be found throughout New Orleans, and you can even enjoy one at the still standing Central Grocery Company, whose sign boasts "The Original Muffuletta."
Spaghetti and meatballs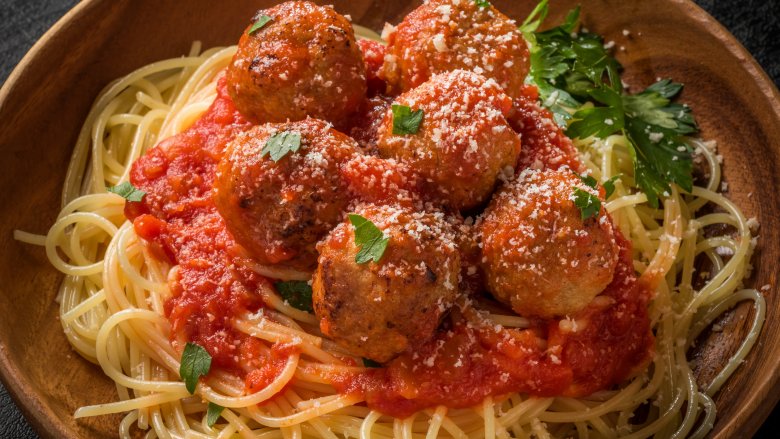 Shutterstock
Hard to believe, isn't it? The quintessential Italian meal we all grew up loving is in fact, not Italian at all. But how can that be, you ask?
They do eat meatballs in Italy, but they're not the large, tightly packed balls of meat we enjoy in America. Italian meatballs, or polpettes, can be made with any meat or fish, and are typically eaten alone, without a heavy sauce, or in soups. They're golf ball-sized or smaller, and have a higher ratio of bread than the dense meatballs we're accustomed to. When immigrants from Southern Italy made lives in the New World, they found that meat was no longer a luxury item, but one they could put on the dinner table every night. Thus, larger meatballs, packed with a higher ratio of meat became the norm.
Pasta, like spaghetti, is certainly Italian, but it's typically served in smaller portions as an appetizer course, not as part of the main meal. There are two prevailing theories as to how the marriage of spaghetti and meatballs came to be. The first says that Italian restaurateurs, seeking to please the American appetite for starch with entrees, paired spaghetti with meatballs in lieu of the typical potatoes found on American dinner plates. The other theory is that Italian immigrants had few true Italian foods to choose from in American markets, and spaghetti enjoyed a promotion to entree status.
Mozzarella sticks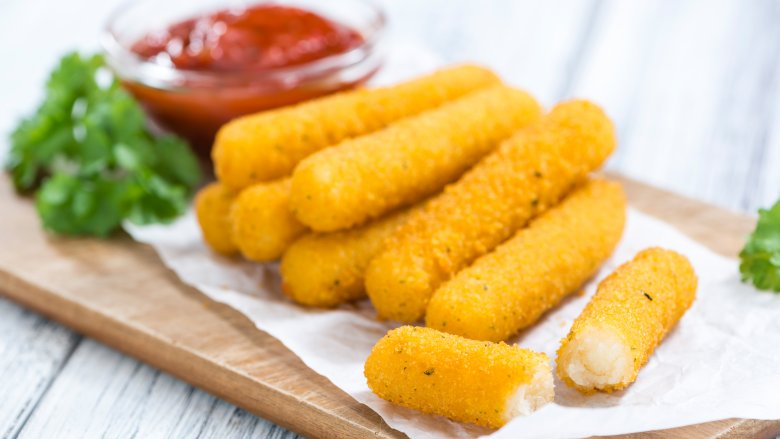 Shutterstock
You may have thought TGI Friday's invented those perfectly fried sticks of cheesy wonder, but it turns out fried sticks of cheese enjoy much more of a culinary history ... just not from Italy.
The first mention of fried sticks of cheese dates to a French cookbook from 1393 called Le Menagier de Paris. While the recipe calls for Muenster cheese instead of mozzarella, it's fair to say this was the dawn of folks clamoring to get their cheese stick on. While there's no definitive record of the recipe being changed to mozzarella, we can all be thankful that some enterprising, snack food genius thought to make the switch.
If you do find yourself in Italy, and are hankering for a mozzarella stick, try mozzarella en Carrozza instead. This Roman snack is a fried sandwich of mozzarella cheese, and sometimes anchovy.
Shrimp scampi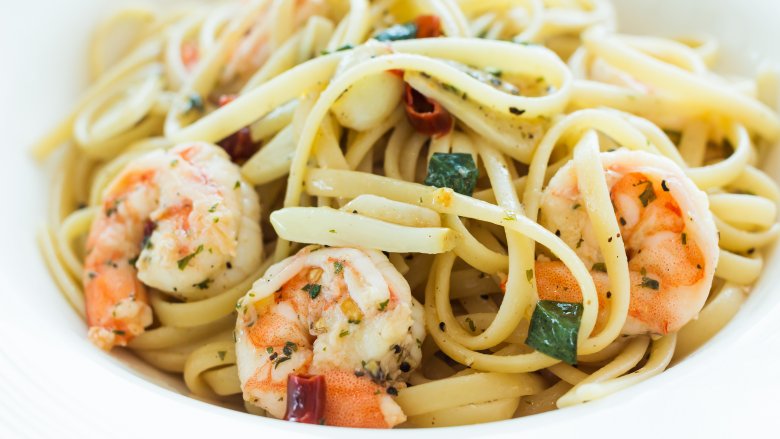 Shutterstock
Shrimp scampi could always be found at my grandmother's Italian-American kitchen... at least her version of it. Shrimp were coated in breadcrumbs and fresh herbs, then sauteed in butter, olive oil, and garlic. They were deposited in a family-sized bowl where we would retrieve them with a spoon and eat them off torn pieces of Italian bread. At the neighbor's house, shrimp scampi may have been unbreaded, cooked with lemon and white wine, and served over pasta. At still another neighbor's house, tomatoes may have been added to the mix. Which recipe is correct? All of them. And while you may be able to get something similar in Italy, they won't be calling it shrimp scampi.
According to Lidia Bastianich, scampi is actually a crustacean, very similar to lobster, also sometimes called a langoustine. Italian immigrants utilized the abundant shrimp found in America, and prepared it the classic way langoustines were prepared in Italy, so the dish should more accurately be called "shrimp cooked scampi style." While the most classic Italian recipe would call for nothing more than olive oil, garlic, onion, and white wine, American families and restaurant chefs have adapted the recipe over the years, making it uniquely Italian-American.
Italian dressing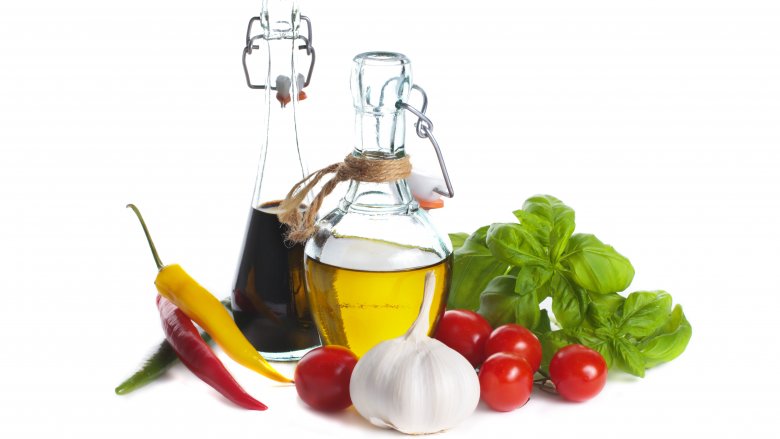 Shutterstock
If you order a salad with your meal in an Italian restaurant, you will be given one dressing and one dressing only — olive oil and vinegar, or "olio e aceto." And as far as Italians are concerned, that is Italian dressing. Ask for anything else to dress your salad, and you may as well mark a giant "T" on your forehead for "Turista."
Then what about Caesar salad? Surely that's an Italian invention, right? Not even close! Would you believe it's Mexican? It's true. Restaurant owner Caesar Cardini introduced the salad at his establishment in Tijuana, though his brother, Alex, takes credit for adding anchovies to the creamy mix. The salad grew popular all over the world, with the International Society of Epicure declaring it "the greatest recipe to originate from the Americas in 50 years" in 1953.